CUTE & Sexy SUSTAINABLE LINGERIE SETS
We wear underwear every single day on our most intimate body parts. For that reason, it is so important to choose comfortable lingerie that fits our bodies. Who likes wearing uncomfortable panties or bras digging into the skin?
However, comfort is not everything. I believe that wearing pretty undies and bras can positively affect our mood. Of course, they need to be comfortable, but why not add some beautiful, eye-catching details to them? For instance, when I wear fancy lingerie, I feel a lot more confident and attractive during the day. 
So if you want to feel extra feminine and empowered, or you wish to surprise your significant other, choose some fancy, lacy lingerie sets!
Unfortunately, the majority of lingerie sets on the market are made unethically, at the cost of the planet. They fall apart after a few wears, and you quickly need to repurchase new ones. 
The good news is that you can find undies and bras in line with your values. Many brands are making fancy, more sustainable lingerie sets, produced with workers' wellbeing in mind. 
Stock up your drawers with some gorgeous, lacy lingerie sets from these 13 sustainable brands! 
WHAT MAKES A LINGERIE SET ECO-FRIENDLY?
Both the bra and the panties should be made with eco-friendly materials, such as organic, recycled or Oeko-Tex certified fabrics. That way, you are making sure the lingerie is safe for you and the planet.
An eco-friendly lingerie set is always well-made and high-quality so that it lasts through many washes without falling apart. 
It is also sweatshop-free, made by workers who are treated with dignity and paid fairly. 
WHAT SUSTAINABLE FABRICS SHOULD YOU SEARCH FOR?
Lingerie sets made with natural and biodegradable fabrics are ideal: they are more sustainable and a lot more breathable. You can find beautiful, fancy sets made with organic cotton, bamboo, cotton, or silk. 
However, it is not always easy to find pretty, lacy lingerie made with natural materials only. The stretchy part of undies and bras is hard to make without synthetic fabrics, so many sustainable brands still use synthetic fibers to make them. 
In this case, prefer recycled options when they are available. The most common ones are recycled nylon, recycled polyamide and recycled polyester. 
Some brands also use vintage fabrics: since they are pre-loved, those are inherently sustainable!  
NOW, OUR TOP PICKS FOR CUTE, ECO-FRIENDLY LINGERIE SETS:
Materials: Recycled Nylon, Nylon, Silk, Organic Cotton
Price: $130-175
Anekdot is a German company that makes women's lingerie and swimwear, using surplus fabrics left behind by the fashion industry. 
The brand sells a great range of lacy lingerie sets that are beautiful and well-made, featuring small decorative details.
They are designed to follow your natural curves in a flattering way. 
Anekdot's lingerie sets are made using certified recycled nylon, nylon or silk. The crotch lining on all the brand's panties is made from GOTS-certified organic cotton. 
The company is great at sourcing its materials locally and gets them from off-cuts, end-of-lines, production leftovers and vintage trimmings. 
Anekdot's lingerie sets are limited editions and produced in Berlin, allowing the brand to have a shorter supply chain and to drastically reduce its carbon footprint. 
The company also donates 50 cents of each order to a charitable organization. In 2020 and 2021, Anekdot supported Rainforest Rescue, which aims to protect and regenerate tropical rainforests.
Shop Anekdot
---
Materials: Nylon
Price: $64-84
Uye Surana is a woman-owned lingerie brand based in New York. It has two full lingerie sets, but you can also choose from a variety of matching bras and panties. 
Both Uye Surana's sets feature a sheer black mesh that is adorned with a bold lace trim, ensuring a flirty look. One of these sets even includes a fancy, flowy skirt that will make you feel very attractive!
While Uye Surana's lingerie sets are made using nylon, the brand stands out from other brands because it is extremely size-inclusive. The company offers sizes ranging from XS to 3XL, and its bras are fully-adjustable: they support 70+ different traditional bra sizes!
The brand's products are ethically handmade in a small, family-owned factory in Colombia. They are produced in small batches and often in limited editions, which makes sure products are not overproduced and, thus, prevents waste.
Shop Uye Surana
---
Materials: Recycled Polyamide, Polyamide
Price: $156-225
Stella McCartney is a renowned British fashion brand that sells clothing for women and men, accessories, perfume, eyewear, as well as kids' clothes. The brand has a great selection of lingerie sets, crafted from the finest materials, leavers lace and georgette silk chiffon. Most of the bras are adorned with precious lace on the cups and a thin lace trim.  
Even though some lingerie sets are still made with polyamide, Stella McCartney has been using more and more recycled polyamide to produce them in a more sustainable way. Its lingerie sets are designed for comfort and style, and they are the ideal pieces to help you embrace your femininity! 
The brand is very transparent regarding its environmental impact. In 2021, it became a member of the Ethical Trading Initiative, which promotes respect for workers' rights and helps companies to improve their working conditions in their supply chains.
Shop Stella McCartney
---
Materials: Cotton, Polyamide 
Price: $84-143
Created 35 years ago by an Italian couple, Cosabella sells feminine lingerie, pajamas and loungewear. 
The brand makes various styles of bras and underwear, including fancier ones. Cosabella's Never Say Never collection has different bras, bralettes, thongs and panties that are all matching each other. You can easily create a gorgeous lingerie set by choosing your favorite pieces! 
The Never Say Never collection features a unique floral pattern and innovative lace, and some models are sold in a wide variety of colors. They are all timeless designs that will give you confidence and comfort! 
Cosabella's lingerie pieces are hand-crafted using high-quality polyamide and cotton, and they are made in family-run workshops in Italy. 
The skilled artisans that produce Cosabella lingerie use traditional techniques derived from the Renaissance, and a single thong can take up to 10 hours to be made. 
Shop Cosabella
---
Materials: Recycled Polyamide, Recycled Elastane, Recycled Polyester, Lyocell, Organic Cotton
Price: $41-136
Underprotection is a Danish brand making sustainable lingerie, swimwear, loungewear and hosiery using eco-friendly materials only. 
It has a huge selection of fancy lingerie sets: you get to choose between multiple styles and colors of bras and their matching panties. Underprotection creates unique designs that feature floral laces and patterns, cute fringes, golden rings, and mesh straps. 
Some of the brand's bras are lovely maternity bras that are perfect for every new mom who wants to feel extra feminine and special. 
Underprotection's lingerie sets are made in Europe using recycled polyamide, recycled elastane, recycled polyester or lyocell, and some of the panties' gussets are made with organic cotton. All the fabrics are Oeko-Tex certified, meaning that they are safe for you and the environment. 
Underprotection is a certified B Corporation, and most of its products are approved vegan by PETA.
use code SustainablyChic10 for 10% off
Shop Underprotection
---
Materials: Nylon
Price: $149
Created in 2003, NK Imode is a Canadian brand that creates elegant lingerie, sleepwear and loungewear for women.
The company sells a beautiful lingerie set, a dazzling bralette with its matching panties, available in red and blue. Made of nylon, it features a soft, floral lace as well as a unique cross-back detailing. The bralette has adjustable straps, ensuring impeccable fit and comfort. 
NK Imode only releases two seasonal collections per year in limited runs, so that there is no overproduction. The brand also regularly uses rescued stock materials to prevent textile waste. 
All NK Imode's products are made in China, in a WRAP-certified, family-owned factory that is subject to an annual inspection. The WRAP certification demonstrates that the factory treats its workers with dignity and respect, and it is conscious of its environmental impact and dedicated to upholding ethical standards.
Shop NK Imode
---
Materials: Oeko-Tex Certified Lace, Organic Cotton 
Price: $88-96
Brighton Lace is a British brand that sells lingerie made from organic cotton and non-toxic lace. The company has a wide range of lacy lingerie sets. They all look very fancy, delicate and feminine! I love that each set features some unique details, like flowery patterns or fun and bright colors. All Brighton Lace's lingerie sets are made using Oeko-Tex Standard 100 certified laces. The brand's suppliers are also certified with Oeko-Tex STeP, ensuring that each step of the production process is sustainable. 
Brighton Lace's lingerie is ethically sourced and made in the United Kingdom. The brand uses eco-friendly dyes, and its dyeing process requires 80% less water compared to conventional dyeing. 
The company has taken steps to minimize its textile waste as it buys all its fabrics in small batches to avoid any excess. Brighton Lace also reuses its leftover fabric pieces to create small accessories, and it makes the gussets of its lace undies from surplus organic cotton fabric.
Shop Brighton Lace
---
Materials: Polyester, Cotton 
Price: $41-88
Kat The Label is an Australian brand that creates different types of lingerie pieces and sleepwear for women. 
The company sells numerous matching lace lingerie sets that are all designed with comfort and perfect fit in mind. You get to choose between various styles, from structured underwire bras to delicate bralettes, each with its matching thongs or panties. 
 Kat The Label's lingerie sets are the perfect example of sophistication and femininity. They will make you feel empowered and stylish, and you will adore their eye-catching details, such as satin trimmings and embroidered flowers. 
The brand offsets its carbon emissions from shipping and has taken steps to reduce its textile waste. For instance, Kat The Label purchases leftover fabrics from larger brand orders, so that they do not end up in landfills. 
Each year, the brand hosts an event to raise funds for Cancer research and awareness.
Shop kat the Label
---
Materials: Organic Cotton, Cotton, Silk
Price: $93-135
Eco Intimates is an Australian brand creating luxurious lingerie and sleepwear using natural and organic materials. 
The company sells a dozen of lingerie sets that are fancier than your basic underwear sets.
Most of them are made in black or white, but some have a unique, beautiful floral pattern that makes them even more feminine. 
You will love the cool details on each lingerie set! These include ribbon bows, broderie lace, frilly edges, and nickel-free metal rings, sliders and hooks.
Eco Intimates' lingerie sets are made of GOTS-certified organic cotton, silk or cotton, which are biodegradable materials. This is very rare, especially for lacy lingerie that tends to be made with synthetic fabrics. 
The brand's collections are handcrafted in small batches by a couple of teams of home-makers in Indonesia, and each order is wrapped in a recyclable and biodegradable material.
Shop Eco Intimates
---
Materials: Excess Stock of Lace, Silk & Tulle
Price: $94-231
A contemporary lingerie brand based in London, Aurore Lingerie specializes in high-quality handmade lingerie - and it is absolutely gorgeous!
They focus on sustainability, environmental ethics, and innovative practices while still creating a luxury experience - even with using leftover fabrics from other brands!
Aurore Lingerie does not overproduce and creates small capsule collections.
Shop Aurore Lingerie
---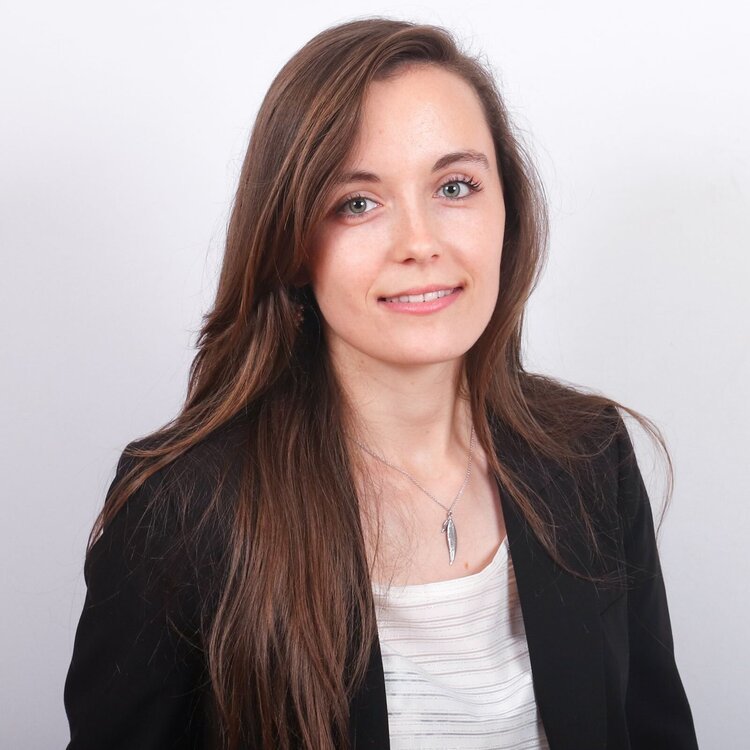 About the Author
Eva Astoul is a French freelance writer, specializing in content related to sustainability, simple living, and a growth-focused healthy lifestyle. She runs her own blog, Green With Less, to inspire people to live a more minimalist and sustainable life.
---
MAKE SURE TO PIN THE PHOTO BELOW TO SAVE THIS POST FOR LATER!
---
WANT MORE SUSTAINABLE BRANDS? VISIT OUR BRAND DIRECTORY!
Our Brand Directory is home to hundreds of sustainable brands, from makeup to cleaning supplies, from underwear to shoes. We have broken everything down by category for easy shopping, along with discount codes unique to Sustainably Chic viewers.
Shop the Sustainable Brand Directory
---
RELATED READING YOU MAY ALSO ENJOY: