What is Zero-Waste Fashion?
Textile waste is a huge problem in the fashion industry. The Council for Textile Recycling claims that more than 70 pounds of textiles per US citizen are going into landfills annually. The amount of clothes we waste is largely due to the rapid increase in the number of clothes being produced over the last few decades. Fashion Revolution claims textile waste is only getting worse and is estimated to increase by about 60% between 2015 and 2030, with an additional 57 million tons of waste generated annually. This would reach an annual total of 148 million tons.
Of the discarded clothes, only 15% is recycled or donated; the rest goes to landfill or is incinerated. Clothes with synthetic fibers can take hundreds of years to decompose. Textiles release methane gas during the decomposition process and leak toxic chemicals and dyes into the groundwater and our soil.
As we become more aware of the impact the fashion industry is having on the environment, brands are looking for more ways to reduce their footprint and the amount of waste they produce. One such idea is zero-waste fashion; clothes that generate little or no textile waste in their production.
When does waste occur in the fashion industry?
Zero-waste promotes a more focused way of producing and living. Brands are adopting this approach to their manufacturing to eliminate textile waste in every aspect of production. They are deciding to reduce the environmental impact of their processes and products in ways that have genuine meaning and provoke real change.
Waste in the fashion industry can occur at several stages of production. When choosing a fabric to purchase from a supplier, brands are often sent several samples of small swatches of fabric, and these are often archived or thrown away after a collection is finished. Even the fabric choice itself can have a history of waste. For example, natural materials like organic cotton can involve waste, from how it's grown, to the process of turning fibre into fabric.  
Pattern cutting can be an area of development that involves a lot of waste. When pattern pieces are placed on the fabric to be cut out, this can leave 'offcuts' of fabric that are too small to be used and are often discarded. During the sewing process, there can be further waste like 'overlocking' offcuts and unwanted bits of thread. 
There are also less obvious elements of waste that most brands create, such as office materials like paper, packaging that may not be made from recycled cardboard, and overstock. When a big brands produces a bulk amount of an item of clothing and some of them don't sell, this is called overstock. These clothes can sit in warehouses for months and are often destroyed to make room for new stock.
How does a brand achieve zero waste?
While there are many ways that fashion creates waste, the good news is there are now many different methods a brand can adopt that will reduce the amount they create and even save more textile waste from landfill. 
Zero-waste design is the practice of developing clothes that require little to no waste. A lot of the waste created by clothing brands can occur before production even begins. When designing garments, zero-waste brands consider how they can minimize excess fabric and how to create pattern designs that will make the most effective use of fabric. Designers should also factor in longevity when designing clothes, ensuring they will last as long as possible for the wearer. 
Sample garments or 'toiles' are often made to check the garment functions, the number of these is different for each brand, but there could be anywhere from 2-10 (or even more if it's high-end design) of these samples made before an item is signed off. 3-D printing and digital sampling are recent innovations that enables brands to see what garments will look like before production begins and make adjustments without the need of physical sample garments. 
Many brands trying to achieve zero-waste status opt to use deadstock or leftover fabrics from other brands and use these to create their collections. This is a great way to make use of pre-existing textiles that otherwise would have been discarded. Zero-waste brands will use recycled and recyclable materials in their shipping and packaging, as well as in their office materials they use every day.
Upcycling is a method that's fast becoming popular with zero-waste brands; turning an item of clothing into something new, saving the fabric and fastenings in the process. Made to order is another example of how a brand can achieve zero-waste. By only producing a specific number of clothes to meet actual orders they eliminate the issue of overstock and also creates a more valued item of clothing as the wearer knows it's been made especially for them. 
Fashion brands aiming to become zero-waste also have a responsibility to ensure their suppliers are using low waste production methods. This particularly applies to the fabric suppliers who should be ensuring the processes they use to create textiles create the least waste possible. 
Considering the 'end of life' of clothes, some brands focus on closing the loop and offering customers the option to send their clothes back to the brand to be upcycled or recycled. For example, Patagonia's Worn Wear program provides customers the chance to trade in their old Patagonia clothes for a credit ranging from $10-100 depending on the item of clothing.
Now, our top picks for zero waste clothing brands:
Pioneers in zero-waste fashion, Tonlé describe themselves as a 'maker-led community', valuing inclusivity, honesty and reciprocity.
They use a sustainable zero waste process to create their clothes, making use of reclaimed materials from other manufacturers.
Tonlé offers a beautiful range of clothing from dresses and jumpsuits to outerwear and accessories.
Shop Tonle
---
Christy Dawn are committed to practices that honor Mother Earth, and believe that sustainability doesn't go far enough, instead focussing on regenerative processes that heal the planet. They repurpose deadstock fabrics and use construction methods that ensure their clothes are designed to last. A wide range of earth-toned dresses, bottoms and blouses are the ideal everyday wear that aligns with your ethics.
Shop Christy Dawn
---
RE/DONE are on a mission to create sustainable, mindful fashion and are the first luxury label to be born online and grown as an e-commerce brand.
They began with the concept of upcycling vintage Levi's into modern fits and have since diverted over 145,000 garments from landfills, reconstructing them into luxury collectables.
Shop re/done
---
Colombian-American fashion designer Nathalia JMag is on a mission to help their customers wear their values without compromising their style!
They upcycle garments that were destined for landfill and also use sustainable materials such as deadstock fabrics, organic cotton, bamboo, hemp and linen.
Everything they produce is either made to order or in very limited batches.
Shop Nathalia JMag
---
Hailed as the only sustainable hosiery brand in the world, Swedish Stockings create their pantyhose from both pre and post-consumer nylon waste. Traditional nylon production is very harmful to the environment, and Swedish Stocking ensures their processes conserve or reuse water, decrease carbon emissions and reduce and recycle waste. They also have a 'recycling club' program where customers can send in 3 or more pairs of synthetic pantyhose from any brand in exchange for a 10% discount on Swedish Stockings products.
Shop Swedish Stockings
---
Based in New York, Zero Waste Daniel uses pre-consumer waste sourced from New York's garment industry and other materials that are difficult to recycle. He has created a line of gender-neutral clothing and accessories that ensures nothing is sent to landfill during production. His collections feature colourful floral and graphic prints on t-shirts, shorts, sweatshirts and joggers.
Shop Zero Waste Daniel
---
Tara St James founded Study NY with the idea of making fashion without making waste.
From the fabrics they choose to the cutting table, every element of a garment's process is carefully controlled to be socially and environmentally conscious.
They offer a select range of clothes including tank suits, shirts and dresses.
Shop Study NY
---
An independent Australian brand focused on sustainability, Theo the Label works with skilled garment workers to produce very limited ranges of clothes for both women and men.
Perfect for warmer weather, their clothes include culottes, shorts and midi dresses made from linen and organic cotton.
Shop Theo the Label
---
Sustainable swimwear brand ARO are constantly developing their manufacturing processes to reduce the waste in their factories, encouraging their manufacturing partner to adopt recycling and waste reduction.
ARO uses deadstock and recycled materials in their collections of bikinis, one-pieces and accessories.
Shop ARO
---
Armed Angels' 'Circular Tee' and 'Circular Denim' collections are the brand's first exploration into circular fashion, ensuring all the resources involved in manufacturing are kept in a loop.
Customers can return their old Armed Angels t-shirt or denim via the 'take-back system' and they will be turned into new items. 
Shop Armed Angels
---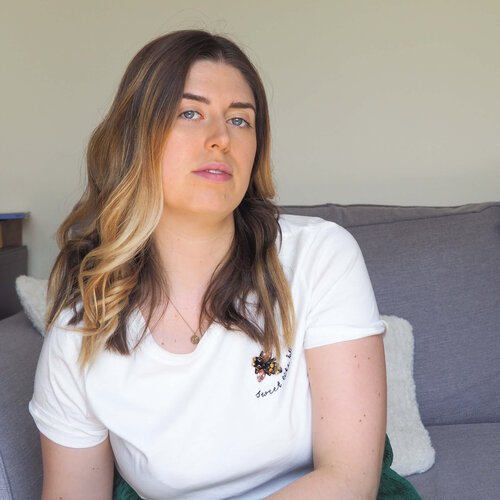 About the Author
Sarah is a freelance writer with a focus on vegan fashion, sustainability and ethically made clothes. She campaigns for change in the fashion industry through her blog and on her Instagram page.
---
MAKE SURE TO PIN THE PHOTO BELOW TO SAVE THIS POST FOR LATER!
---
WANT MORE SUSTAINABLE BRANDS? VISIT OUR BRAND DIRECTORY!
Our Brand Directory is home to hundreds of sustainable brands, from makeup to cleaning supplies, from underwear to shoes. We have broken everything down by category for easy shopping, along with discount codes unique to Sustainably Chic viewers.
Shop the Sustainable Brand Directory
---
RELATED READING YOU MAY ALSO ENJOY: