OEKO-TEX® CERTIFIED CLOTHES
As slow, sustainable fashion has become more and more popular over the past few years, most fashion brands have been wanting to appear as eco-friendly and ethical as possible in the eyes of consumers. 
However, the majority of them have barely taken any steps in the right direction. They use greenwashing as one of their favorite marketing tools, which makes it even harder for us to know whether a product is sustainable or not. 
Thankfully, some third-party certifications are making shopping responsibly easier than ever. When a piece of clothing is certified by one of these, we know that it is a better choice for us and the planet.   
One example is the OEKO-TEX® label, which you have probably come across at some point when shopping for clothes. Many sustainable brands are selling clothing with this label, and we have selected 14 of them in this article! 
WHAT DOES THE OEKO-TEX® LABEL MEAN AND WHY IS IT SO IMPORTANT? 
The OEKO-TEX® label is comprised of different third-party certifications that guarantee that the product (usually a type of textile) is completely free of harmful substances. 
The most commonly found label is the Standard 100 by OEKO-TEX®. This label means that all the components of an end product (including materials, threads, trims, zippers, linings, buttons, dyes, coatings…) have been rigorously tested for toxic chemicals and deemed safe.  
The MADE IN GREEN by OEKO-TEX® label takes it even further and certifies that the product was produced ethically and sustainably at every stage of the production process. 
All the OEKO-TEX® labels are trustworthy certifications since OEKO-TEX® is a third-party body, and it verifies products according to a given set of standards. So when a product has one of these labels, we know that it is a healthier version for us and the environment. 
It is particularly important to look for the label when shopping for clothes (or any other textile) because we wear them close to our skin and we do not want nasty substances to be absorbed by our bodies. 
We have a great article on Sustainably Chic on the OEKO-TEX® label if you want to learn more about it! 
NOW, OUR TOP PICKS FOR BRANDS SELLING OEKO-TEX® CLOTHING:
For: Women & Men
Categories: Activewear, Swimwear, Underwear, Outerwear, Accessories
Very size-inclusive, Girlfriend Collective specializes in the ethical production of activewear in sizes XXS to 6XL. It makes its clothes from recycled plastic using old disposable water bottles and fishing nets retrieved from landfills and oceans.
What I love about Girlfriend Collective is that it has taken steps to minimize its environmental impact at every stage of its supply chain. 
Besides producing its clothing out of recycled plastic, it dyes its garments with eco-friendly dyes and makes sure to clean all wastewater before releasing it. It even donates the dye mud to a local pavement facility so that it can be recycled into new roads and sidewalks!
The company's fabric is certified Standard 100 by OEKO-TEX®, and its packaging is 100% recycled and recyclable. You can even send back your old Girlfriend Collective pieces and the brand will give them a new life by turning them into new clothes! 
Shop Girlfriend Collective
---
For: Babies, Kids, Women, Men
Categories: Pajamas, Tops, Bottoms, Sweaters, Dresses, Overalls, Outerwear, Swimwear, Accessories
Hanna Andersson is your go-to brand if you are looking for high-quality, sustainable clothing for your children. 
The company makes everything kids and babies may need, from pajamas to onesies, to tops and bottoms. It even sells adult pajama sets for both men and women, featuring bold styles and fun prints. 
Hanna Andersson has been using GOTS-certified organic cotton for almost 30 years to create its pieces, and it is slowly incorporating other sustainable materials in its collections, like recycled polyester. 
Its fabrics also received the OEKO-TEX® certification, which is so important especially when it comes to children's clothes.  
The brand regularly supports charities helping children in need, like Baby2Baby, and it has recently partnered with Kidizen REWEAR Collective so that you can resell your used Hanna Andersson pieces and buy second-hand ones! 
Shop Hanna Andersson
---
For: Women
Categories: Lingerie, Loungewear, Pajamas, Swimwear, Accessories
Underprotection is a sustainable Danish brand designing lingerie, swimsuits, hosiery, and loungewear. It even has a nice maternity collection, providing underwear, bras and swimwear for pregnant or breastfeeding women. 
You get to choose between various colors, prints and laces, and all the styles are very chic and made to flatter your body! 
Underprotection creates its clothing using sustainable materials such as TENCEL Lyocell, GOTS-certified organic cotton, and even some more innovative ones like banana and milk fibers. 
All the synthetic materials it uses are certified by the Global Recycled Standard and OEKO-TEX®. Underprotection's recycled and responsible wools also received the OEKO-TEX® certification, so you have lots of clothes to choose from! 
The company is also a certified B Corporation and it has a great take-back program. Plus, it regularly partners with different organizations working to help the environment. 
Shop Underprotection
---
For: Women & Men
Categories: Coats, Knitwear, Dresses, Tops, Bottoms, Shoes, Accessories
Sézane is a sustainable brand based in Paris crafting high-quality clothing and accessories for women who want to wear their pieces year after year. It also has a lovely collection for men.
Whether you choose to buy a sweater, a dress or a pair of shorts, you will find that Sézane's clothes are very elegant and timeless.
And many of them received the OEKO-TEX® Standard 100 certification, so they are free of harmful substances!
The company makes its pieces using GOTS-certified organic cotton, recycled polyester, vegetable-tanned leather, or other certified materials.  
Sézane is a B Corp, and it has recycled over 13,000 clothes so far thanks to its recycling program. It has also raised over 4.5 million euros since 2018 for its philanthropic program DEMAIN, which aims to advocate for fair access to education and culture. 
Shop Sezane
---
For: Women 
Categories: Tops, Bottoms, Jackets, Sweaters, Dresses, Activewear
Aday creates sustainable, versatile clothing specially made to encourage you to become an outfit repeater. Its pieces are thoughtfully-designed and very comfortable, most of them feature pockets, and many can be worn in different ways.
The brand offers a large selection of everyday basics made with innovative fabrics, like recycled polyester produced from recycled post-consumer plastic, or TENCEL modal, which is made in a closed-loop system. 
Aday also reuses textile waste to create new products. The brand makes its recycled cashmere out of upcycled fabric scraps sourced from factories specializing in the production of luxury fashion. 
All its fabrics are either Bluesign or OEKO-TEX® certified, so they are better for you and the environment. The company also donates 1% of its sales to different non-profit organizations. 
Shop Aday
---
For: Women & Men
Categories: Tops, Bottoms, Dresses, Sweaters, Jumpsuits, Outerwear, Underwear, Accessories
From basic t-shirts to jackets to underwear, Toad & Co designs all kinds of sustainably made clothes for both men and women, featuring classic styles you will not get tired of. 
The brand produces all its clothing using eco-friendly materials. It has a lot of great pieces made from hemp, TENCEL Lyocell, and organic cotton, as well as different recycled fabrics.
Most of Toad & Co's clothes also carry the Bluesign or OEKO-TEX® Standard 100 certifications (some even have both). 
All the company's products are picked, packed and shipped in a warehouse that trains, employs and empowers people with developmental and intellectual disabilities. 
Toad & Co is also a member of the Conservation Alliance and 1% For The Planet, and has helped fund 120 environmental protection organizations over the past 20 years. 
Shop Toad & Co.
---
For: Women
Categories: Underwear, Bralettes
Knickey is a sustainable underwear brand that has been striving to create everyday basics with the most environmentally responsible processes from the very beginning. 
Available in a wide range of styles, its undies are designed to fit your body perfectly. They are very soft, comfortable, and breathable!
Knickey only works with Fair Trade-certified factories to produce its collections.
Its entire manufacturing process thus follows the most stringent ethical standards. Not only that, but it also received the OEKO-TEX® and GOTS certifications. 
The majority of its undies are made from GOTS-certified organic cotton. The brand has also recently introduced new sustainable materials in its products, such as Tencel and recycled nylon. 
Knickey is climate-neutral certified and a member of 1% For The Planet. Each year, it also donates thousands of underwear to different organizations helping women in need across the country. 
Shop Knickey
---
For: Women & Men
Categories: Dresses, Tops, Shirts, Bottoms, Jumpsuits, Pajamas, Bath Robes, Accessories
Magic Linen is a family business selling handmade linen products, including gorgeous clothing as well as home textiles like bedding, towels, curtains, and table linens. 
The brand has a great selection of clothes for men and women, featuring unique design details and a rich color palette. Everything is made of linen, and the fabric received the OEKO-TEX® certification. 
Not only is the material used by Magic Linen incredibly sustainable, but the company also has a hyper-localized supply chain. It sources its linen from Lithuania and surrounding countries and then handcrafts all its pieces in Vilnius, which significantly minimizes the CO2 emissions generated during the transportation process. 
Magic Linen also cuts down on its textile waste by repurposing most of the fabric scraps and turning them into small items, like oven mitts or tea towels.
Shop Magic Linen
---
For: Women & Men
Categories: Activewear, Swimwear
Founded by artists and planet lovers, Wolven Threads creates sustainable activewear featuring stunning prints inspired by nature and different cultures around the world.  
The brand's pieces are made from recycled polyester, which contributes to removing on average one pound of trash from the oceans for each sale.
For instance, Wolven Threads' leggings are produced using 27 post-consumer recycled plastic bottles! 
Very soft and durable, the fabric is certified by OEKO-TEX® and the Global Recycled Standard. 
Wolven Threads also uses modal fabrics, which are produced from wood pulp fibers that are sustainably harvested. 
The company is incredibly transparent about its carbon footprint and makes sure to offset it. It is also a member of 1% For The Planet, and it sends its products wrapped with a piece of hemp twine and packaged in a recycled mailer or paper box. 
Shop Wolven Threads
---
For: Women
Categories: Tops, Bottoms, Dresses, Jumpsuits, Jackets, Accessories 
Encircled is an ethical Canadian brand selling versatile, timeless clothing for women who want to feel both comfortable and stylish all day long.
It crafts its pieces using natural and OEKO-TEX® certified materials and colors them with low-impact dyes. You can pick clothes made from organic cotton, linen, TENCEL lyocell, modal, bamboo rayon, or merino wool.  
Another thing that makes Encircled very sustainable is that its products are all made in factories located only 20 minutes away from the company's headquarters in Toronto, Canada. This drastically reduces the CO2 emissions generated during the transportation process!  
The brand is also a certified B Corporation, and it tries to minimize textile waste as much as possible. For instance, its sewing studios save all fabric scraps to give them a new life and upcycle them into new accessories.
Shop Encircled
---
For: Women
Categories: Underwear, Bras
Brighton Lace is a small, women-run business based in the United Kingdom that designs gorgeous lingerie.
Very comfortable, its undies and bras have beautiful, eye-catching details and they will make you feel incredibly feminine and sexy! 
The brand's pieces are handmade by two talented seamstresses using sustainable fabrics such as OEKO-TEX® lace and GOTS organic cotton.
A single piece can take up to two weeks to be completed! Brighton Lace also has a summer collection produced with hand-dyed linen, and a winter one featuring pieces made of upcycled cashmere sourced from a local vintage seller.  
All its lingerie is dyed with eco-friendly dyes using a special machine that helps reduce water consumption by up to 80% compared to more conventional dyeing processes.  
Brighton Lace also makes everything to order and buys its fabrics in small batches to prevent waste, and any leftover material is either recycled or upcycled into new products.
Shop Brighton Lace
---
For: Women
Categories: Tops, Bottoms, Dresses, Jumpsuits, Sweaters, Swimwear, Accessories
If you are not a fan of colorful clothes, Arraei is perfect for you! It creates feminine bohême clothing in beautiful neutral and earthy tones. 
The brand offers timeless styles that can be worn for years and makes all its clothes using natural fibers only. Most of them are produced from hemp, organic cotton and linen, which are some of the most sustainable fabrics you can find. 
Many pieces are certified by OEKO-TEX®, and those that are not all received the GOTS certification, so they are made ethically and sustainably without any harsh chemicals. It means that the brand's clothing is completely safe to wear on your skin! 
The company also produces everything locally in Vancouver, Canada, and works with sewers who are paid fair wages. Plus, each piece comes with a reusable cotton tote bag and is shipped in compostable packaging.
Shop Arraei
---
For: Women & Men
Categories: Bras, Underwear, Bodysuits, Loungewear, Swimwear
Mary Young sells all kinds of eco-friendly underwear, bras, swimsuits and loungewear for women, including basic long-sleeve shirts and crop tops. It also offers a few boxer briefs for men. 
The brand designs its pieces with every body type in mind, and it mainly uses bamboo rayon, which is OEKO-TEX® certified, throughout its collections. 
Mary Young produces everything in Montreal, Canada, and makes its clothes in limited runs using low-waste cutting techniques. This helps prevent overproduction and minimizes textile waste! 
The company even regularly offers limited collections that are made with leftover deadstock fabric. Another great thing is that all the products are shipped in recycled mailers, which you can then put in your recycling bin. 
Shop Mary Young
---
For: Women, Kids
Categories: Dresses, Knitwear, Coats, Tops, Bottoms
Emilia George is a one-stop shop for all the products new moms may need. This brand is perfect for professional women looking for high-end, sustainable maternity workwear and cute clothing for their kids all in one place. 
Emilia George sells lovely dresses, knitwear and coats, all of which are very functional and stylish.
Whether you are pregnant or already a mom, you will be able to wear these pieces through all the stages of pregnancy and motherhood! 
Many of these clothes are made from eco-friendly fabrics such as Tencel and recycled polyester. Plus, nearly all of them are OEKO-TEX® certified, so they are completely safe for you and your baby!
You can also choose some nice sweaters and bottoms if you are on the hunt for durable pieces for your kids. 
Shop Emilia George
---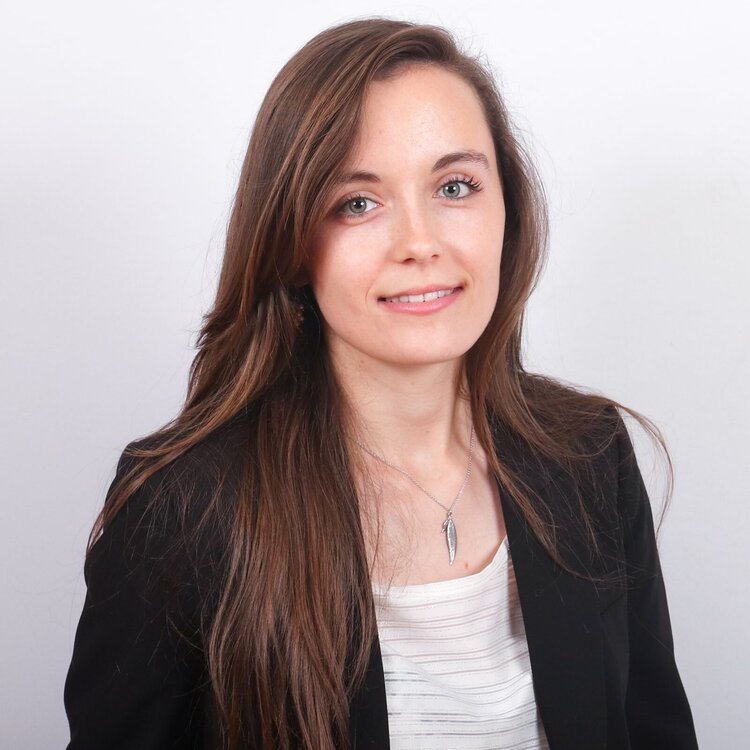 About the Author
Eva Astoul is a French freelance writer, specializing in content related to sustainability, simple living, and a growth-focused healthy lifestyle. She runs her own blog, Green With Less, to inspire people to live a more minimalist and sustainable life.
---
MAKE SURE TO PIN THE PHOTO BELOW TO SAVE THIS POST FOR LATER!
---
WANT MORE SUSTAINABLE BRANDS? VISIT OUR BRAND DIRECTORY!
Our Brand Directory is home to hundreds of sustainable brands, from makeup to cleaning supplies, from underwear to shoes. We have broken everything down by category for easy shopping, along with discount codes unique to Sustainably Chic viewers.
Shop the Sustainable Brand Directory
---
RELATED READING YOU MAY ALSO ENJOY: