What is Dopamine Dressing?
The image-sharing and social media platform Pinterest predicted that feel-good, electric outfits would characterize fashion in 2022. Given the massive offline and online popularity of Dopamine Dressing, with the homonymous hashtags getting almost 13 million views just on TikTok, it's safe to say that this has indeed been the year of bright and bold fits.
But let's take a step back and see what Dopamine Dressing actually is. In short, Dopamine Dressing is what happens when we start to dress for ourselves, expressing our mood and personality through fashion. We all know that wearing something that makes you feel good can do a lot for our spirit and confidence, and Dopamine Dressing is all about choosing outfits that are mood-boosting and fun to wear.  
Unsurprisingly, vibrant colors, bold patterns, colorful clothing, and eclectic accessories tend to visually characterize this aesthetic that is all about celebrating happiness and using fashion to express ourselves boldly. Like all the lovely and pleasure-focused things in life, this approach triggers Dopamine, our brain's feel-good neurotransmitter, hence the name.
Can I do Dopamine Dressing sustainably? 
To try Dopamine Dressing, you don't necessarily have to enact a massive change but rather a fun-oriented enhancement of some element of your own personal style. Finding fun colors, textures, and patterns to add to your wardrobe can be an easy way of engaging with Dopamine dressing. 
To do this, you can take the thrifting route, swap clothes with your loved ones, or take this as an opportunity to support fantastic and conscious businesses. 
To help you be as bold and unique as you want to be while being kind to the Earth and its people, we have selected a bunch of ethical and sustainable brands offering loads of fun and vibrant clothes and accessories for you. Happy dressing!
Nothing does the trick for our mood like feeling comfortable and at ease while sporting an outfit we love, and at Back Beat Co., they know how to make clothes that hit that sweet spot. 
This WOC-owned and California-born clothing brand makes low-impact, ethically made clothing for that laid-back life.
They prioritize ethical and social responsibility over profits and invest a lot of time in sourcing the fabrics used to make their creative, fun, and comfortable pieces.  
The result is that their ethically made non-boring basics are made with great low-impact fabrics such as hemp, recycled cotton, GOTS certified organic cotton, deadstock fabrics, and Tencel. 
They are known for their styles that mix fun and ease, with loads of Cali-vibes and hints at old-school surf 'n' skate culture. Their garments' beauty comes at the cost of neither the environments nor those manufacturing them, as BBCo is committed to raising the bar on working conditions for the people making their gorgeous pieces.  
The spirit behind and the look of BackBeat Co. iconic, fun garments are perfect for Dopamine Dressing as they can give your wardrobe an always-needed hint of sunshine and good vibes. 
Shop Back Beat Co.
---
The Asian-owned brand Baggu offers simple, playful bags, accessories, and much more for fun everyday living. Founded in 2007 by its current CEO, Emily Sugihara, this company is famous for its eye-catching, iconic reusable shopping bags, which are made of recycled ripstop nylon and come in an array of fun, colorful patterns.
This brand uses eco-friendly materials such as recycled ripstop nylon, recycled heavyweight nylon, recycled PET polyfill, and organic cotton to manufacture its products.  
They also have a deadstock line composed of patchwork pieces made from pieced-together leftover Baggu fabrics.
These funky, mood-boosting patterns aren't exclusive to Baggu's iconic reusable bags, as they can also be found on their pouches and cases, hat and accessories, home and travel goods, socks, and towels.
Given their impressive range of bold and vibrant goods, this sustainably-minded San Francisco-based brand is the perfect destination for those who want to bring the spirit of Dopamine Dressing even to other areas of their world, building an eccentric, vibrant home and everyday life. After all, what's better than some statement pillows to manifest colorful, fun dreams? 
Shop Baggu
---
Those who say that all eco-conscious fashion brands make only minimalist, boxy, and monochromatic pieces haven't checked out Damson Madder yet. This London-based brand starts from natural, organic, and recycled yarn and turns them into pieces that are bold as hell. 
To adhere to a circular economy model, Damson Madder uses Global Recycled Standard (GRS) certified recycled fabrics and is trying to increase the percentage of recycled content in its pieces.
They also use Global Organic Textile Standard (GOTS) certified organic cotton and deadstock fibers.
At Damson Madder, they use certified organic and recycled cotton to make their denim pieces, creating denim that can achieve a LOW IMPACT EIM score.
The brand is famous for its bright and bold co-ords, whimsical yet modern prairie dresses, and funky waistcoats and gilets. Damson Madder's youthful and fun pieces are perfect for building outfits that make you feel happy and confident, and that's what Dopamine Dressing is all about!
Shop Damson Madder
---
At Ilke + Ernie, they turn surplus fabric into fresh, sustainable, and transeasonal garments designed to empower and boost the confidence of those wearing them.
Their fun pieces are made with comfort in mind and sport bold prints and energizing colors, the perfect ingredients for a classic, mood-boosting Dopamine Dressing outfit.  
To avoid overconsumption and excess production, Ilk + Ernie produces just two collections a year that consist of no more than 10-15 styles.
The surplus fabrics used at Ilke + Ernie are plant-based, and in addition, no animal products are employed in the production of their pieces.
Their collections are characterized by fun, versatile designs that encourage getting creative with your own wardrobe. These are designed in-house at the Ilk + Ernie studio in Brighton, England, by the company's founder Jess who launched Ilk + Ernie in 2018. The garments are then ethically manufactured in a SEDEX-certified factory by a team based in Deli, India. 
Shop Ilk + Ernie
---
The young Vietnam-born and Belgium-raised designer Nhài Lê Thi is the founder of the high-end women's ready-to-wear brand NHÀI LÊ THI. 
Bold, colorful, and elegant NHÀI LÊ THI's original collections are ideal for a refined take on Dopamine Dressing. They are designed to express a freer lifestyle through easy-to-wear, relaxed, and light pieces with an unmistakable personal touch and attention to detail.  
Following the motto "less, but better," this brand produces solely two high-quality collections a year and produces to order, with each design limited to 30 pieces.
NHÀI LÊ THI's unique, joyful collections inspired by nature are made with fabrics carefully selected by local suppliers and designed with ease of movement in mind. 
Made for women who are proud of who they are in vibrant colors and gorgeous, fresh prints, NHÀI LÊ THI is the perfect high-end destination for Dopamine Dressing enthusiasts.  
Shop NHÀI LÊ THI
---
Based in the medieval Italian town of Verona, Progetto Quid has utilized 1200 km of re-purposed, high-quality leftover fabric to manufacture its vibrant, bold clothes since its founding. 
Lively colors, fun patterns, and a preppy modern look characterize this Italian brand's style.
To make these garments, they re-purpose leftover fabrics that mostly come from the surrounding area within a radius of 250 km.  
At Progetto Quid, much of the workforce has a past of long-term unemployment, and are part of protected categories or vulnerable categories. They focus on providing their workers with transversal employment models and training. Because of their commitment to social and environmental sustainability, they won the Momentum for Change Lighthouse Activities prize and the Green Carpet Responsible Disruption Fashion Award.
Shop Progetto Quid
---
This UK-based sustainable brand has been in business since 1995, and it's on a mission to make sustainability a joy for all with its fresh, fun patterns and lively, breezy colors and cuts. This approach is reflected in their comfy clothes and gifting-friendly accessories. 
At Thought, they are committed to responsible sourcing and selecting suppliers and materials that meet their standards. They support ethical factories, making their pieces increasingly Fairtrade and GOTS certified.
They use fabrics such as organic cotton, Lenzing Ecovero, hemp, and Tencel, as well as recycled materials. 
Their pieces have a touch of timelessness, are comfortable, manufactured with a lot of attention to detail, and embellished with vibrant colors and artisanal hand-drawn prints. A lot of work goes into Thought's signature seasonal prints, which are inspired by art, textiles, the seasons, and nature, giving their garments their iconic joyful feel. With its focus on beauty and comfort, Thought's eco-friendly garments check all the Dopamine Dressing boxes!  
Shop Thought
---
By now, we know that Dopamine Dressing is about wearing something that makes you feel good and boosts your mood, like a good meal, a chat with a friend, or a fun workout. If you are a sustainably-minded individual, you probably want something that suits your values, as well as your taste. With this list's help, you can find something that will make you feel happier, more confident, and ultimately more like yourself without costing the Earth. Because fun, aesthetics, and ethics can most definitely get along!  
---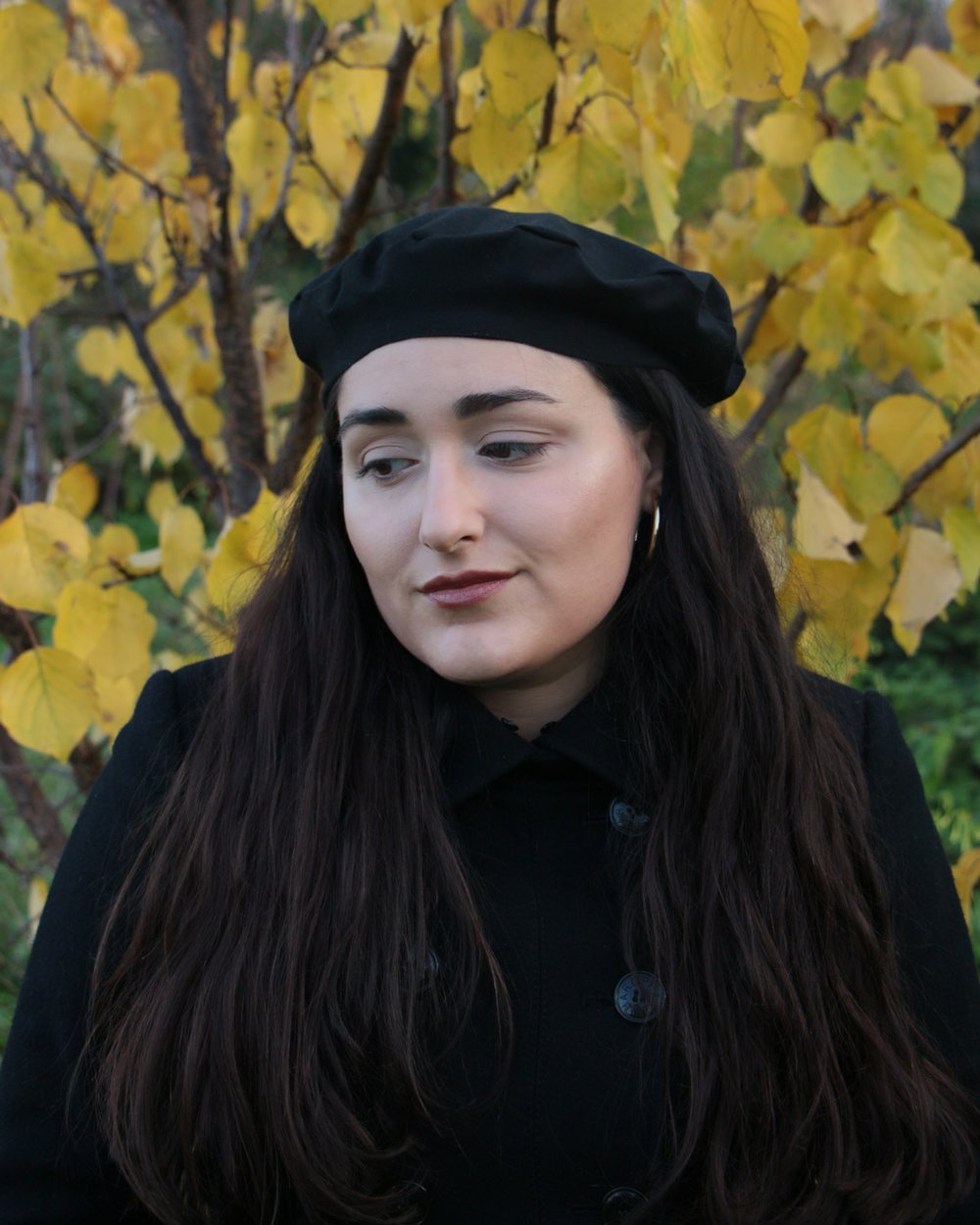 About the Author:
Roberta Fabbrocino is a journalist specialized in climate change and sustainability-related topics. Her articles have been published in several international eco-publications. Roberta also works as a content writer for sustainable companies.
---
MAKE SURE TO PIN THE PHOTO BELOW TO SAVE THIS POST FOR LATER!
---
WANT MORE SUSTAINABLE BRANDS? VISIT OUR BRAND DIRECTORY!
Our Brand Directory is home to hundreds of sustainable brands, from makeup to cleaning supplies, from underwear to shoes. We have broken everything down by category for easy shopping, along with discount codes unique to Sustainably Chic viewers.
Shop the Sustainable Brand Directory
---
RELATED READING YOU MAY ALSO ENJOY: