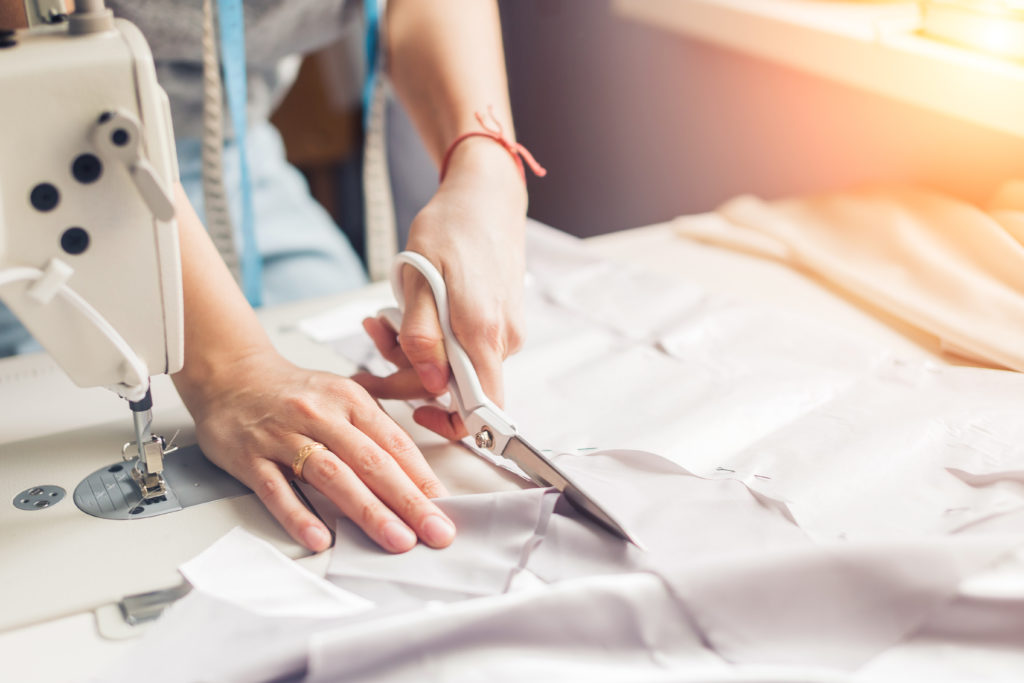 It began with a simple longing, born in the humid 105 degree Austin summer: I just want to wear clothes that do not touch my body. Like most desires, it was transgressive. I had been watching a lot of Project Runway in the afternoons, when my dissertation writing abilities abandoned me to the air conditioned dim. The designers and judges were all about showcasing a womans figure, or showing off her curves, which were usually close to nonexistent. These were the hallmarks of good clothing design for women in the early 2000s and 2010s, and for the most part they still are. I wanted the exact opposite: a large simple shape to swim around in. Something that could catch a gust of air beneath it like a personal parachute. Something that breathed for me when I couldnt catch my breath.
I was by no means the only writer, nor the only grad student, to be soothed by the show. Its emphasis on criticism was cathartic, sequestered as I was in literary criticism, in the critiques of my advisersmy own panel of judges. And I was trying to figure out my own writing apart from grad school, essays and research that didnt fit the pattern of the academic article. Tim Gunns presence in my life that year was a godsend. He wasnt my mentor, he was my guardian angel.
I began to research my desire for billowing, formless clothes and found a designer in Japan called Arts & Science that was doing something close, calling it genderless clothing. Freshly out of the closet as a lesbian, the gender-blurring potential of clothes called to me. I ventured to a fabric store that had in its windows a series of full-length wedding gowns and bought my first pattern, along with two or three yards of navy blue linen and small black buttons. I had learned to sew in home arts in the seventh grade, where my first garment was a pair of pink flannel boxer shorts with snoozing ducks on them, and had started making haphazard quilts in subsequent years, usually leaving them unfinished. Clothes were intimidating by comparison. So many seams and rules. Darts! My grandmother was a seamstress; she made wedding gowns for real people and expertly tailored Barbie clothes for me, all styled like it was still the seventies: ochres and russets and tweeds. My mom had always sewn, making alterations and mending my torn clothes, sewing the ribbons into my pointe shoes with fishing line. Sewing must be in my bones somewhere.
I enlisted the help of a coworker who made all her own clothes lined skirt suits la Rosalind Russell in His Girl Friday and who had previously worked as a milliner making hats in New Orleans. She invited me over to the house that she owned, further proof that she had skills I could learn from. We traced and pinned and cut on her floor, knocking back beers and talking through the tweaks I was already planning to make to the pattern: no darts, for starters, and a tab collar, and a straight waistline instead of a cinched one. My first ever pattern and I was undoing it as I went. The dress took weeks longer than I expected and I forgot to add a pocket on the left side, but, wonky seams aside, it was perfect. It was the exact dress I would have bought, if it existed.
Soon enough I stopped buying patterns all together. Too restrictive, too fixed on creating some new shape for a woman to sculpt or smoosh herself into. The patterns were heteropatriarchy on paper, the very idea of flattering shapes a form of captivity. The politics of clothes began to reveal themselves as I examined garments in stores. Womens clothes, even in the same store, were more expensive than mens! They were made with cheaper materials! (Hello, modal!) They had stupidly tiny, useless pockets. Mens clothing patterns were designed to comfortably fit the body; womens were designed to transform the body into something else. I wandered over to the mens side of the store, only to be treated like a lost child, an embarrassment to the sales staff. Still, I came away with some mens button-downs in 100% cottonno stretch, for chrissakes.
Season after season of Project Runway played in the background as I sewed, with Harvey Weinsteins prominent producer credit blissfully unnoticed. My navy linen dress with matte black buttons down the front was soon joined by a cobalt ikat high-waist skirt (elastic, a forgiving waistband at any height), a black speckled cotton gauze bag dress, as I called it, which for the rest of the summer I never took off and eventually remade in green so that I could do laundry. Sewing gave me time to think, to process, to give in to an activity that had an actual, physical end product. It saved me. I dont think I could have finished my dissertation without it, an early lesson about the relationship between work and nonwork: I cant do one without the other. When I started making caftans, my friends started making requests. After graduating, my partner and I moved to Santa Fe to start radically new lives, refusing to be tethered to any institution or traditional job, which meant I was underemployed, coaching high schoolers on their college essays and grading papers for a living. I needed extra cash and I loved to sew. Naturally, I thought the logical next step was to put my hobby to work as a side hustle. Like any millennial worth her salt, I began designing a free website. A dream is just an idea without a website, a web platform I could not afford reminded me during podcast commercial breaks. I called my fledgling business Agnes, a cross between Agnes Varda and Agnes Martin, two of my longtime idols. I should have taken note that neither of them, to my knowledge, ever started a business.
We were living in a one-room, two-and-a-half-story loft that used to be our landlords French tapestry studio, so the sewing energy was strong. I perched in a nook on the second floor and sewed through the afternoons as orders trickled in. I made oversize kimonos with dolman sleeves, caftans, bag dresses, wraps. I ordered fabric from India, from small retailers, from big corporate goblins like fabric.com. Having long ago abandoned patterns, I cut my own, taking measurements from each customer and designing the garment to fit their body. The measurements alone made it clear that bodies are unruly, their shapes unpredictable. I printed an Agnes label onto sheets of white fabric, which I cut by hand and sewed into each piece when it was done.
As my friends told their friends, the orders increased, and by Christmas I was drowning. People were ordering six kimonos at a time. I was only one person, and I was a fairly tired person at that. I collapsed into fear naps regularly, panicked about getting garments finished in time. I began to make mistakes, cutting a hole in the side of my sister-in-laws birthday dress, bleeding on a kimono after nicking myself with a pin. When an editing job came along I took it, sensing a chance to escape the entrepreneurial prison Id fashioned for myself. For months after I didnt sew at all, having come to fear the process that once brought me such freedom and excitement. Id taken something I loved to do, something that garnered flow, and turned it into a product. Id only been doing what Id been told to do since I was born: find something you love and make money from it. And it was all absolutely wrong.
I still buy fabric in my travels and give myself new projects: a wool smock dress is next, and a mustard jumpsuit that I might wear on my book tour, if I finish it in time. And I continue to follow fabric stores and pattern makers, saving Instagram photos of tunics and coats alongside recipes. But Im only sewing for myself, and occasionally for my partner, and I do it on my own timeline. Some projects take months, and thats fine. My hobbies need space to be unproductive, useless, aimless. My life needs fewer transactional components, not more. I still love to wear something that doesnt hug my curves or cling or cinch or pull or constrict. I love to feel flamboyantly embodied, swaddled in fabric. The clothes I make for myself are containers that let me take up as much space as I like in this cold, constricting world. When I recently found a few seasons of Project Runway that Id missed, I got sucked back in. This time, I was even more disturbed by the way the judges and designers manhandled their models, plucking at their bodies, sewing or even gluing them into clothes. The latest season finally brought in models of different shapes and sizes, a move Tim Gunn heartily supported, and many of the designers were outraged at having to work with the reality of an incongruous body. I found myself longing for the soft, warm bubble of the tent on The Great British Baking Show, where everyone roots for everyone else. I love to bake, and for a long time I thought I should be a baker. Im happy to know, now, that Ill never do that to myself.
Jenn Shapland is the author ofMy Autobiography of Carson McCullers, out next week from Tin House Books