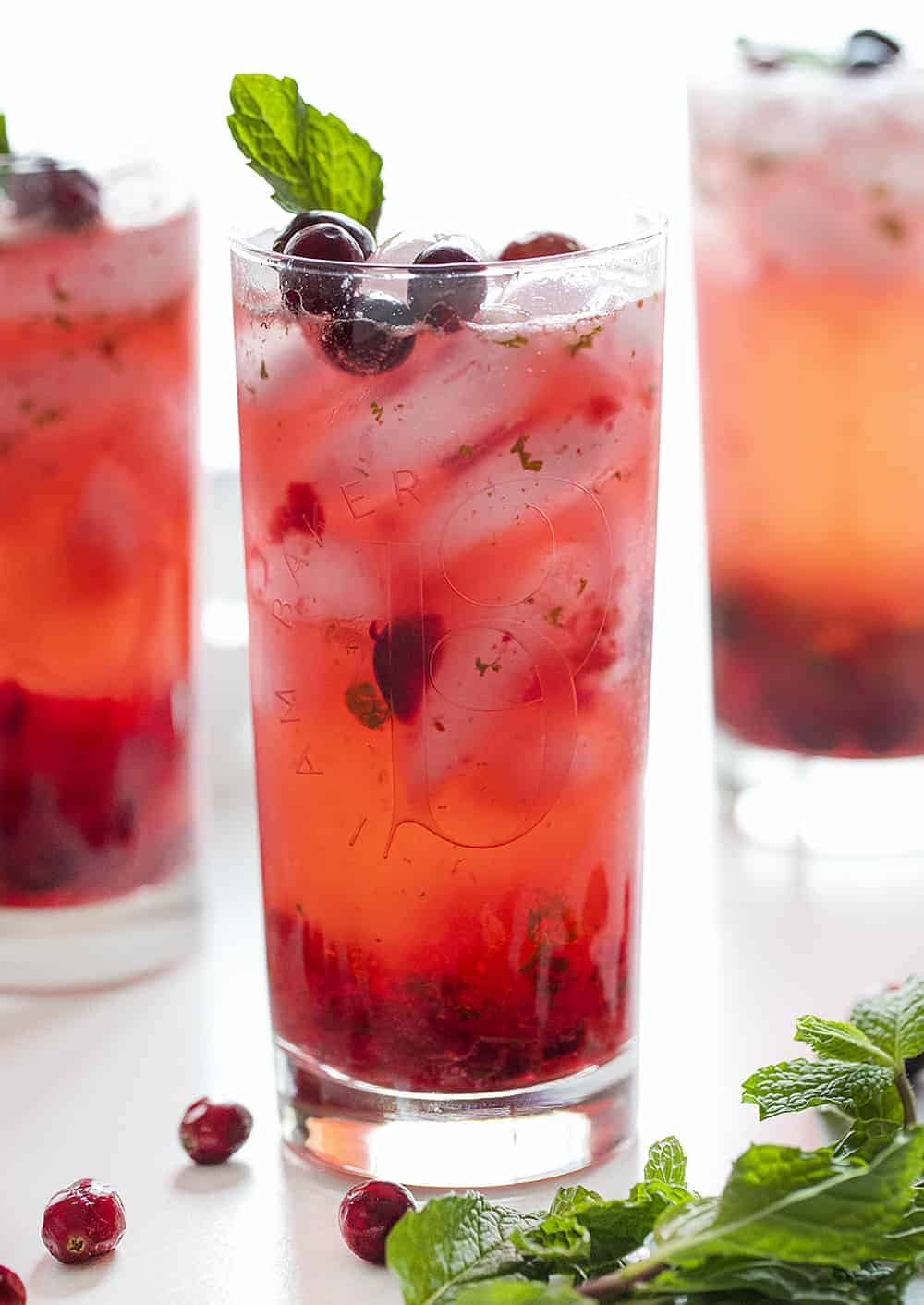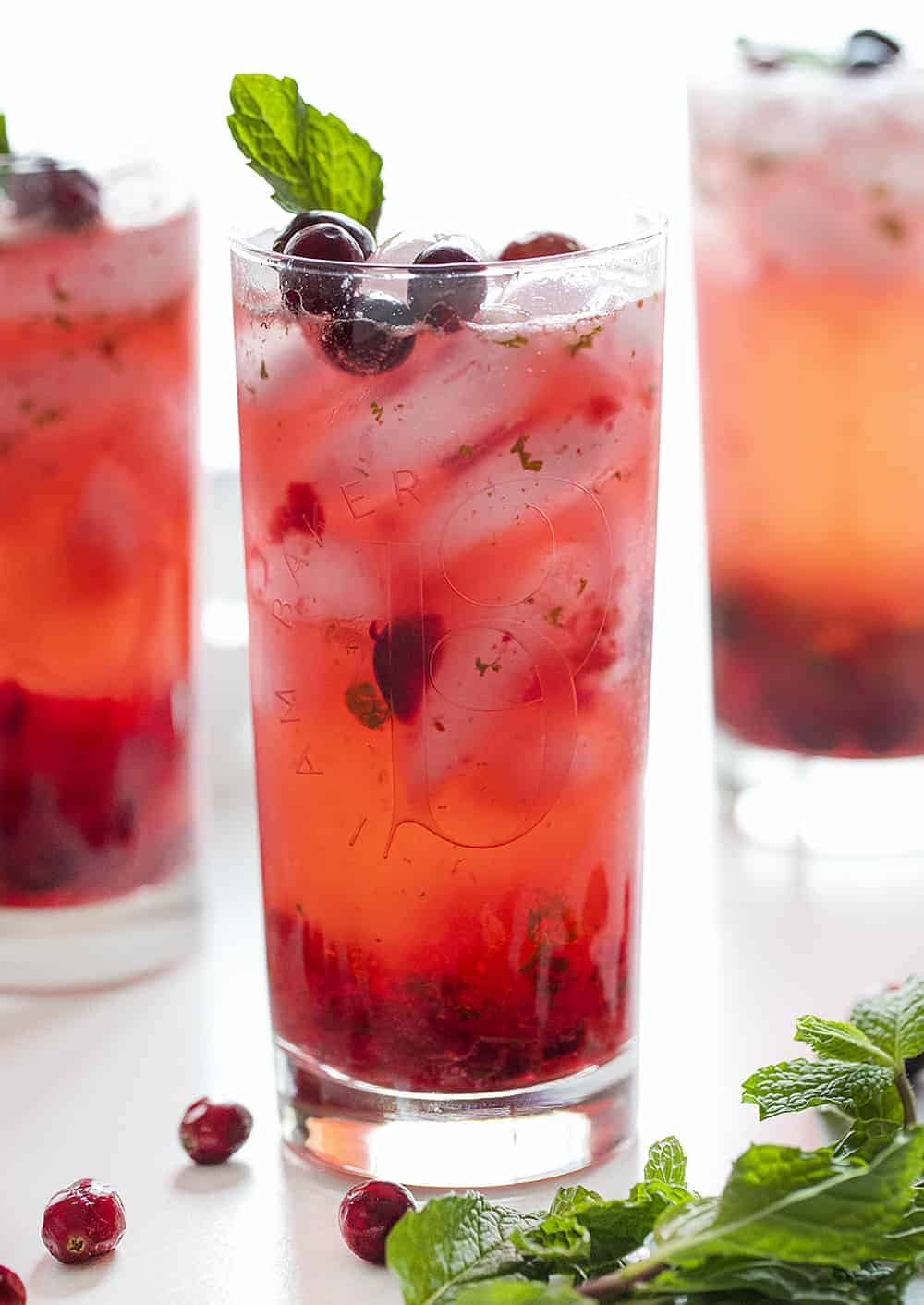 Mojitos are not just a summer drink. Cranberry Lime Mojito is a refreshing cocktail that is perfect for the holidays. The cranberry syrup gives the drink a festive look, and with the mint and touch of lime, it has that red and green coloring that just makes sense around the holiday season! If you love mojitos, try my Mojito Sangria.
Cranberry Lime Mojito
There is nothing like a refreshing drink to offer guests at your next party or to enjoy after a long day. The colors are so vibrant and pretty, it almost makes you not want to drink it! But, who am I kiddingsip away! Since mint is known to be such a calming herb, it is no wonder a Cranberry Lime Mojito is a wonderful way to wind down or relax. And after the hustle and bustle of the holidays, who doesnt need a little calm to take a little bit of the stress away.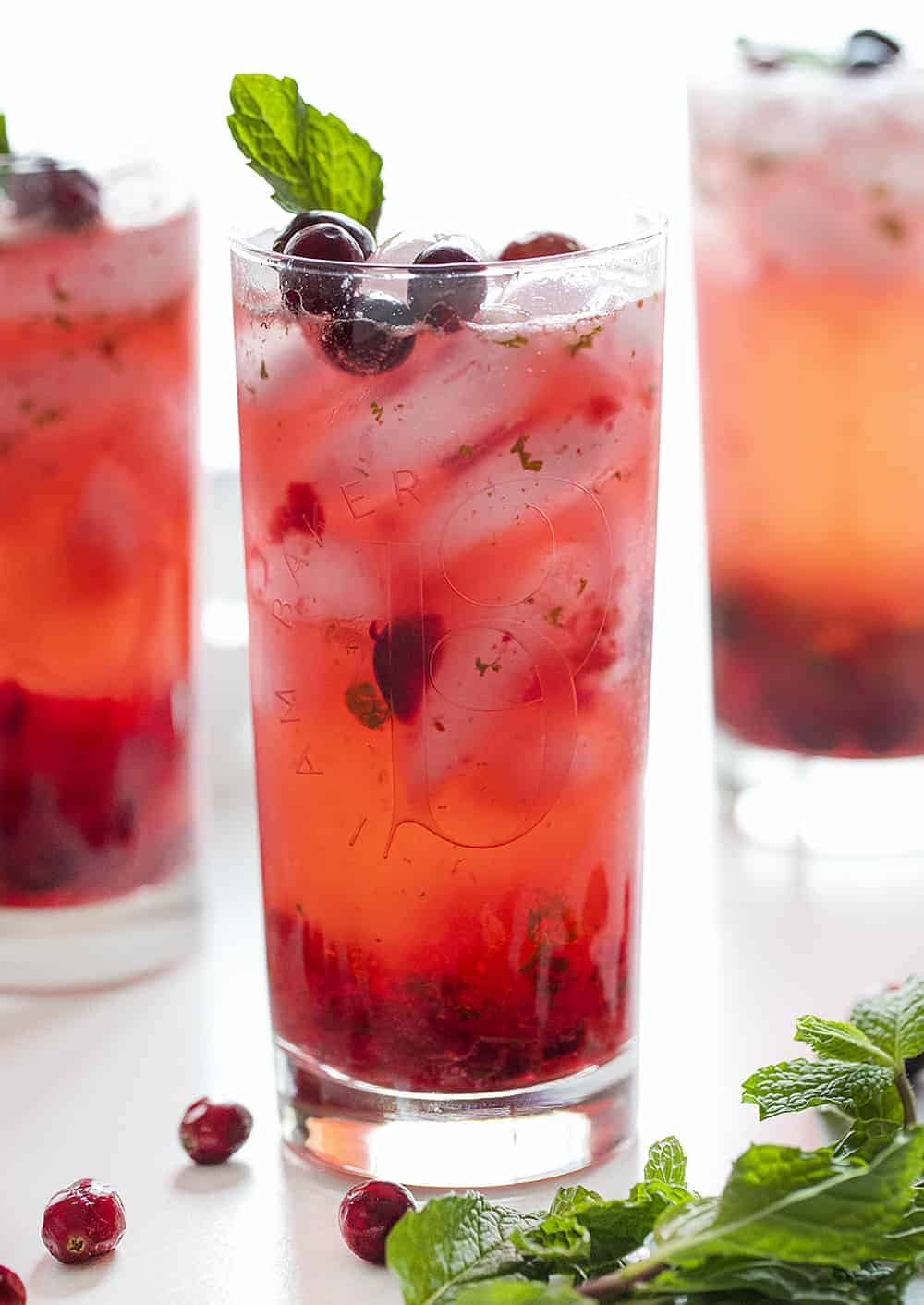 Cranberry Lime Mojito Recipe
The traditional Mojito recipe has five ingredients, and it is one of the most popular rum-based highball recipes. By simply adding sparkling water and cranberry syrup to the mix, you now have a Cranberry Lime Mojito!
Ingredients:
Sugar
Water
Cranberries
Mint
Lime juice
Rum
Sparkling water

How to Make a Cranberry Lime Mojito
There are two main parts to making a Cranberry Lime Mojitothe muddling and the cranberry syrup.
The first thing you have to do is muddle the mint and lime. Muddle, you say? Yes. I am referring to the second definition of the word, not trying to confuse you (get it)? Anyway, when a recipe calls for herbs, fruits, or spices to be muddled, you take your trusty muddler and gently push down on your mint, in this case, to release the beautiful minty aroma and flavor. Note the word gently in the previous sentence. To muddle is not to get out all of your stress and mash the fruits and herbs to nothing. It means to press down and twist.
Now, what if you have all of your ingredients for the Cranberry Lime Mojito and realize you dont have a muddler? Have no fear! Simply use the end of a rolling pin or the end of a wooden spoon. You got this! The second part of this recipe is the cranberry syrup.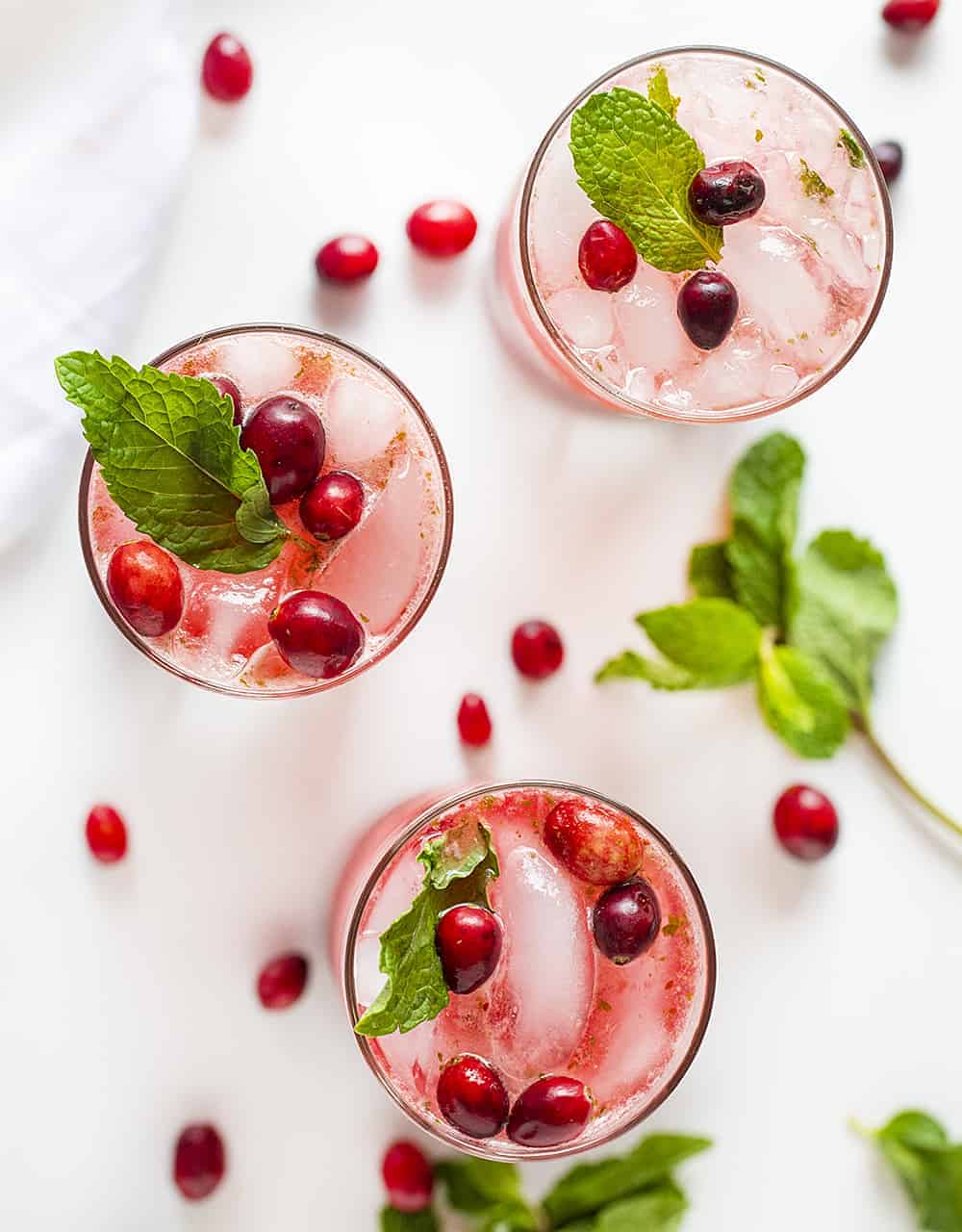 How to Make the Cranberry Syrup
Besides muddling the mint and lime, you need to prepare the cranberry syrup to add to the drink. I have a bit of a warning before you begin making the Cranberry Sauce. As the cranberries start to cook, they may splatter a bitAnd, when they splatter, they may stain your clothes! After all, the colonists would use cranberries to dye their clothing back in the 1600s. So, unless you want some red polka dots, I recommend placing a colander over the top of the saucepan (or splatter guard) as the cranberries begin to pop.
Now that the disclaimer is out of the way, lets get to the ease of making the cranberry syrup. To make the cranberry syrup, mix the sugar, water, and fresh cranberries. Simmer over low heat for about 5 minutes, or until the mixture starts to thicken.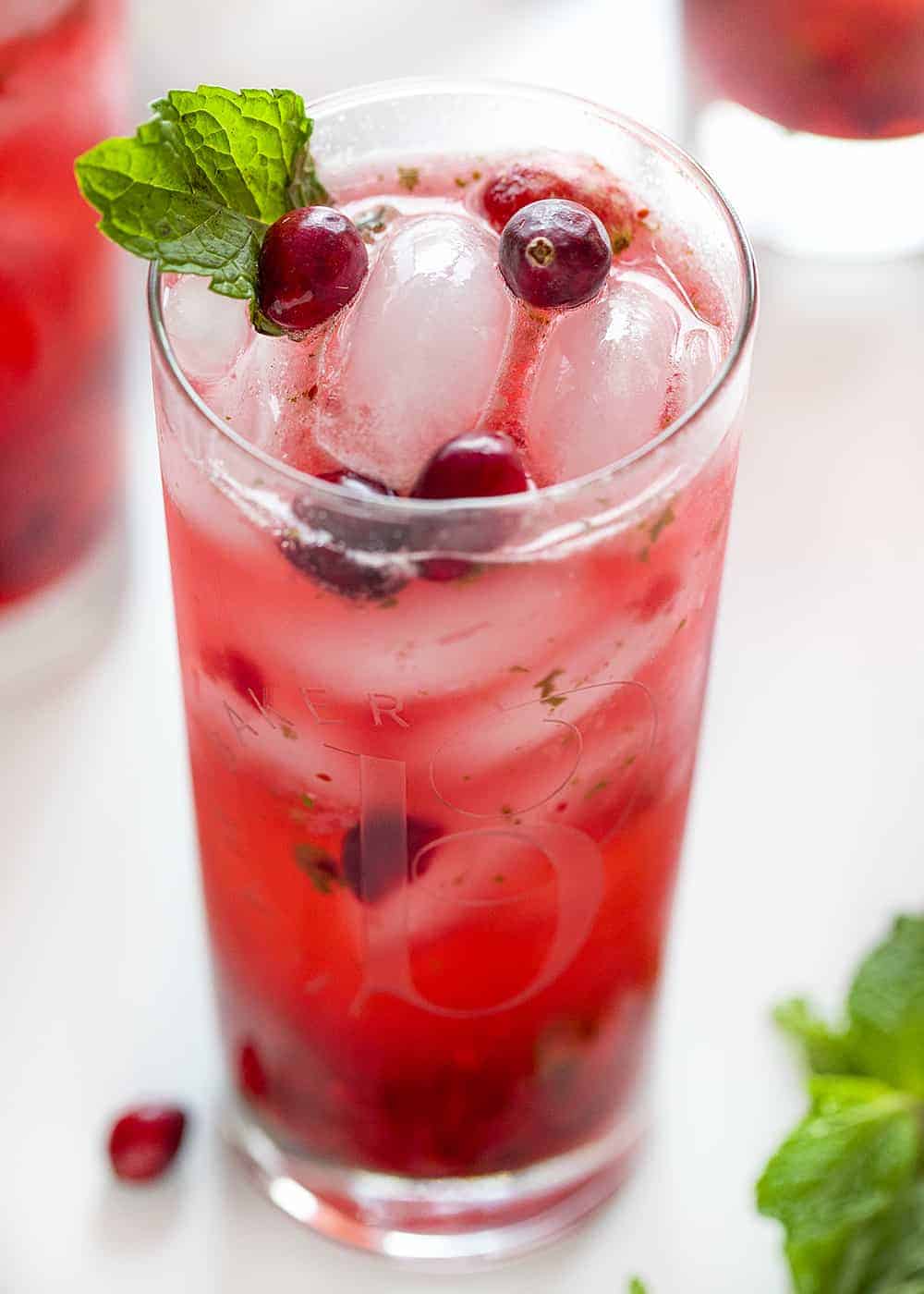 Mix Your Drink
Once you have your mint and lime muddled, as well as your cranberry syrup made, its time to fill the glasses with the layers of refreshment in your Cranberry Lime Mojito. Evenly distribute the mint and lime into each glass, followed by the cranberry syrup. Then, pour about 2 ounces of rum into each glass. Finally, add some ice and sparkling water to top everything off. It looks great adding a few cranberries to your drink as well! Mix everything together and enjoy!
Looking for Other Cocktail Recipes?
Strawberry Lavender Vodka Lemonade
Cranberry Lime Mojito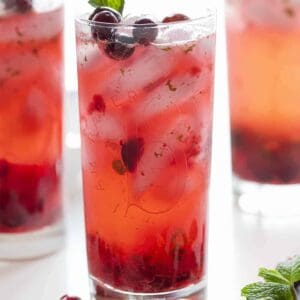 A Cranberry Lime Mojito is the perfect adult holiday cocktail, made with fresh mint, cranberries, and lime.
Cranberry Syrup
1/4 cup granulated sugar
1/4 cup water
1 cup fresh cranberries
Cranberry Lime Mojito
16 sprigs mint
3 tablespoons lime juice
8 ounces light rum
24 ounces sparkling water
Cranberry Syrup
In a small saucepan, mix together the sugar, water, and fresh cranberries. Simmer over low heat for about 5 minutes. The sauce will get very thick, and the cranberries may 'pop' (or open up). Cover with a mesh strainer to prevent cranberries staining your shirt!
Assembly
Muddle the mint and lime juice together and separate evenly into 4 glasses.

Separate the cranberry syrup into each glass.

Pour about 2 ounces of rum into each glass.

Top with crushed ice and sparkling water.