Upcycling shirts is a great and unique way to make clothes that suit you. Rosery Apparel on YouTube shares how to make a ruffled blouse from an oversized man's shirt.
Materials:
A Man's Shirt
Seam ripper
Erasable pen
Scissors
Cloth iron
sewing machine
threads
Pattern: https://www.roseryapparel.com/rosa
Directions:
Remove the shirt's pocket with a seam ripper and set it aside to be used later. Fold the shirt in half, matching all the parts together.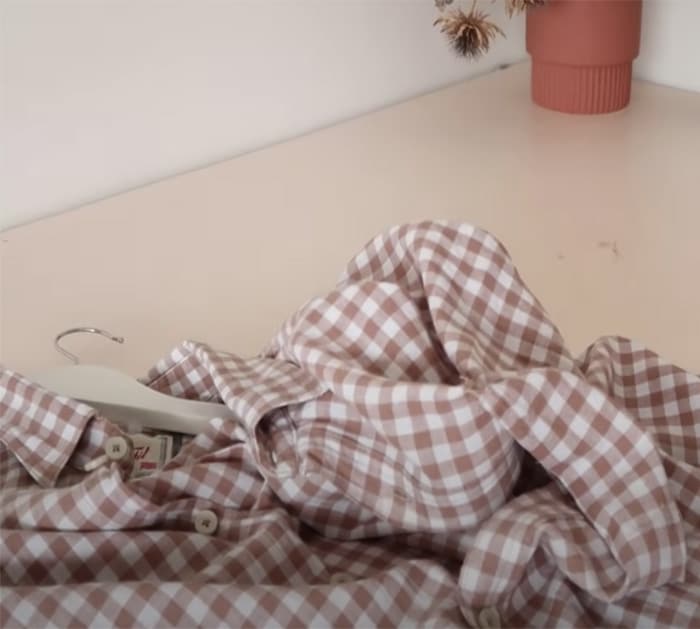 Using the pattern linked above, place the template along with the folded shirt just below the shirt's collar.  Using an erasable pen or a fabric marker, trace out the template as a guide.
Using a ruler, mark out the fabric at which part you would like the blouse to end. Make sure to add and mark 2.5 inches for a seam allowance. Cut out the drawn-out template with scissors or a rotary cutter. The shirt should end up looking like this.
Open the bodice fabric that you have cut. Prepare the excess bottom fabric and remove the buttons. Fold the fabric twice, draw a line in the center and cut across. Cut the fabrics that have curves into quarters. Also, cut the rectangle pieces in half. In the end, you should end up with these 6 pieces. Pin the right sides of the 6 pieces together and sew them along in this pattern.
Neatly press the seams with an iron and iron out the hem. Stitch the hem in place. Sew the raw edges together loosely and pull to gather and make the ruffles. Make sure the ruffles are long enough for the armholes of the shirt.
Cut across the underarm seams of the shirt's arm. Then, cut the remaining side of the shirt. Repeat for the next arm.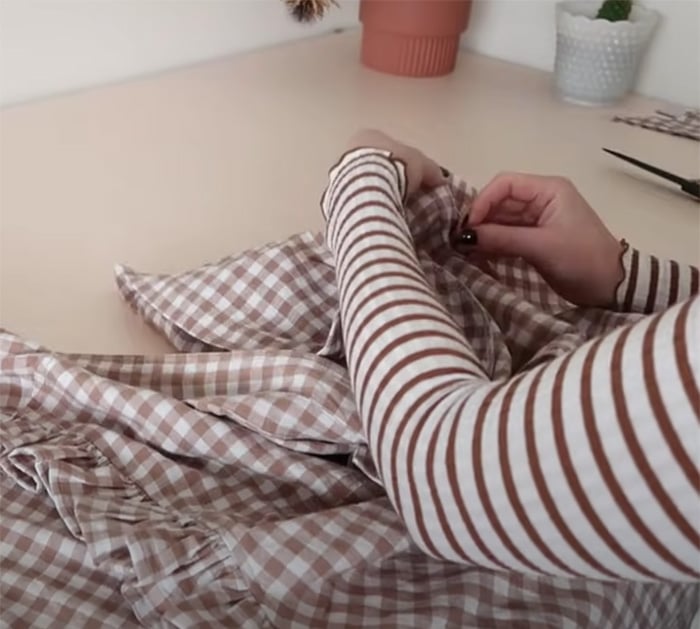 Unbutton the bodice of the shirt and lay it flat. Pin the ruffles of the blouse and sew them in place. Pin the sleeves on top of the ruffles and sew them in place. Press out the ruffles and stitch around them. Sheer out the bottom edge of the sleeves. Press and sew the hem of the shirt.
Lastly, sew the pocket back into the shirt.
How to Upcycle a Man's Shirt into a Ruffled Blouse
The post How to Upcycle a Man's Shirt into a Ruffled Blouse appeared first on DIY Joy.