The need for alternative leather
Before we dive into Piñatex—what it is, and why we love it—let's talk briefly about why a material designed to be used in place of leather and synthetics needs to exist in the first place. 
On the animal side of things, let's start with sustainability. All animal-derived leathers are processed skins, tanned in order to make them last. This, in turn, renders these skins non-biodegradable (yes, even when they're vegetable tanned). Cowskin leather is the third most impactful material of all to produce, according to Sustainable Apparel Coalition data, with Amazonian Rainforest clearing, enormous greenhouse gas emissions, and wasteful water use behind it.  
What's more, animal leather is made from sentient individuals, and purchasing it financially contributes to ongoing cruelty—like mutilation—and slaughter. It's for this reason that leather is actually considered by the meat and dairy industries as a 'co-product', not a 'by-product'. For this reason, many people opt for vegan leather. And while cow skin leather has a worse eco-impact than even synthetics like polyurethane, fully synthetic materials are not an eco-friendly solution. They are made from plastic, and fuel harmful mining industries. They will also never biodegrade, resulting in plastic waste and pollution. 
What is Piñatex, and how is it made?
Dr. Carmen Hijosa, having once worked amidst the leather industry, saw a need for a fashion solution that was free from both animals and a heavy reliance on petrochemicals. Thus, she came to create Piñatex, one of the first primarily plant-based leather alternatives to become more widely available. 
Piñatex is largely made up of pineapple plant leaves. It is not the leaves sprouting out the top of the sweet fruit, but rather out of the plant which pineapples themselves spurt out of. Normally in pineapple production, these leaves are simply discarded.
To create Piñatex, these leaves, which for now all if not mostly come from the Philippines, are instead pulled apart into long, stringy fibres. Next, in the non-rain season, they are dried under the sun. These fibres are then turned into a kind of fluff, which gets mixed up with a corn-based polylactic acid. 
At this point, the material is sort of like a felt. This felt gets coloured with GOTS-certified dye and coated with resin made from water-based PU, which is REACH compliant to ensure environmental safety. It's at this point that the material is completed to make a strong, sturdy, and more water- and wear-resistant material that is great for everyday use. 
Is Piñatex a sustainable material?
Piñatex is an extremely low-impact material. Before we get into this though, it's worth noting that, just like cow skin leather and synthetic leather, the material is not 100% biodegradable. However, the base of the material—the mixed-up pineapple leaf fibre and corn-based polylactic acid—is biodegradable, but just in controlled industry conditions (so don't put it in your compost bin at home). This base material makes up about 95% of the entirety of Piñatex.
Given that none of these materials (leather, synthetic leather, or Piñatex) are completely biodegradable, what's perhaps more important to talk about when it comes to environmental impact is production. When considering impacts like global warming, fossil fuel use, water scarcity, chemistry, and eutrophication (which can lead to dead zones in waterways and oceans), Piñatex has an extremely small comparative impact. To produce the pineapple-leaf-based material, the eco-impact is about two-thirds less than that of polyurethane synthetic leather. Compared to cow skin leather, Piñatex is around an incredible nine times less impactful to produce. 
This is because producing this material is far less water-intensive, releases less greenhouse gas emissions, involves a lot less chemistry and fossil fuels, and leads to less eutrophication as well.
Is Piñatex also ethically produced?
Sustainability is not the only important factor to consider when choosing a material; ethics must come into play, too. Not only is Piñatex free from animal slaughter, but the humans involved in producing this bio-based material are treated well, too. 
Earlier it was noted that the leaves of pineapple plants are normally discarded. Just like selling cow skins makes raising cattle for the sale of meat far more profitable, selling leaves to create Piñatex makes growing pineapples for fruit sales much more financially beneficial. Essentially, the creation of Piñatex has created a pineapple fruit co-product, economically supporting farmers and their communities in the Philippines. Each year, about 13 million tonnes of leaves from the global pineapple industry are turned from waste into profitable materials, thanks to Piñatex!
This is important because too often we forget to consider not only who made our clothes and accessories, but who made the materials and grew the fibres that make up these items. Piñatex is produced in a supply chain that is largely transparent, with information about where each process takes place available for everyone to see. 
How does Piñatex perform?
The coating on this material allows for a more sturdy, long-lasting finish. Piñatex softens over time, like animal-derived leather, and can be cared for with balms, similar to those used on animal leathers, too.
Piñatex has also released Piñatex Performance, a material with a slightly higher PU percentage, which is even more sturdy and long-lasting. This particular material is especially beneficial to those seeking to use it for instances where high water and abrasion resistance is important. For example, this material might be preferred for some shoemakers, but is less needed for bag makers. Piñatex Performance is still 58% biodegradable. 
---
Where can I get Piñatex?
There are a whole lot of brands creating gorgeous bags, shoes, wallets, watches, and even jackets with Piñatex. Below, you'll find some favourite brands making ethical, sustainable garments, shoes, and accessories.
Carries | Handbags & accessories
This sustainable handbag brand uses materials like Piñatex and cork to create totes, backpacks, purses, and wallets. Everything is handcrafted in L.A. from premium, European, innovative fabrics. The inspiration for Svala's name comes from Iceland, where the founder, Helga's, mother is from. Svala means swallow in Icelandic; the swallow bird is a symbol of love, loyalty, freedom, and hope in many cultures.
Shop Svala
---
Carries | Watches for men & women
Made in a Hong Kong factory with ethical credentials, Time IV Change is an Australian designed and owned brand creating watches with leather-free straps.
The label's Piñatex collection offers gorgeous, classic, and minimal styles.
Shop Time IV Change
---
Carries | Bags, wallets, & small accessories
A brand that is always at the forefront of material innovation, Luxtra is made ethically in Florence, Italy.
The brand uses Piñatex in their bags, wallets and other accessories.
Look out for their cactus and apple leather bags, too! 
Shop Luxtra
---
Carries | Bags, wallets, and more
This brand is locally and ethically handcrafted in Los Angeles, and creates bags and purses from Piñatex.
These bags are also lined with sustainable materials like eco-suede made from 70% recycled and 30% plant-derived materials. 
Shop HFS Collective
---
Carries | Sneakers for men & women
This shoe brand is ethically made shoes in Portugal, and designed with love in Australia.
Using Piñatex, alongside other sustainable, animal-free materials, they create sneakers that are as comfortable on your feet as they are kind to the planet.
Shop No Saints
---
Conclusion
Even a decade ago, it was almost impossible to find leather alternatives that weren't made from fossil fuels. But lucky for us, that's changing! There are now so many great leather alternatives like Piñatex that are not only more ethical when it comes to animal rights, but also plastic-free and beautiful, too!
---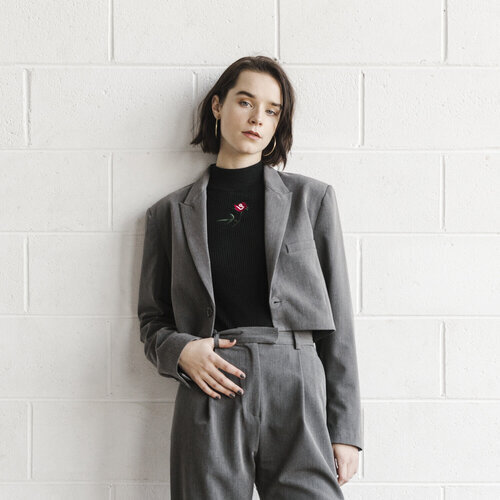 Emma Håkansson is the founder and director of Collective Fashion Justice which seeks to create a total ethics fashion system that prioritizes the life and wellbeing of non-human & human animals, as well as the planet, before profit & production. She has written countless articles on ethics, sustainability, and fashion, and has two books due out over the next two years.
---
PIN THE PHOTO TO SAVE THIS POST FOR LATER
We are constantly updating blog posts to give you the best in sustainable fashion, beauty and lifestyle.
This post contains affiliate links.
As always, views are genuine and brands are truly loved.
Thanks for supporting the brands who are working to make this industry a fairer and cleaner place!
---
WANT MORE SUSTAINABLE BRANDS? VISIT OUR BRAND DIRECTORY!
Our Brand Directory is home to hundreds of sustainable brands, from makeup to cleaning supplies, from underwear to shoes. We have broken everything down by category for easy shopping, along with discount codes unique to Sustainably Chic viewers.
Shop the Sustainable Brands Directory
---
Related Reading You May Also Enjoy: