Here are some of the fun funds finds from our latest visit to Paris.
One of the blessings of having a website for nearly 15 years is getting to make trends not follow them. It's the chance to say no to the 500 pitches a week I get to write about new face creams or detergent so I can write about things that give me great joy.
Find out more about the Brach Hotel Paris here.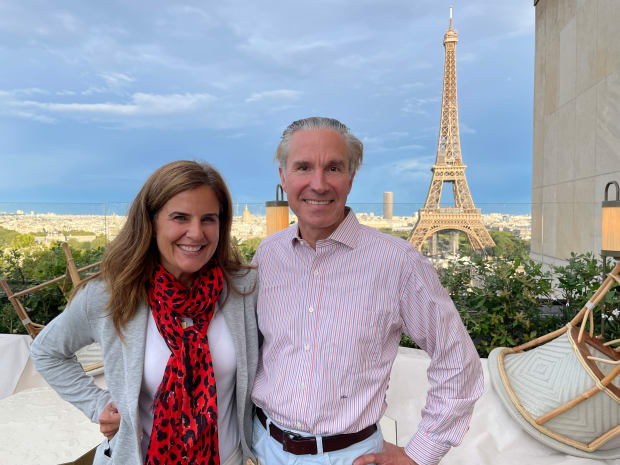 Travel matters. I am more appreciative of this concept now in our post-COVID world. Mr. Momtrends and I fell in love during our travels, and I know that I can call my business a full-fledged success, it's where I chose to focus my efforts.
This brings us to Paris.
Literally.
Each year in our relationship (minus the dreaded 2020 year of COVID) we've gone to Paris. It's a city that keeps reinventing and that puts a premium on beauty and ideas. As a travel writer, I will never tire of Paris of a subject, because it's never the same, even after 17 visits.
Here are some of the fun funds finds from our latest visit.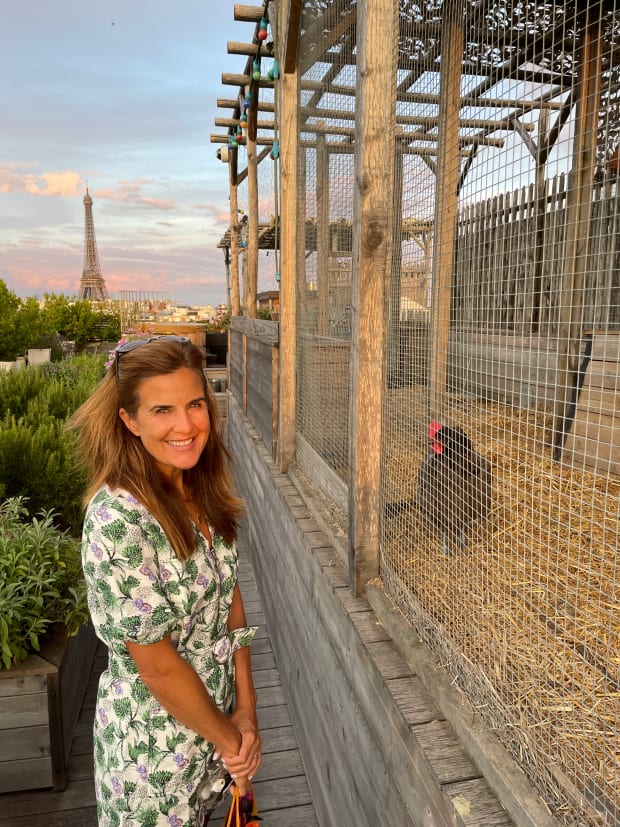 Where we stayed
This was our second visit to the Brach Paris. It's in the rather sleepy 16th and a half-mile jog to the Bois to Boulogne (Paris's second largest park). I linked to the full review above, but here's the highlight reel.
Who should stay here: Lovers of the parks, folks who've visited on a third of fourth visit, fitness fans.
Notable: An incredible roof deck with chickens, a view of the Eiffel Tower, and a tiny hot tub.
Designer Notes: The hotel was make in partnership with Philippe Starck and created in an avant-garde design
My Current Favorite Paris Restaurants
Ah the good part, our wonderful concierge at the Brach made us some incredible bookings. It's worth the stay at the Brach to get fabulous seats at these tables.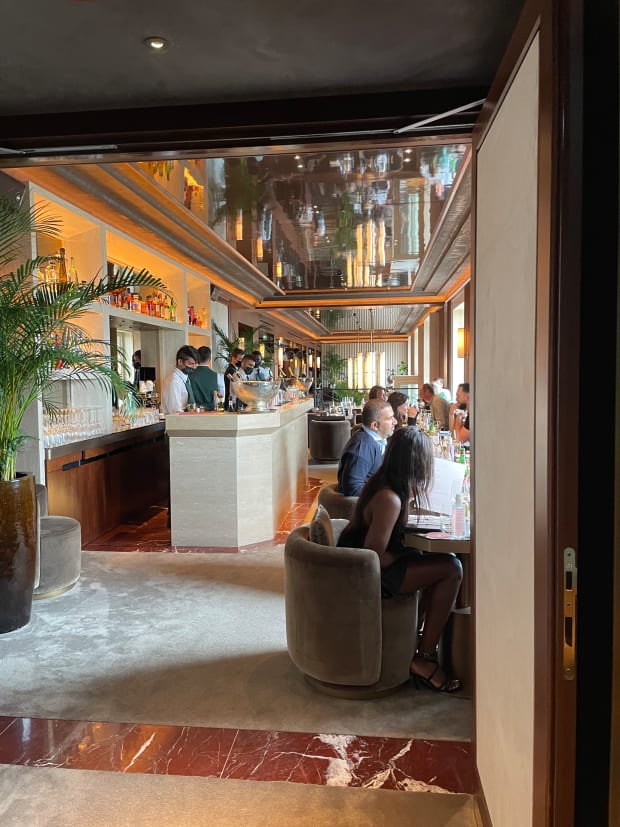 Girafe La Suite
Head to the Museum of Man (Musée de l'Homme) in the 16th and head bast the more casual restaurant on the ground floor and head to "La Suite" on the 4th floor. A glamorous hostess will great you and escort you to your seat. During fine weather, the outdoor tables are the coveted spots. Our stay was spotted with scattered violent thunderstorms, so we secured a lovely table close to the open doors. We were able to step outside to enjoy our cocktails and take in some of the most enviable views of the Eiffel Tower.
If you like people watching (and we do), this is the spot. Russian models, French families celebrating birthdays, chic middle-aged women in head-to-toe designer clothes, you'll see it all.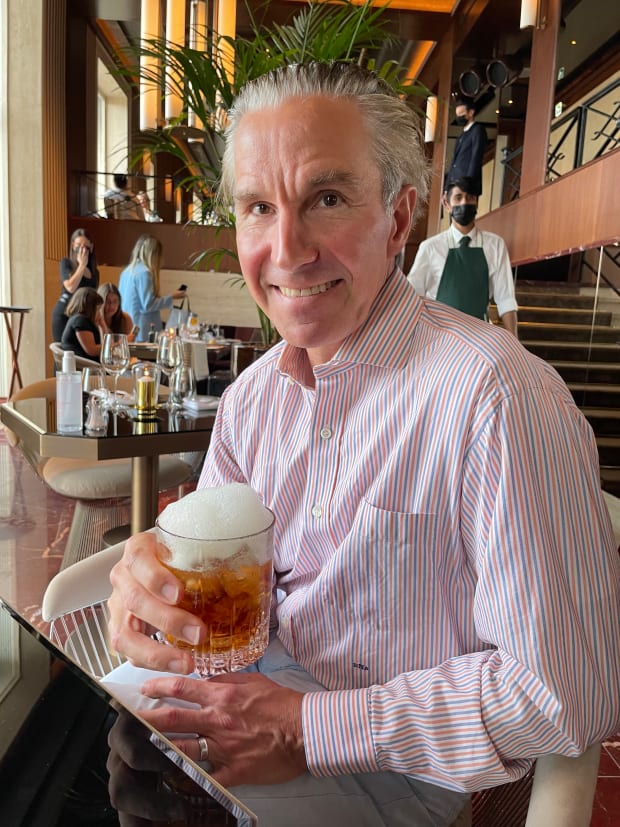 To start, consider a cocktail. Mr. Momtrends had a smoky creation and I opted for the more layered and elegant Nina Simone. We sipped our drinks outside as we took in the Seine views.
This is a seafood lovers paradise. We started with oysters present on shaved ice and with a lovely house mignonette sauce, they were briny and fabulous. Of course, the restaurant had a stunning Chablis by the glass (16 euro) that paired perfectly with my seafood.
Mr. Momtrends had a generous portion of Sea Bass carpaccio topped with caviar. Raw food seems to be on trend in Paris and we couldn't be more thrilled.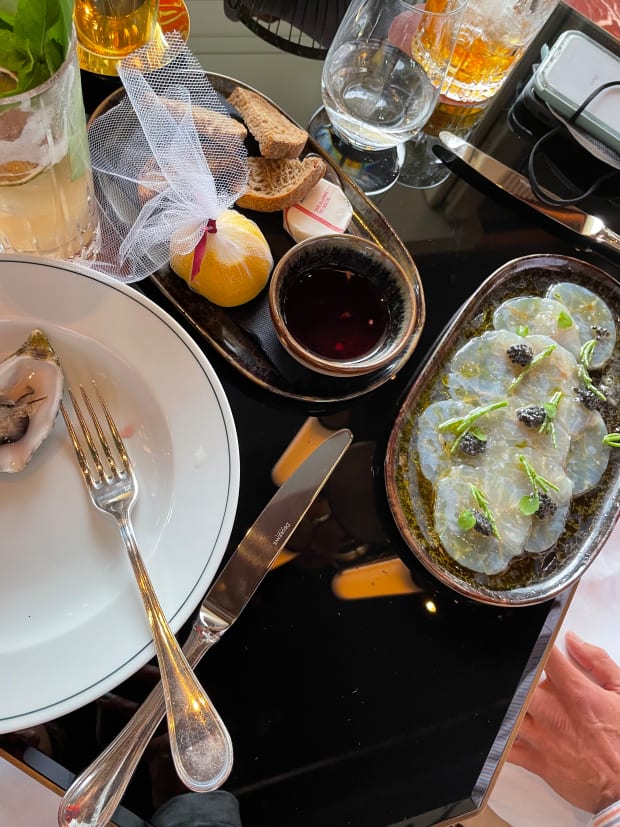 We both adore the whole fish experience and agreed the Dorade would be a terrific treat. There are many options on preparation. We opted for a simple grill with two side sauces. A tomato and olive and a lemon ginger. This is not complicated and heavy French fare, it's food to be enjoyed with friends and preparations that play up the natural flavors. Rather than dressing food up, they opt for homing in on the selection process.
We skipped dessert and instead sipped a second glass of wine and recapped our week-long trip.
Girafe La Suite, Palais de Chaillot, 1 place du Trocadero – 75016// 01-04-62-70-61 lasuite@girafe-restaurant.com//Girafe-restaurant.com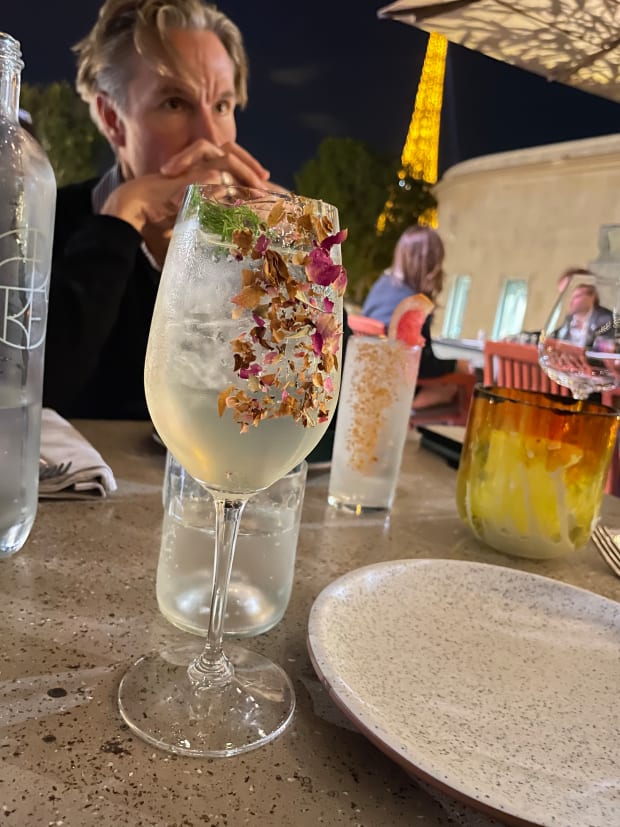 Forest
Parisiennes dine late. You know you are on to something when the restaurant is still hopping at 10pm when you sit down to dinner. Forest restaurant in Paris is a cool new concept that's veggie forward and super hip.
We were surrounded by beautiful young 20/30-somethings ordering and sharing lovely handmade plates of vegetables and grains. Vegetarians take note, this is an excellent choice where you aren't an afterthought.
There's a funky name for everything. For example, we started with raw fish, sea bass and tun prepared in two fresh and nuanced preparations. The excellent fish wasn't lost in translation or drowning is sauce. They were called the "Raw" and the "Bloom"
Next were salads a bitter green topped with haloumi (the "Caress" and a sweeter crisp salad with egg the "Rainbow." Our final dish was a mushroom and it was equally tasty.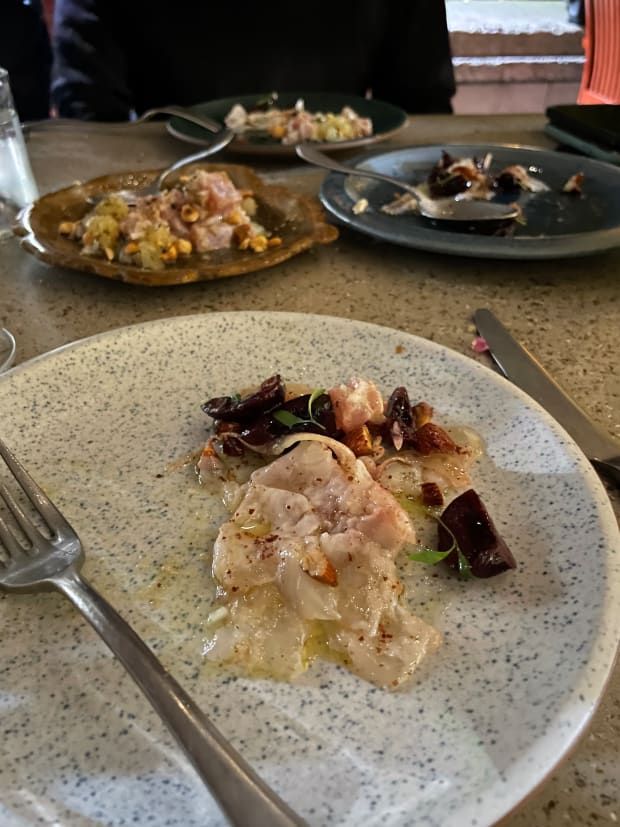 For dessert the mister order the Babka and a cream with peach and crunchy bits on the side.
It's a sensory experience and I mean that in the most literal sense. As you taste delightful combinations, you'll also get unobstructed views of the Eiffel tower light show. Periodically you see a handsome man strolling through the restaurant waving and incense canister. It took me back to my old Catholic school days when on holy days incense was our everyday perfume.
We're not sure if this trendy spot will exist in a decade so get there while you can.
Restaurant FOREST, 11 Av. du Président Wilson, 75116 Paris, France//+33 1 84 25 12 22//forest-paris.com
MORE FRANCE
For more on France check out these posts:
Are you ready to head to the theater in London? Pin this post to your Pinterest travel page for inspiration. Be sure to follow our Travel with Kids board here.
Momtrends was not paid for this post.