This butternut squash and beet soup is a warm, comforting recipe – perfect for fall and winter.  Pop the ingredients in the crockpot on a weekend afternoon, and by dinnertime you'll have a delicious dish awaiting you.  This is a great high-protein soup that's packs in nutritious ingredients, ideal for those looking to fuel their fitness.
Note:  This post was originally published in November 2015, and has been updated in May 2021.
Ingredients
This recipe uses minimal ingredients but packs in a lot of flavor.  We've been stocked up on beets and squash from our CSA, so I started with those ingredients and figured out the rest of the recipe from there.
Here's what you'll need, along with some helpful notes about a few of the ingredients: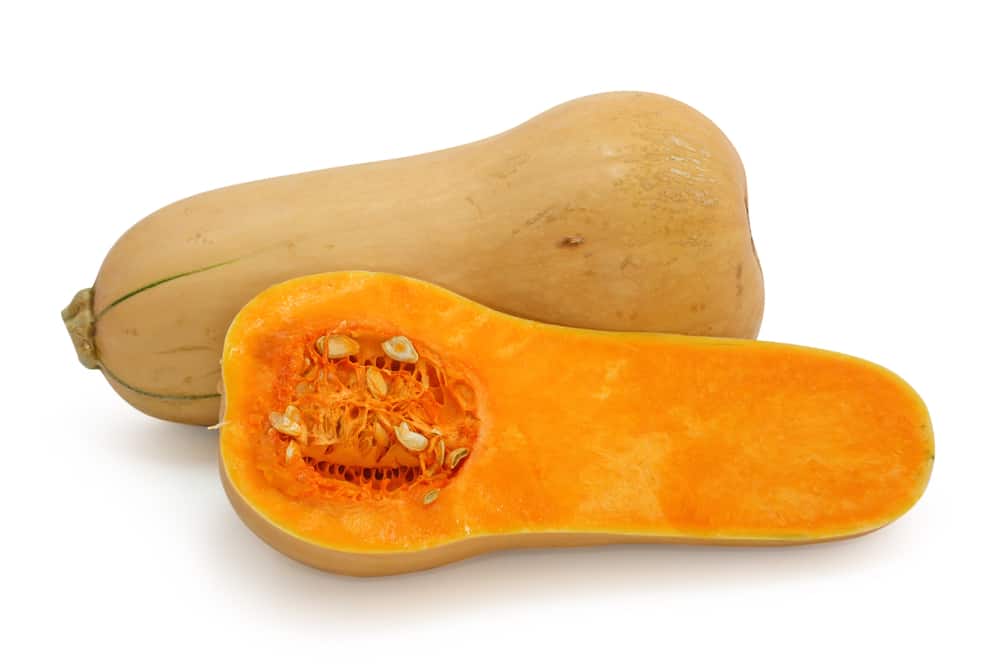 Butternut squash – If you've never worked with fresh butternut squash before, don't feel intimidated.  Start by running the peeler over the outside of the squash – you'll see how the texture changes after you peel off the harder outer layer.  (The skin on squash is thick but a standard kitchen peeler works just fine.)  Then cut the squash in half lengthwise.  Scoop out the seeds from the wider part, then chop it up into pieces.  You'll use some in this recipe, and then you can save the extra squash to make this breakfast casserole or butternut squash brownies!
Beets – Be careful when peeling and chopping these, as they can stain your clothes.
Onion
Garlic
Chicken breast
Chicken broth
Seasonings:  curry powder, coriander, salt, and pepper
Coconut milk – You want the full-fat kind in the can, not the lower-fat refrigerated cartons.
Instructions
Slow cooker recipes are amazing because they make it so easy to create a no-fuss meal!  That applies to this recipe too.  You'll find the full amounts and instructions in the recipe card below, but here are some helpful step-by-step tips and pictures.
You'll start by tossing your squash, beets, onion, garlic, and chicken in the slow cooker.  You'll need to chop up your veggies, but you can leave the chicken breast as-is without cutting that up.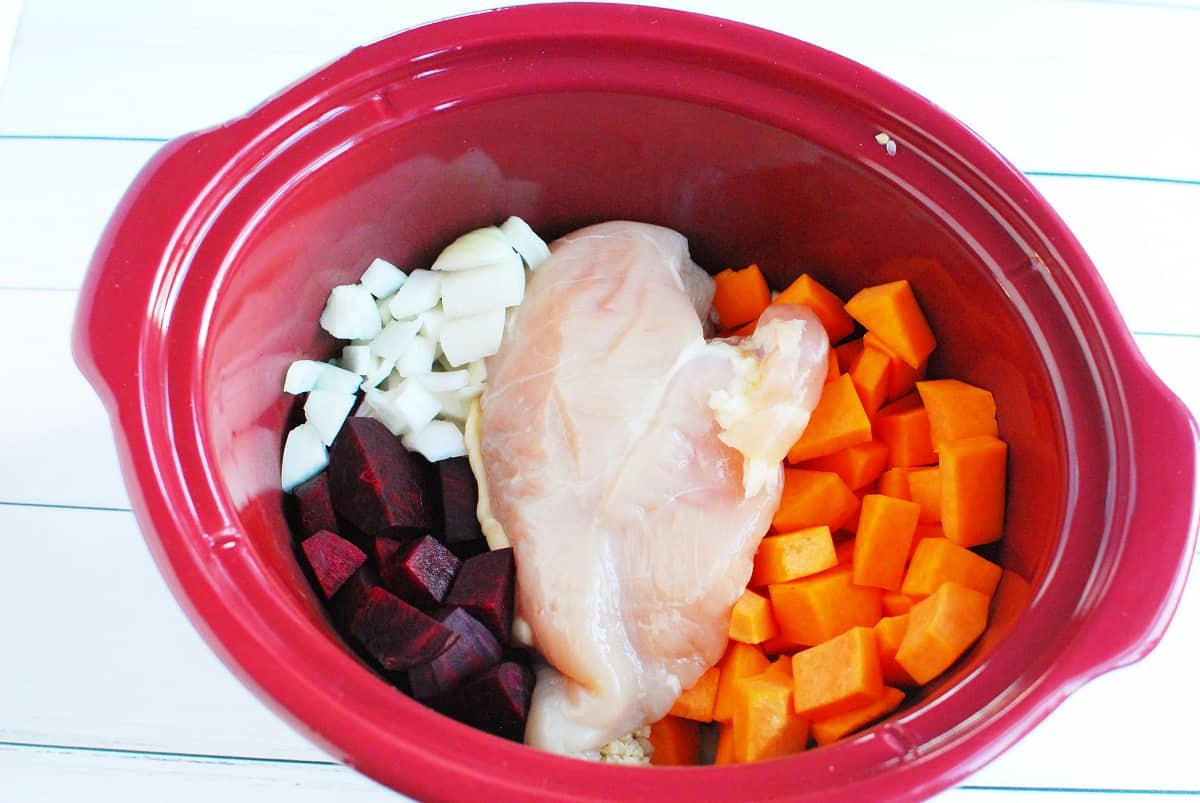 Go ahead and pour the broth in and add your spices.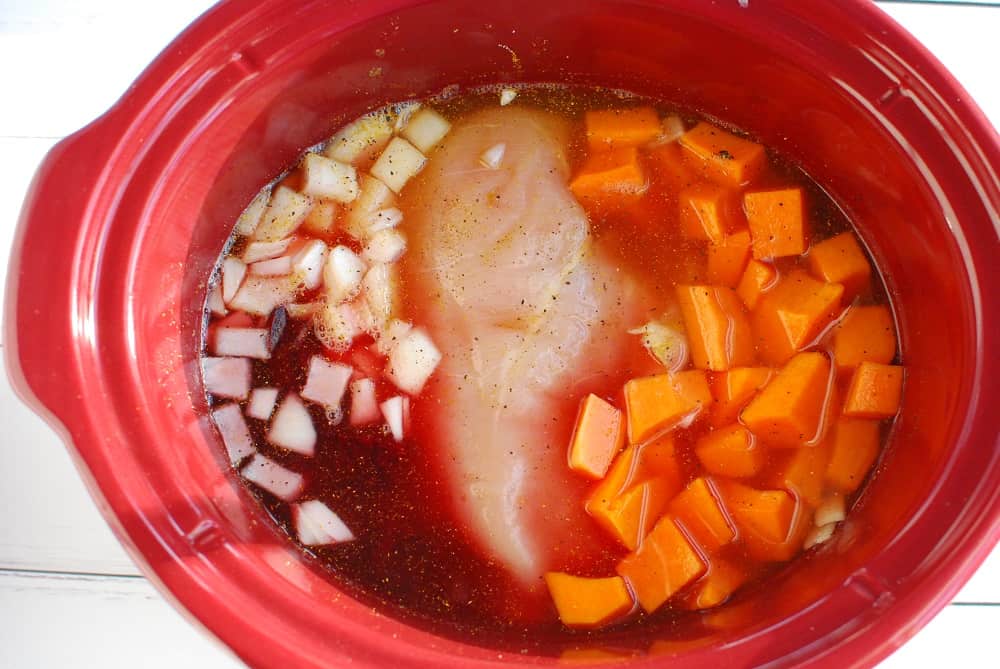 Then turn that on and let it cook for about 3-4 hours.  This is plenty of time for the chicken to cook through and the squash and beets to get tender.
Take the chicken breast out and set it aside for a sec.  Go ahead and pour the coconut milk in and cover the crockpot while you shred the chicken.  To do that, just use two forks – it should shred nice and easily, like this: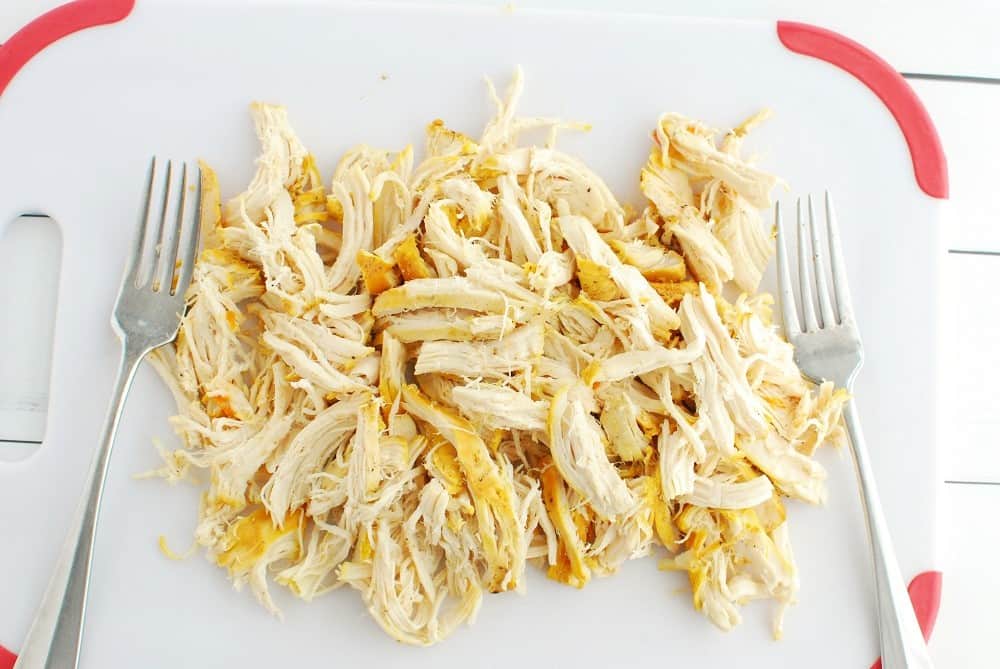 Set that aside for a minute while you turn the crockpot off.  Take an immersion blender and puree most of your butternut squash and beet soup.  There's no hard and fast rule here as to how much.  I like to puree it so that it's mostly creamy but still has some occasional chunks of beets or squash.
Now add that shredded chicken back to the soup, and it's ready to serve!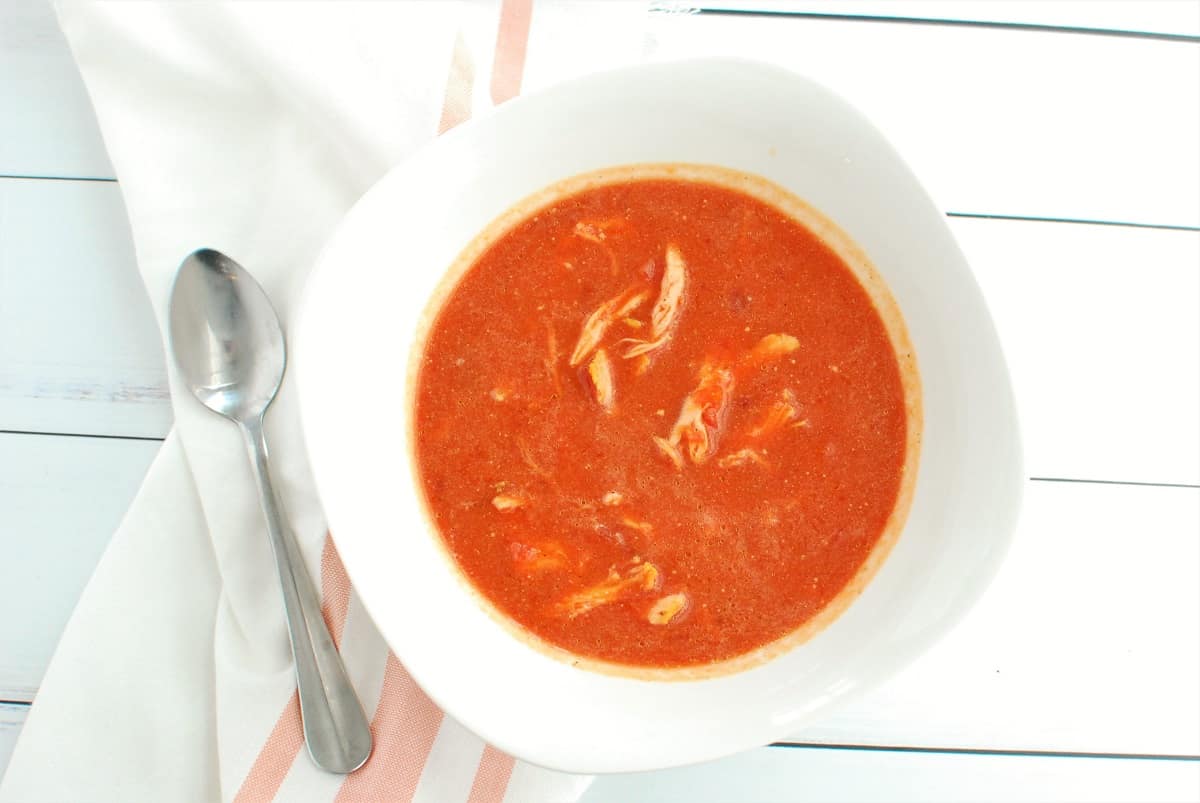 Recipe FAQ
Here are some common questions that may come up related to this recipe:
Is this recipe dairy free?  Gluten free?  Yes, this recipe is both dairy free and gluten free.
What should you serve with this soup?  If you have a large serving of this, it can be a light meal on it's own, though I personally prefer it along with a piece of sourdough bread or a dinner roll.  If you have a smaller portion, I'd recommend serving it alongside both a salad and bread.
How should you store this soup? Store leftovers in a food storage container in the refrigerator for up to 4 days.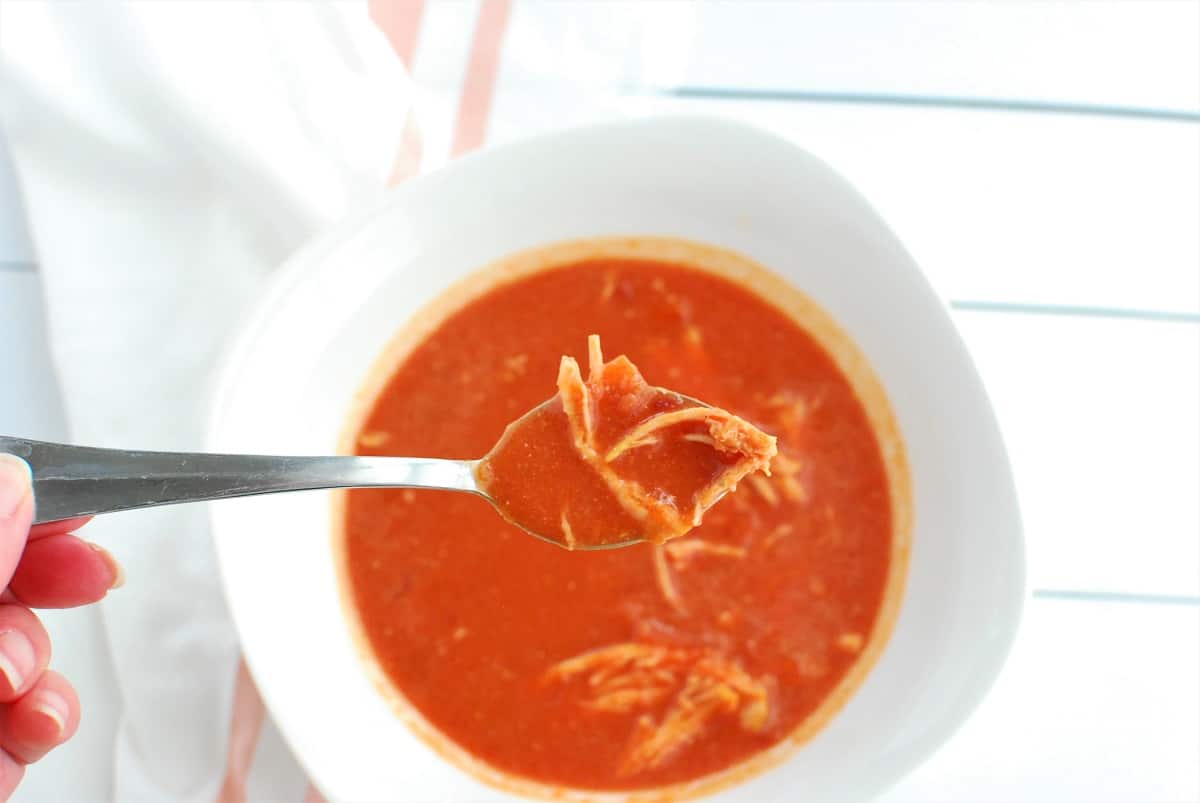 Nutrition benefits
From a nutrition standpoint, I think this soup is a clear winner.
First off, let's talk about those beets.  They contain naturally occurring dietary nitrates, which act as a vasodilator – in other words, opening up blood vessels and increasing blood and oxygen flow to the muscles.  In fact, research on beetroot juice has shown improved performance in endurance athletes! 
Now, beet juice is a more concentrated source of nitrates used strategically for workouts, but there's definitely still health benefits to including beets in your daily diet.
In addition to those dietary nitrates, this soup is also a good source of iron, which helps transport oxygen in your blood stream (key for athletes).  And it's an excellent source of potassium, an electrolyte that we lose when we sweat.
Last but not least, you're getting quite a bit of protein, thanks to the chicken breast.  That makes this soup more satiating than many other squash soups, and that protein also helps with muscle repair and recovery after a tough workout.
(PS – While the sodium content is a bit high, that's OK as long as the rest of your day is balanced.  If you have a medical condition that requires you to limit sodium intake, use unsalted broth rather than regular broth.)
I know this isn't the prettiest recipe, but I promise – it tastes great.  Plus it's an easy recipe to make with minimal ingredients.  Break out your slow cooker, give it a try, and let me know how you like it!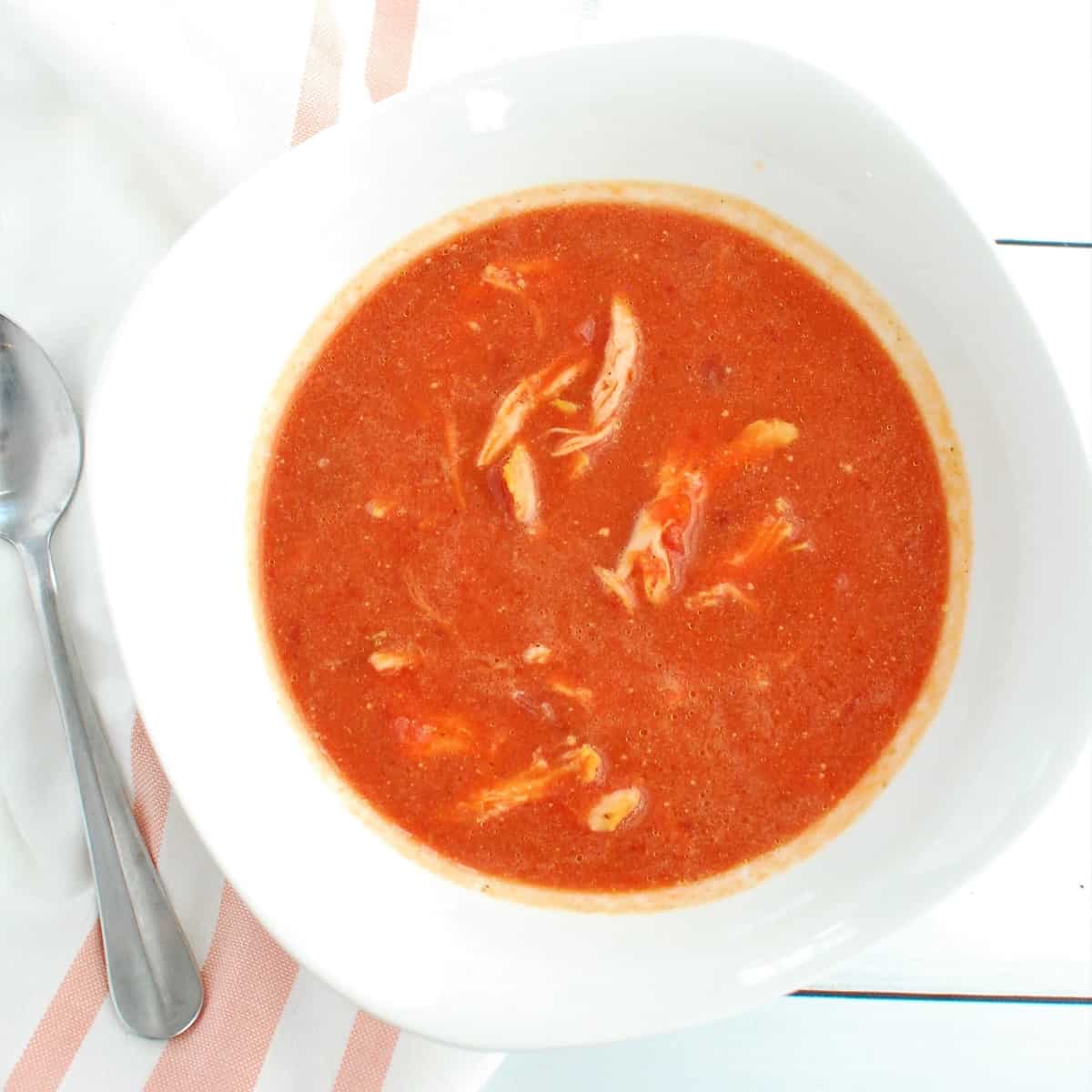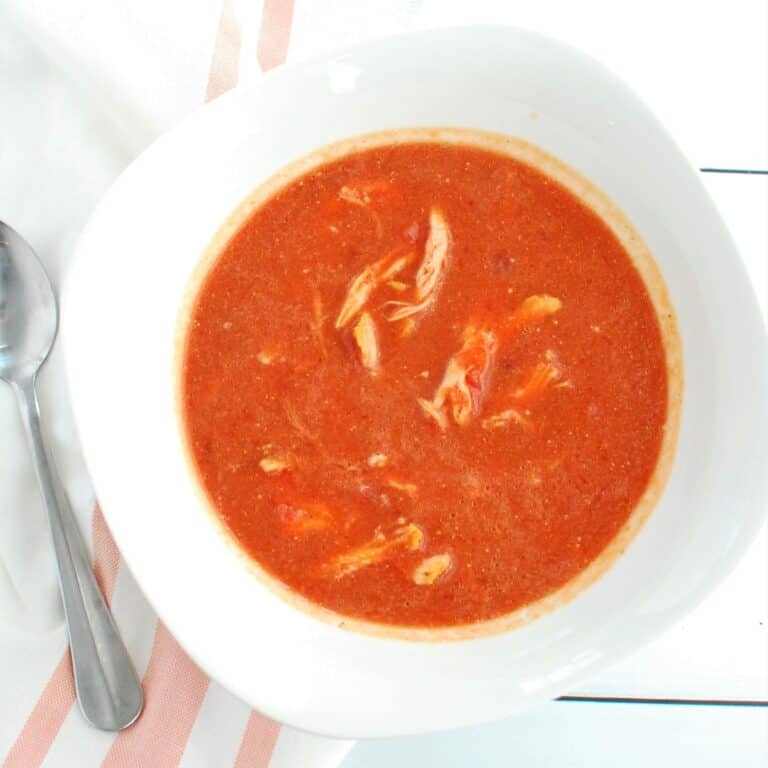 Print
Butternut Squash and Beet Soup with Chicken
Butternut squash and beet soup with chicken is a delicious and nutritious recipe that's packed with protein.
Keyword
Butternut squash and beet soup, butternut squash beet soup
Total Time
3
hours
25
minutes
Author
Snacking in Sneakers
Ingredients
3

cups

peeled and chopped butternut squash

(about half of a medium squash)

2

beets, peeled and chopped into ½-inch chunks

1

onion, diced

2

tsp

minced garlic

1

lb

boneless skinless chicken breast

3

cups

chicken broth

1

tsp

curry powder

1

tsp

coriander

¼

tsp

salt

¼

tsp

pepper

1

cup

coconut milk
Instructions
Combine all ingredients except the coconut milk in the crock pot. Cook on high for 3-4 hours.

About 15 minutes before you're ready to serve this, remove the chicken breast and set aside on a cutting board.

Pour the coconut milk into the crockpot and cover the crockpot again. Meanwhile, use two forks to shred the chicken breast. Leave to the side for now.

Turn the crockpot off and use an immersion blender to puree most of the soup, leaving some chunks of veggies (or pureeing completely if desired). Return the shredded chicken to the soup and give everything a good stir. Serve and enjoy!
Notes
This recipe yields 4 large servings or 6 smaller servings.
Nutrition analysis (assumes 4 servings): 327 calories, 14.5 g fat, 10 g saturated fat, 1000 mg sodium, 27.5 g carbohydrate, 7.5 g fiber, 10 g sugar, 27 g protein, Vitamin D: 0%, Calcium: 8%, Iron: 15%, Potassium: 25%
Nutrition analysis (assumes 6 servings): 218 calories, 9.5 g fat, 6.5 g saturated fat, 690 mg sodium, 18 g carbohydrate, 5 g fiber, 18 g protein, Vitamin D: 0%, Calcium: 6%, Iron: 10%, Potassium: 16%
Nutrition
Share with me:  What are your favorite ways to use butternut squash or beets?  Do you love your slow cooker as much as I do?  What's your favorite recipe to make in it?
Feel free to pin this post to share with others! 🙂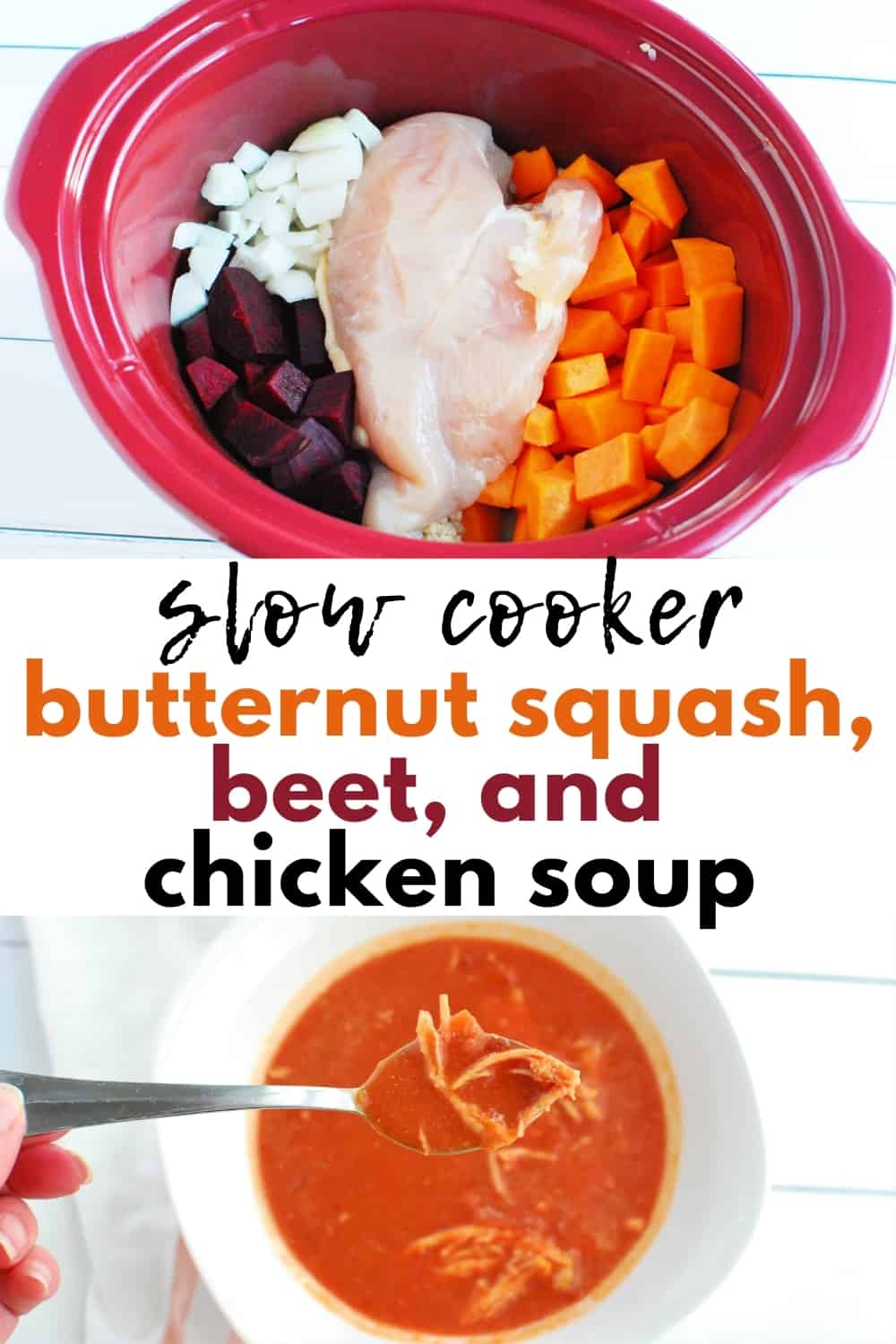 The post Slow Cooker Butternut Squash and Beet Soup with Chicken appeared first on Snacking in Sneakers.