When Amazon started feeding me links to cloth makeup removers, I mostly ignored them. But one night as I was getting ready for bed I saw the big raccoon black marks on my white face towel AFTER I had washed my face and removed my eye makeup with a makeup remover pad and thought: "Why not try!" I started testing these new cloth makeup removers and now I'm hooked, they are a beauty essential and now part of my everyday skincare routine.
Related: Our favorite sunscreens.
Testing the New Cloth Makeup Removers
My husband has been low-key grumbling about mascara and makeup stains on our towels. He does the laundry a fair amount of the time and noticed all the girls in our family were guilty of this. It's not because we don't wash out faces, we just weren't doing a great job.
The MakeUp Eraser is one of several new brands that design microfiber clothes to remove makeup gently. I tested this one and a few smaller, similar products that are great for travel. I'm happy to report these products all work really well and are saving my towels from getting stained.
This product works on mascara (even waterproof) and takes only seconds to get my face makeup free without causing any irritation.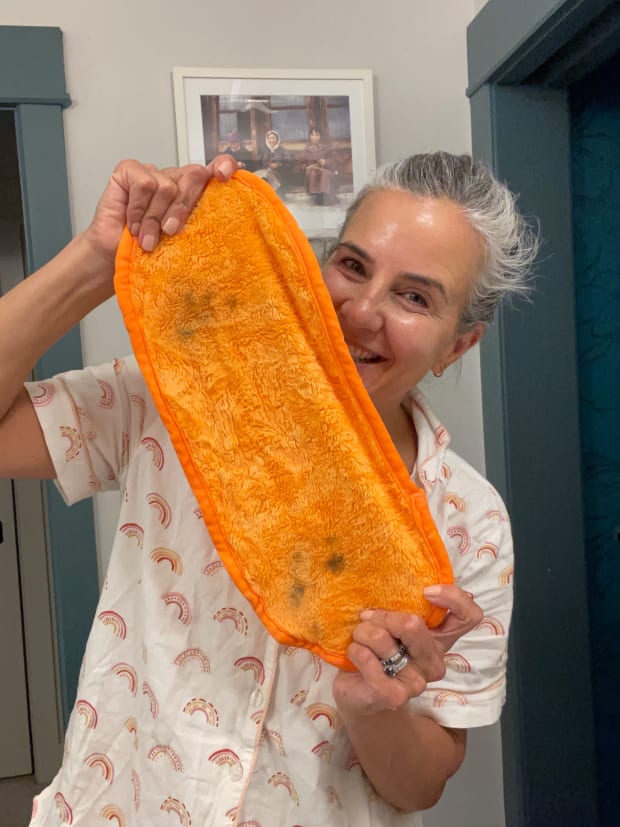 Here's What You Need to Know About Cloth Makeup Removers
Ease: It's really simple to use. Simply unbox, wet with warm water and wash your face.
Don't scrub hard! You don't need to use force. Be gentler and use a circular motion to get the best results.
No soap required: You can simply use water, but I do use soap AFTER all my makeup is off to really finish off my skincare process.
Rinse thoroughly: When you are done, rinse out the cloth. On the mini ones, I wash them after every use, for the larger wash clothes, I wash them every 2-3 days, this means I have several of these products.
Watch the Video
Where to get them
I got my MakeUp Eraser Amazon. They come in dozens of colors and are $20 per cloth. 
Minis. I recommend these mini makeup removers too. One for every day of the week and perfect for getting your mascara off (if you are like me and do a low-key look, these are perfect). $25 for 7 clothes and a wash bag.
Note: These are both affiliate links.
WANT MORE BEAUTY MVP'S FROM MOMTRENDS?
PIN IT!
Use Pinterest to save your favorite beauty finds. Be sure to follow our Beauty board here.