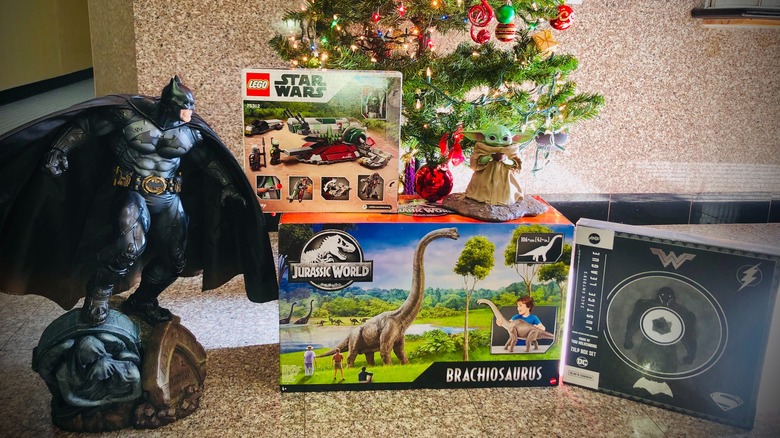 The most wonderful time of the year is here, and that means you're probably only just now growing vaguely aware that you need to start getting gifts for your loved ones and friends together ASAP. Luckily for you, /Film has gathered a ton of curated suggestions from writers Eric Vespe and Max Evry specifically for our readers, including movies and TV on Blu-ray, books, toys, collectibles and apparel. There's literally something for everyone here. Check out all the holiday goodness below, and click on all the buy links to get the items you want!
PART 1: Movies And TV On Blu-Ray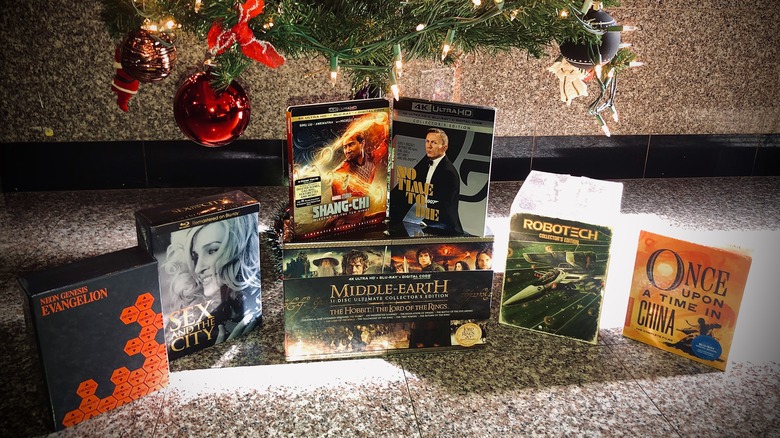 Part 1 focuses on movies and TV series on 4K and Blu-ray. Physical media lovers rejoice! And while you're being thoughtful maybe grab a few flicks for yourself as well.
The Hobbit/The Lord Of The Rings Middle Earth Collector's Edition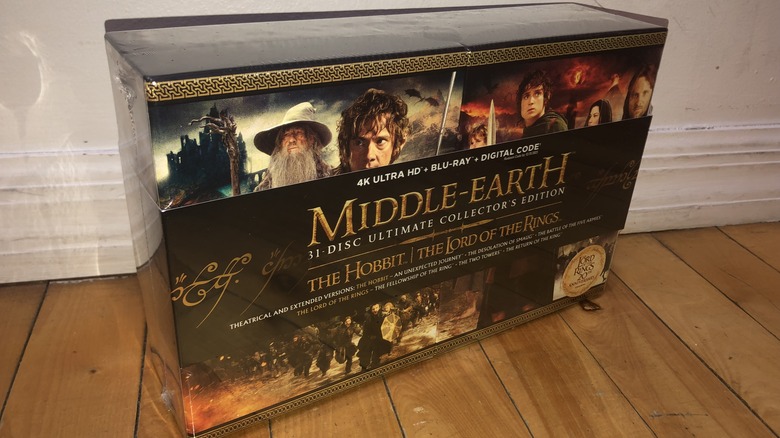 Let's be honest: For many, the bloated three-film "Hobbit" trilogy is still something of a sore spot. Some tried-and-true fans of Peter Jackson's "Lord of the Rings" films found a lot to love in them -- there's certainly a lot of movie to dig into -- and those who felt them to be extraneous now have a chance to revisit them in this deluxe box set featuring a new special features disc with the recent cast reunion, a 64-page booklet, 7 travel poster cards and more. And don't forget, you also get the classic "Lord of the RIngs" trilogy, newly remastered in 4K with updated special effects that remain true to their original form but make them easier on the eye now that they're being presented with far more clarity than before. (ME)
The Criterion Collection: Nightmare Alley, World Of Wong Kar Wai, Once Upon A Time In China: The Complete Films, After Life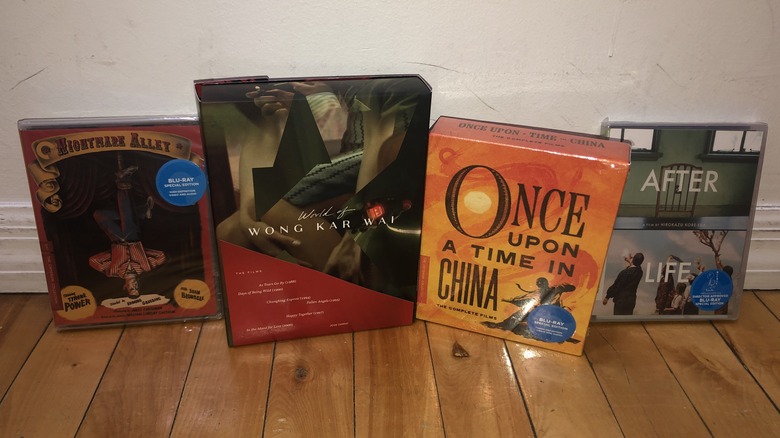 Criterion is the gold standard by which all other home video specialty labels are measured, and we are suggesting four new titles from this year as perfect cineaste stocking stuffers.
Just in time for Guillermo del Toro's new version, "Nightmare Alley" is the original noir classic from 1947 starring Tyrone Power as a con man who becomes a carnival mentalist.
"After Life" is director Hirokazu Kore-eda's beautiful and life-affirming meditation on the power of memory as the recently deceased are brought to an in-between world where specialists stage filmed recreations of their fondest memories to take into the afterlife.
The "Once Upon a Time in China" box set contains all six of producer/director Tsui Hark's late 19th century Chinese martial arts epics. The first three were directed by Hark and catapulted Jet Li to superstardom as folk hero Wong Fei-hung, and while Li sat out the fourth and fifth film to make way for Vincent Zhao, he returned for the sixth and final film.
Lastly is the gorgeous set of seven acclaimed films from cinema's great romantic, Wong Kar-wai. The box includes "As Tears Go By," "Days of Being Wild," "Chungking Express," "Fallen Angels," "Happy Together," "In the Mood for Love," and "2046," all recently restored and remastered by the filmmaker himself. (ME)
Max Max 4K Anthology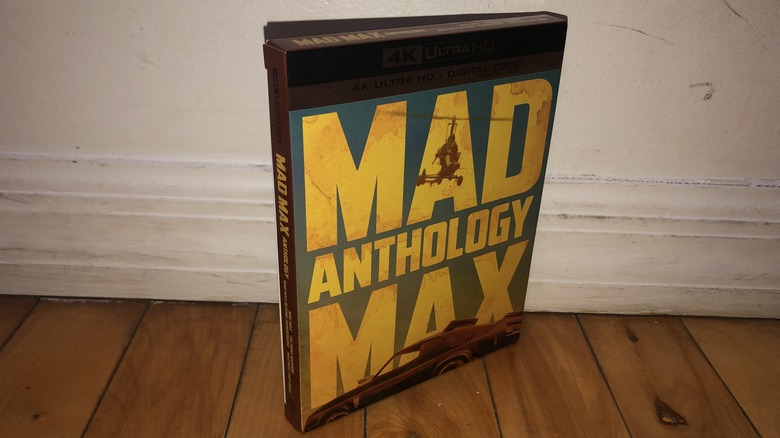 Combining all the best elements of samurai chambara movies, spaghetti westerns, American International biker pictures and Joseph Campbell mythmaking, George Miller's quadrilogy of films centered on the leather-jacketed Max Rockatansky might be one of the most innovative franchises ever conceived. Each film in the series evolves the character and setting to a whole new level of flamboyant barbarism, leveling up the action set pieces to the bleeding edge of what is conceivable and perceivable, right down to all the dropped frames and picture manipulation of "Fury Road." Let's be honest, these need to be seen in 4K, right? (ME)
Star Trek: 4-Movie Collection / Star Trek: Discovery: Seasons 1-3 Set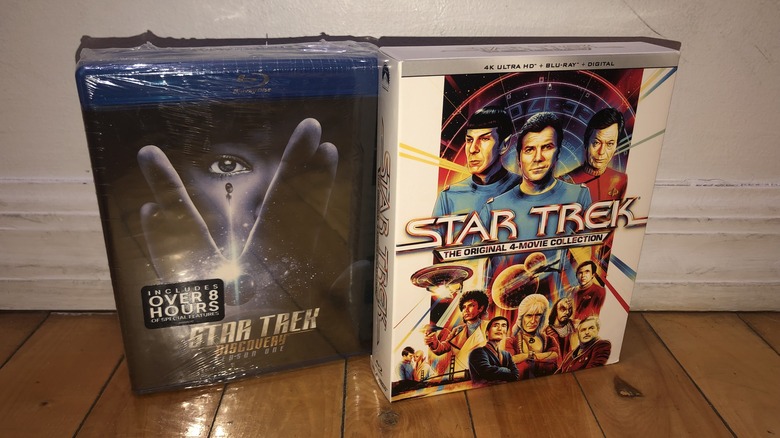 This is an odd collection since it excludes the final two movies in the six-film saga, the last of which ("The Undiscovered Country") is a perfect coda to all the films that preceded it. Yet it chooses to include the first movie, "The Motion Picture," which sticks out like a sore thumb both in pacing and aesthetics. Those crotch-hugging Starfleet costumes! Nevertheless, the chance to own these bad boys in 4K is too difficult to resist, and it does include the unofficial trilogy in the middle of all six of the Original Cast pictures that tracks the ruination, resurrection and redemption of the Starship Enterprise gang.
Then, why not top it off with all three seasons of "Star Trek: Discovery"? The modernized adventures of the title ship are currently bringing the world of "Star Trek" into the 21st century. Something old and something new, indeed! (ME)
Indiana Jones 4K Movie Collection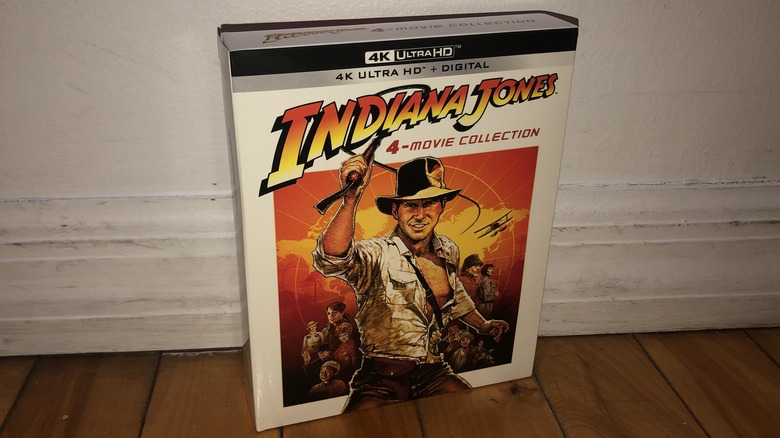 Crack the whip and put this 4K collection in your dusty leather satchel, because if adventure has a name it must be Indiana Jones. Steven Spielberg's first four films in what is shaping up to be a five-film saga spanning the 1930's through the 1960's (should number five ever come out after so many delays) are essential viewing for action cinema fans across the globe. Yes, even the much-reviled fourth film which -- though it is inarguably minor cashgrab Spielberg on autopilot -- has aged fairly well since it came out over a decade ago. (ME)
The Karate Kid: 3-Movie Collection (4K)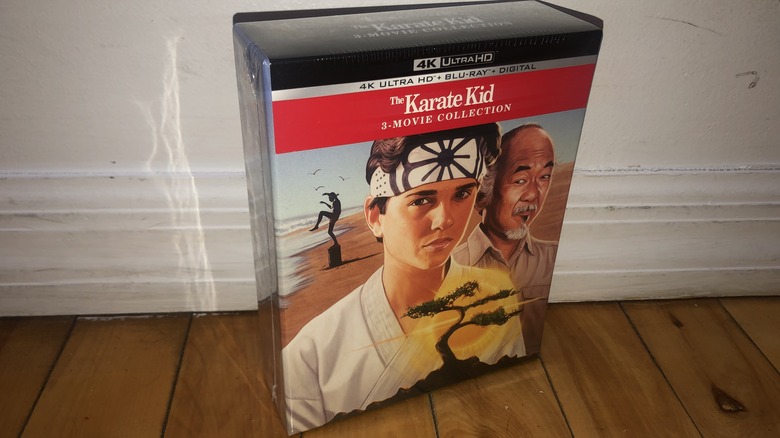 Sweep the leg in Ultra HD as Daniel San and the mighty Mr. Miyagi become the most unlikely pair of action superstars the '80s could possibly conjure. This set includes all three films in the original Trilogy (sorry, Hillary Swank), including the classic original where they battle a corrupt dojo of California karate bullies. Then in the second one they fly to Japan and battle corrupt Okinawa karate bullies. For the amazing climax in "Part III," they battle the same Dojo of California Karate bullies from the first one. What's not to love? Fans of the current hit series "Cobra Kai" should absolutely grab this box set! (ME)
Shang-Chi And The Legend Of The Ten Rings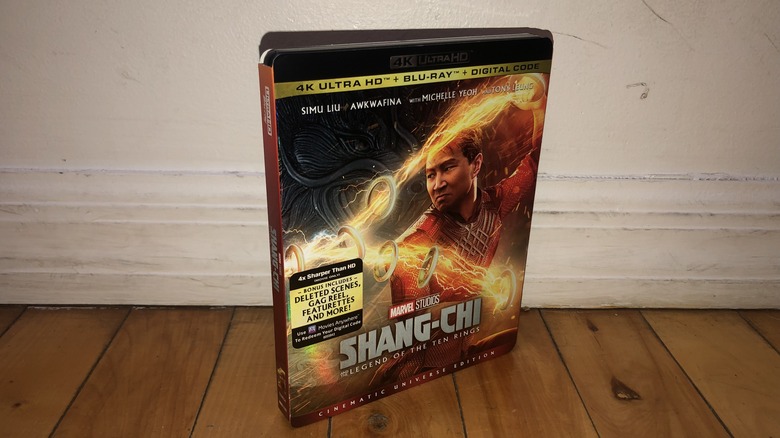 This year's domestic box office champ is also the most accomplished film of a so-far very uneven Phase 4 of the Marvel Cinematic Universe. The filmmakers take a mostly-forgotten C-list Marvel character from the '70s who was almost a racist caricature and turned him into one of the most intriguing new recruits to the MCU in a good long while. The movie also shifts exquisitely from action comedy to martial arts family drama to full-tilt fantasy. (ME)
No Time To Die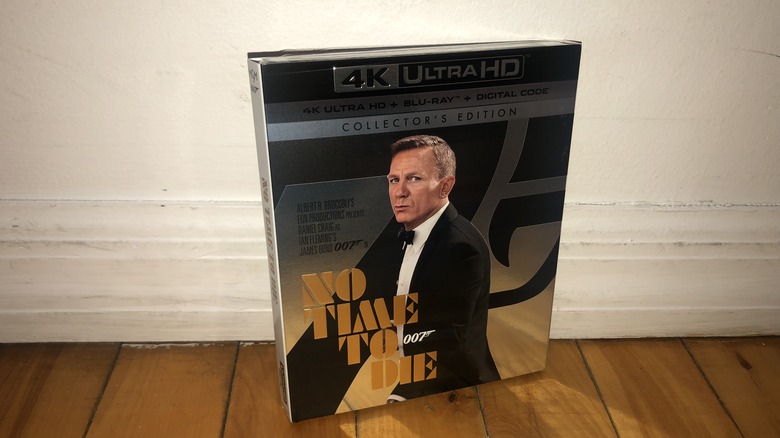 Daniel Craig has had a formidable run as 007 over the last 15 years, and the latest and last installment closing out the Craig era has proved to be a smash success with critics, audiences, and at the box office. In fact, the Cary Fukunaga-directed film is the highest-grossing Hollywood movie this year, coming in at number three on the worldwide charts. All are in agreement that this was a proper sendoff for one of the best -- if not THE best -- Bond actors ever. (ME)
Who Framed Roger Rabbit (4K)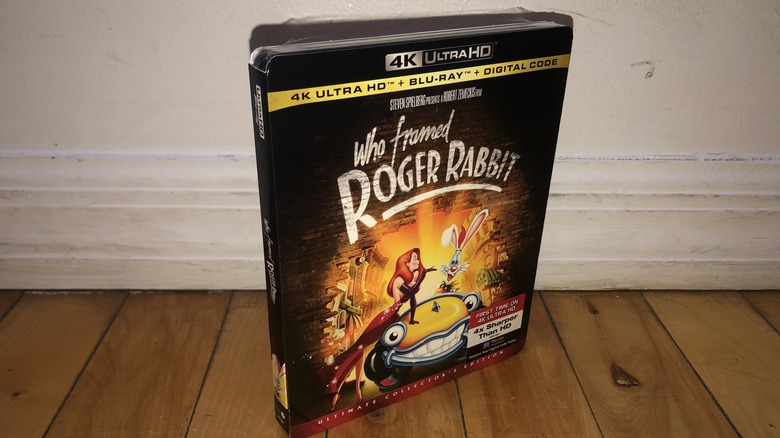 Robert Zemeckis' live-action/animation hybrid ushered in the Disney Renaissance of the late '80s/early '90s and set a new bar for genre-bending comedy. Getting to finally see the film in glorious Ultra HD means getting to see Richard Williams' beautiful animation in all its 24fps glory. All the extras from the 2013 Blu-ray have been thankfully ported over, including all three of the theatrical Roger Rabbit shorts. (ME)
Audrey Hepburn 7-Movie Collection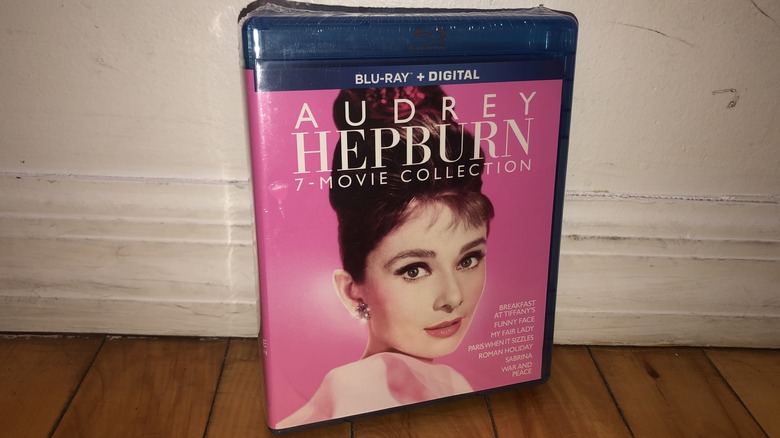 Containing both physical and digital copies of all seven films, this priceless collection from Paramount gathers seven of the beloved British beauty's most celebrated films: "Breakfast at Tiffany's," "Funny Face," "My Fair Lady," "Paris When it Sizzles," "Roman Holiday," "Sabrina," and "War and Peace." A must for classic film aficionados and Hepburn devotees all the same. (ME)
Laika Studios Editions: Coraline, Boxtrolls, Kubo And The Six Strings, ParaNorman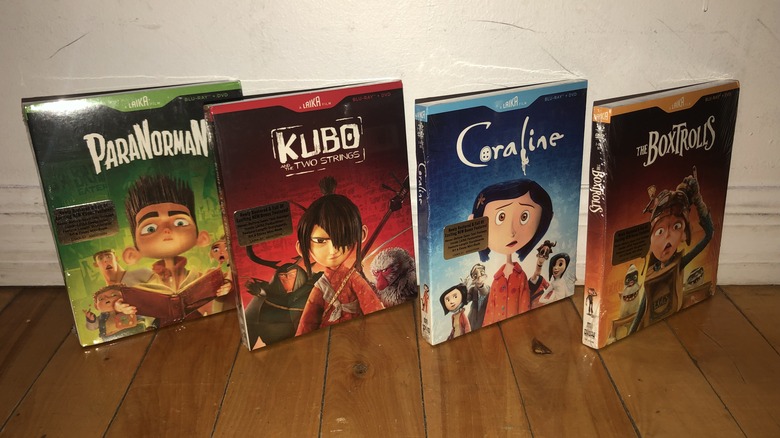 Four of Travis Knight's stop-motion studio's best films have arrived in splendid editions from Shout! Factory. This includes Henry Selick's delightfully creepy Neil Gaiman adaptation "Coraline," the quintessentially cute "Boxtrolls," the Halloween classic "ParaNorman" about a pint-sized necromancer, and Knight's own fantasy epic "Kubo and the Six Strings." With the studio celebrating its 15th anniversary this year, it's the perfect time to introduce your kids (or yourself) to these animated masterworks with lots of bonus features including feature-length storyboards and never-before-seen test footage. (ME)
Lionsgate Steelbooks: Terminator 2: Judgment Day, Ran, Wonder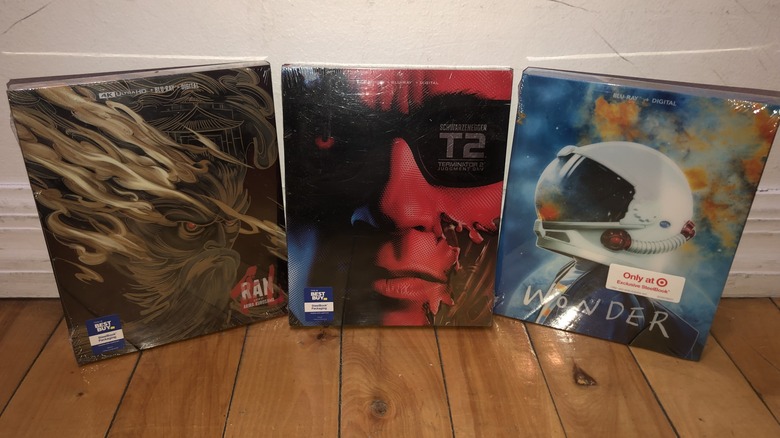 Lionsgate is putting out some slick new 4K transfers of two very different but equally important cinematic milestones: Akira Kurosawa's feudal Japanese take on Shakespeare's "King Lear" titled "Ran," as well as James Cameron's 1991 blockbuster sequel "Terminator 2." Both set a new high bar for action cinema, and both are available exclusively from Best Buy. There's also a new Blu-ray Steelbook of the 2017 feel-good coming of age movie "Wonder," starring Julia Roberts and Owen Wilson and available exclusively at Target. (ME)
Planes, Trains And Automobiles (4K Steelbook)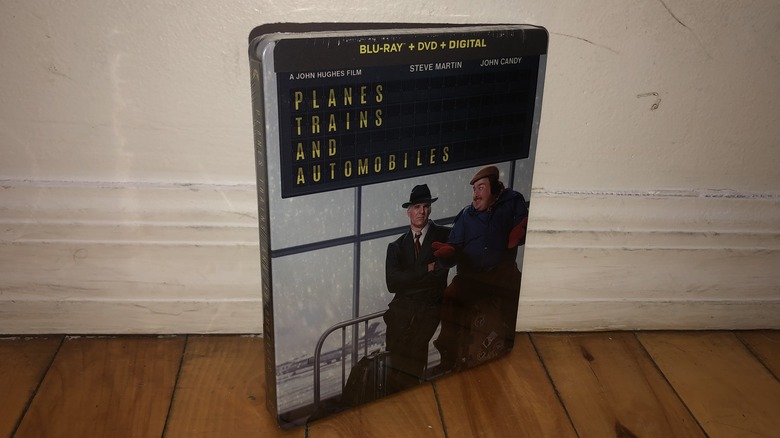 This road movie from John Hughes has justifiably become a holiday classic, but one has to admire the rubber band reality the late filmmaker created with probably his most successful non-teen movie. The fact that Steve Martin and a wonderful John Candy are such a perfect mismatched pair, and they can bounce from a ridiculous scene of vehicular destruction to quiet moments of pathos between the two of them is a minor miracle. (ME)
Heaven Can Wait / Reds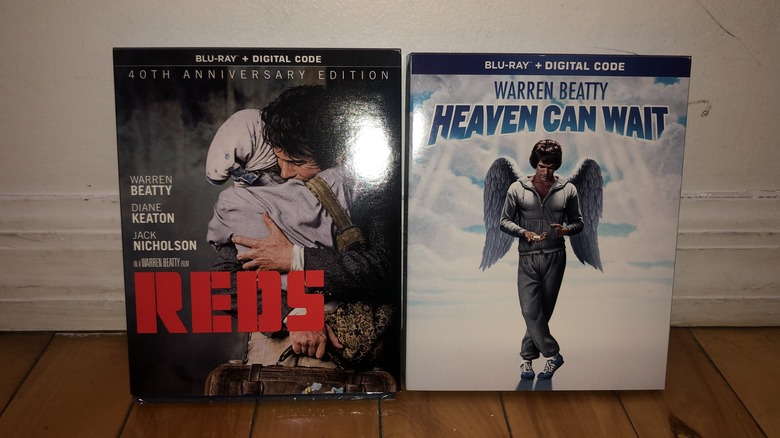 Warren Beatty hit it out of the park for both his first and second films behind the camera. His first directorial outing (co-directed with writer Buck Henry) is the hit remake of the 1941 film "Here Comes Mr. Jordan," following a football quarterback who is prematurely taken out of his own body and put in that of a dead elderly millionaire. For his sophomore effort "Reds," Beatty sought to exercise his full ambitions with a three-and-a-half-hour epic about journalist John Reed and his coverage of the October Revolution in Russia. Both discs come with digital downloads as well. (ME)
Giallo Essentials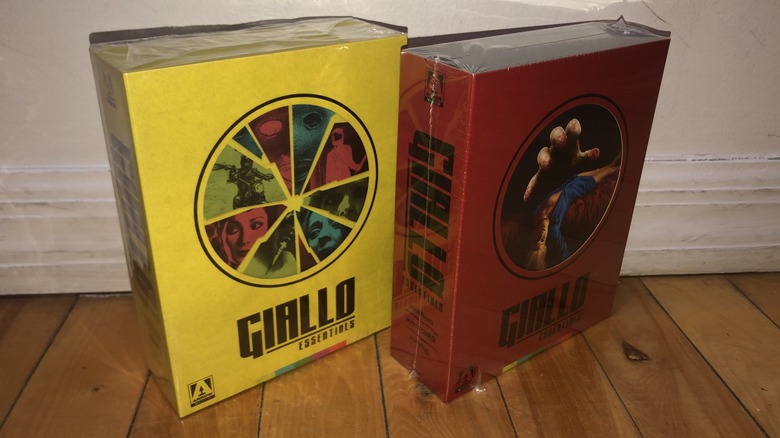 Earlier this year, there was a resurgence in interest towards Italy's infamous giallo subgenre after the release of James Wan's bonkers "Malignant" and Edgar Wright's groovy "Last Night in Soho." For years, Arrow Video has been releasing the original giallo classics from the '60s and '70s on Blu-ray, and now they have collected some of their best releases into two elegant box sets. Films included: "The Possessed," "The Fifth Cord," "The Pyjama Girl," "Torso," "What Have They Done to Your Daughters?" and the ridiculous but sublime "Strip Nude For Your Killer." (ME)
Cartoon Saloon's Irish Folklore Trilogy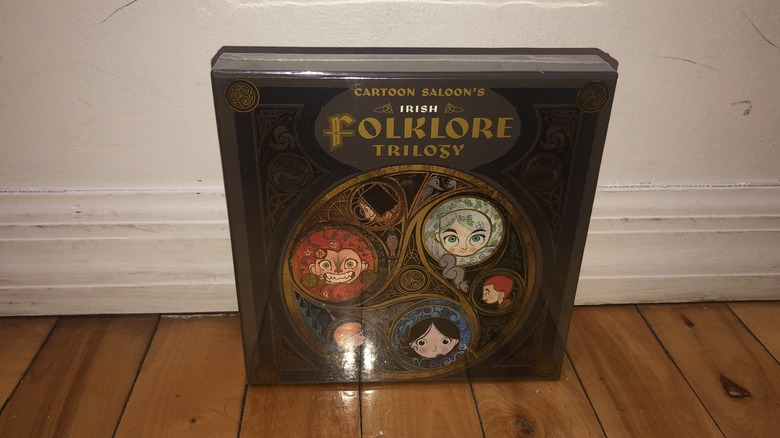 Those looking for a break from the usual Disney animated fare this holiday season need look no further than GKIDS' beautiful box set release of these three gorgeously designed films: the magic-centric "The Secret of Kells," "Song of the Sea," about a seal-child's quest through the spirit world, and "Wolfwalkers," about the friendship between a huntress and a wolf girl. The environmentally-friendly packaging includes four discs as well as a 2,000-word essay by film critic Andy Crump. (ME)
Film Noir: The Dark Side Of Cinema V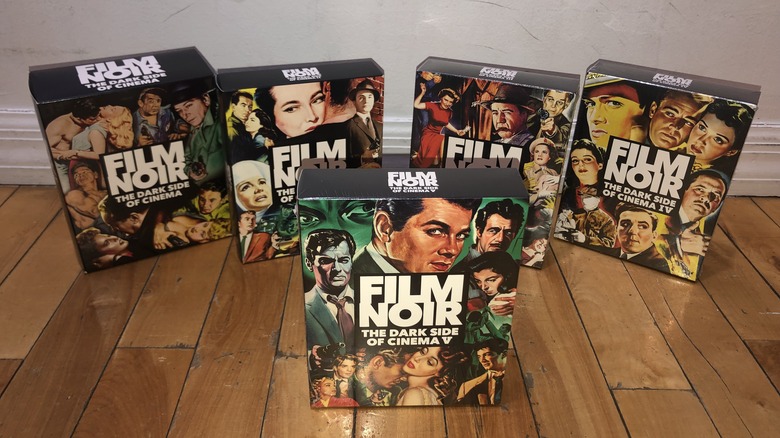 Not all Christmases are bright. Sometimes Santa Claus is drinking a belt of Scotch at 4 A.M., trying to track down a hired killer to bump off his wife. If that's the sort of Holiday viewing you have in mind, then Kino Lorber's fabulous noir box sets are the perfect item for you. This latest fifth box comes with a trio of classic offerings, including 1952's "Because of You" starring Loretta Young, 1956's "Outside the Law" starring Ray Danton, and 1957's "The Midnight Story" starring the great Tony Curtis. All three are chock-full of murder, dark alleyways and romantic betrayal. 'Tis the season! (ME)
The Sherlock Holmes Vault Collection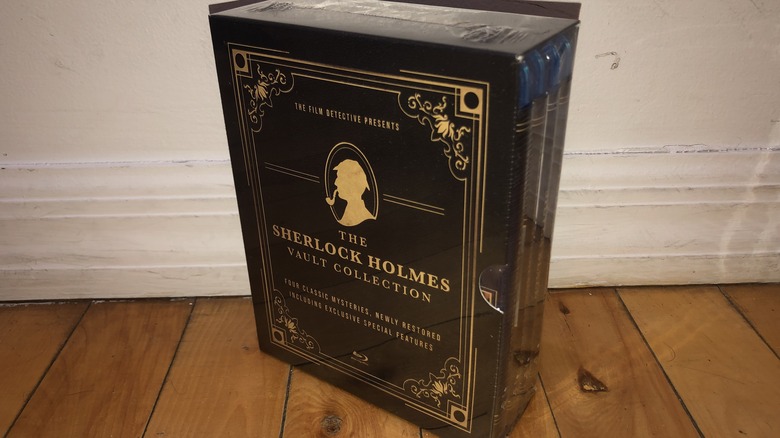 Film Detective is issuing one of its most exhaustive releases ever with this four-disc box set that includes four classic Sherlock Holmes mysteries from Britain's golden age. Produced by Twickenham Studios, the four restored films in the set are "The Fatal Hour" (1931), "A Study in Scarlet" (1933), "The Triumph of Sherlock Holmes" (1935), and Silver Blaze (1937). Special features include a host of newly restored Sherlockian theatrical shorts from 1900 to 1928, plus "The Case of the Blind Man's Bluff" (1954), a Sherlock Holmes bonus TV-episode starring Ronald Howard. (ME)
Uncut Gems (4K)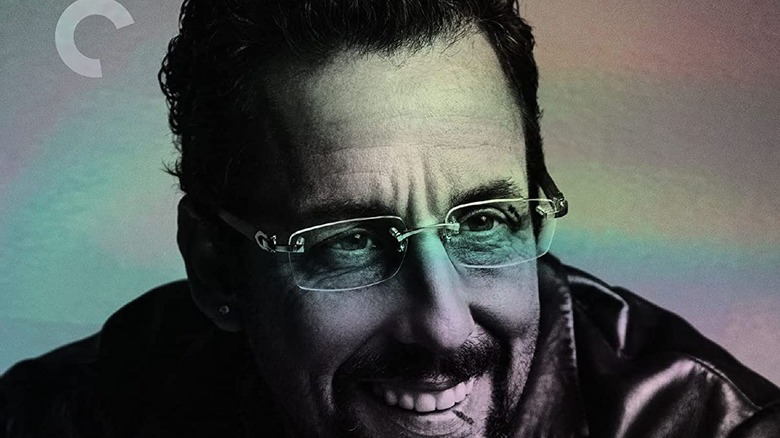 This is how you win ... at gift-giving. It might seem antithetical to gift someone "Uncut Gems," two hours and 15 minutes of teeth-gritting tension, but trust me, it's a good gift. Not only is Josh and Benny Safdie's movie an all-timer, but here it gets the full on Criterion treatment and in 4K to boot! The disc comes with a commentary from the Safdies and tons of special features, including new interviews, screen tests, and some of the Safdies' short film work. (EV)
Bringing Up Baby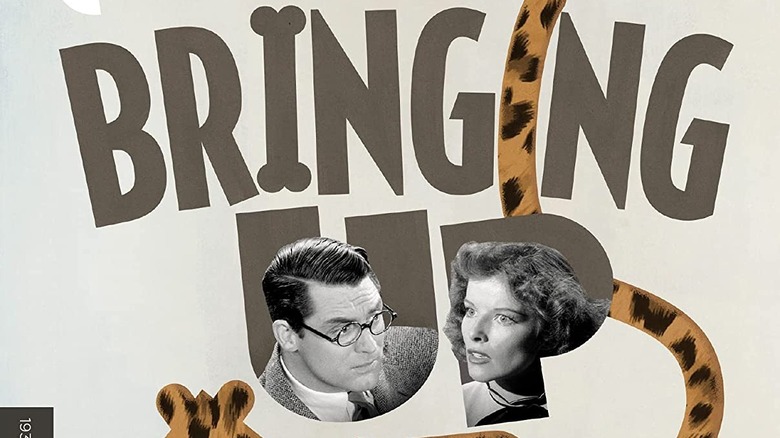 Keeping with the Criterion theme, we have "Bringing Up Baby," a cornerstone film in the screwball comedy genre. It stars Cary Grant, Katherine Hepburn, and a leopard (yes, a leopard) and sits firmly in that screwball tradition of rapid-fire witty dialogue and surprisingly progressive gender politics (for its time). It's one of the classics, but the kind of classic that sometimes gets left out in broader film studies classes because it's ... you know ... funny and silly and not super serious. The Criterion transfer is based off of a new restoration and offers some new bonus features with some of the surviving crew members. (EV)
The Suicide Squad (4K)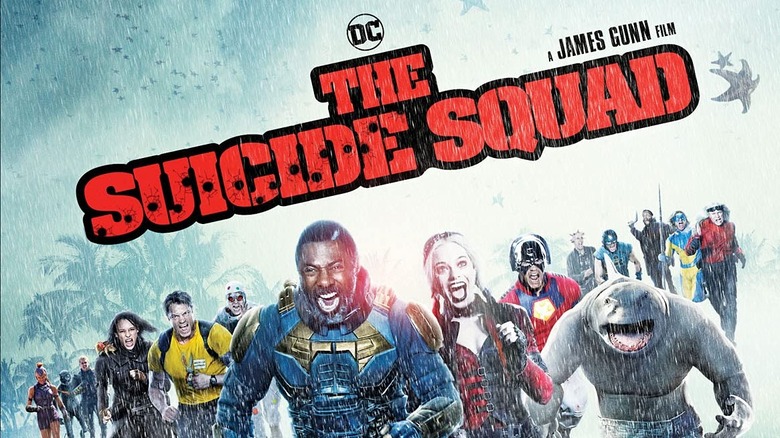 James Gunn's "The Suicide Squad" got a bum rap this year. The people who saw it (at least the cool ones) loved it, but a combination of the rise of the first Covid variant, its availability day and date on HBOMax, and audiences not liking the last film kept folks out of theaters. Their loss, because this movie is a riot. Gunn specializes in heart with edge and there's a whole lot of both in this one. King Shark alone makes this worth adding to your collection in 4K. (EV)
The Dead Zone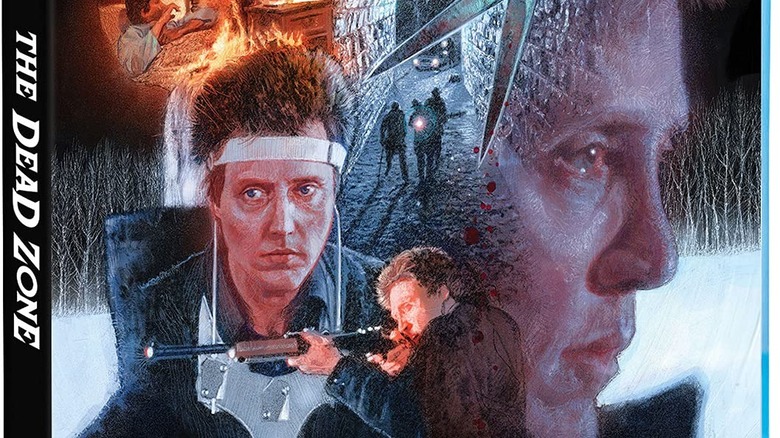 Yeah, I'm the Stephen King guy, so it's not surprising that I'll include "The Dead Zone" on this list. But it's not just my predilection for King adaptations that earns this movie a spot, it's legitimately one of the best King adaptations that never gets spoken about in the same breath as, say, "Stand By Me" or "The Shawshank Redemption." David Cronenberg directs, Christopher Walken stars, and Martin Sheen is the political hopeful who will one day blow up the world. What's not to love here? There's psychic powers, a tragic love story, and one of the best line deliveries of all time: "The ice! Is gonna break!" This release is done up all special-like by the good folks at Scream Factory, who are essentially the Criterion of genre releases. (EV)
Alone In The Dark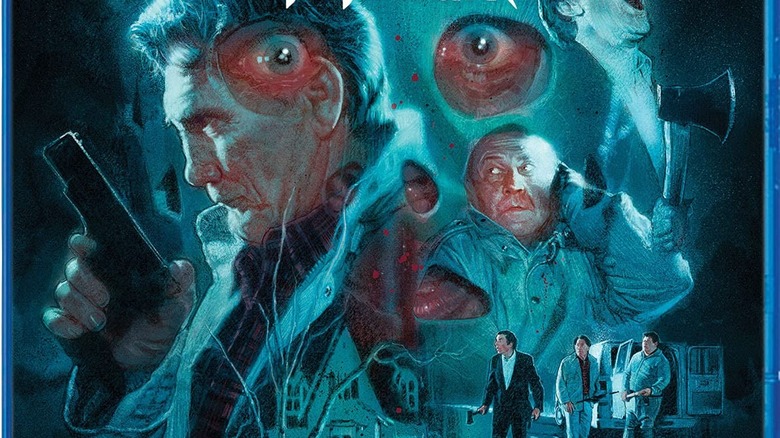 First things first: This movie has nothing to do with the crappy Uwe Boll/Christian Slater movie of the same name. This "Alone in the Dark" is a 1982 creeper and early New Line movie, pre-dating Freddy Krueger, about a small town plagued with some elderly mental patients after the power goes out and releases them from the asylum. A great cast, including Jack Palance, Martin Landau and Donald Pleasence, make this a wholly unique slasher film that is only now getting its due thanks in large part to Scream Factory giving it the deluxe treatment with this release. (EV)
The Evil Dead Groovy Collection (4K)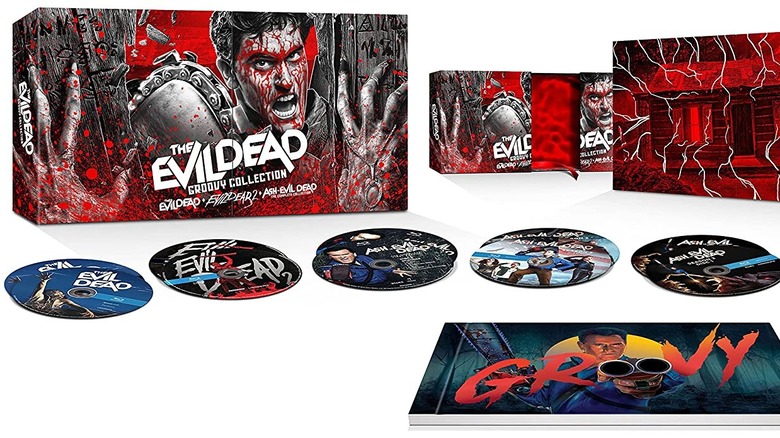 If there's one thing you can count on in this world, it's that every year will deliver yet another edition of "Evil Dead" to buy on home video. This time out we have the "Groovy Collection," which is alllllmost the complete Bruce Campbell "Evil Dead" run, missing only "Army of Darkness" (thanks to a rights issue with Universal) and includes "Evil Dead," "Evil Dead 2," and the complete "Ash Vs The Evil Dead" series, all in 4K UHD. The set also includes digital codes for everything inside, really great package art, and a companion book. (EV)
Demons I And Demons II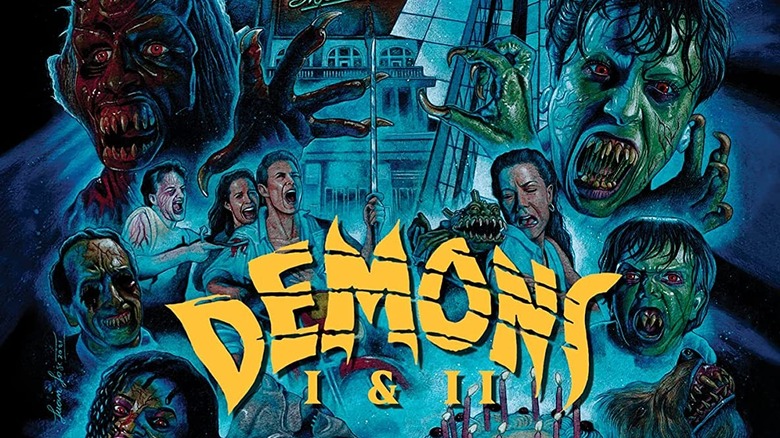 Lamberto Bava's "Demons" films are just delightful -- funny, scary, inventive and just a blast to watch. The first one is set in a grungy movie theater during the showing of a strange new horror movie where the audience ends up part of the experience as demons take them over one-by-one. The rules are like zombie rules. You get bit, you turn into a demon ... and a whole lotta people get bit. The second film is like a parallel story, but it uses a lot of the same cast in different roles and takes place in an apartment complex as the zombie demons take over. That one also features a young Asia Argento as a young girl trying to survive the ensuing apocalypse. Synapse pull out all the bells and whistles for this release, offering legacy commentaries as well as brand new ones and tons of special features. (EV)
Butcher Baker Nightmare Maker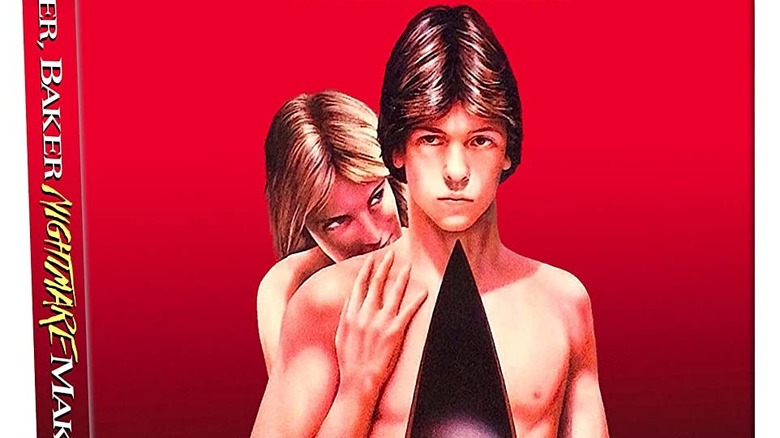 Okay, this is a weird recommendation for the holiday season, but hear me out. "Butcher Baker Nightmare Maker" (also known as "Night Warning") is a forgotten '80s horror movie that has low-key inspired some great horror moments in more recent memory. That logging truck scene from the opening of "Final Destination 2"? Yeah, cribbed from this movie. It's about a teenage boy whose parents were killed in an accident when he was younger and now he lives with his creepy Aunt, played with an unhinged theatrical delight by Susan Tyrrell. Let's just say things get real weird real quick and in a just world Tyrrell would have her own horror action figure. Oh, and this also features an early on-screen turn from Bill Paxton. A great gift for a horror fan that has everything. (EV)
Rick And Morty: Season 5 (Steelbook)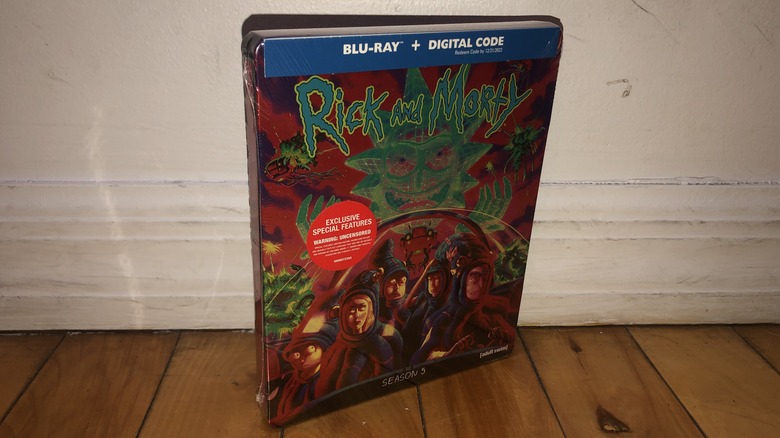 Rikki-Tikki-Tavi Beyotch! The Emmy-winning hit animated show from Adult Swim brings home another collection of that oddball inventor and his pesky grandson with an old Jewish comedy writer's name. This season features guest voice shots from Jim Gaffigan, Alison Brie, Steve Buscemi, Christina Ricci, series co-creator Dan Harmon, and more. (ME)
Dexter: The Complete Series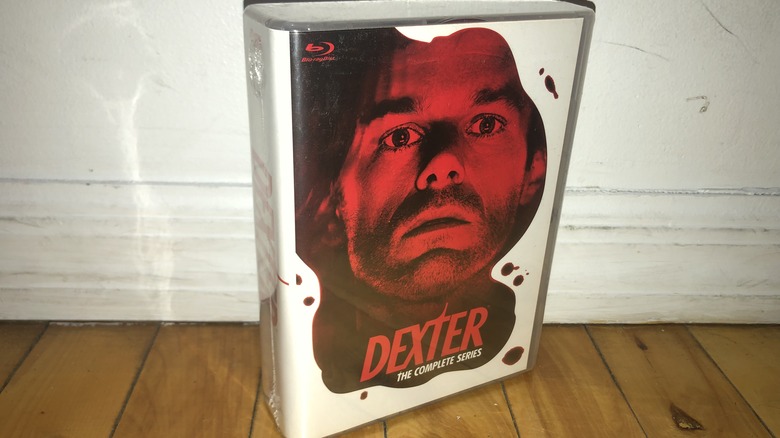 With the recent revival series "Dexter: New Blood" bringing everyone's favorite sexy serial killer with a conscience back to TV screens, it seems like a terrific time to revisit one of the most wildly talked about shows of the 2000's on gorgeous Blu-ray. Michael C. Hall is the title forensic technician who moonlights as a serial killer who hunts serial killers exclusively. Expect a lot of orange faces and tarps tossed onto cold storage box floors. (ME)
The Ultimate Aang And Korra Blu-Ray Collection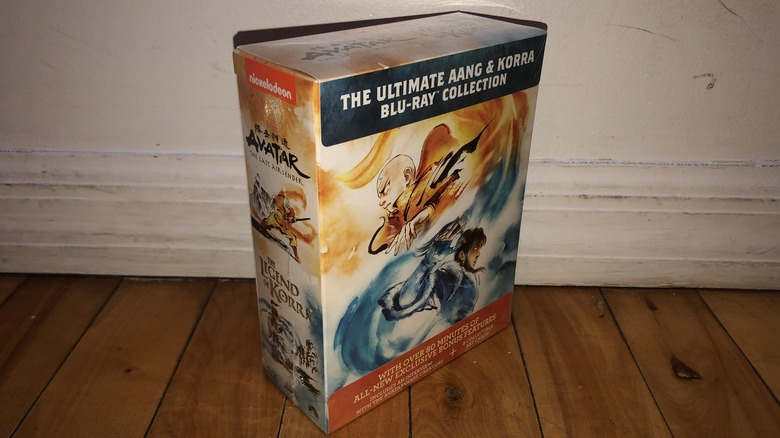 Are you a fan of both "Avatar: The Last Airbender" and its popular spin-off "Legend of Korra"? Then you're in luck, as this box set collects both shows with an additional 80 minutes of all-new bonus features including an Auditory Exploration with the Avatarverse Creators, a conversation with Janet Varney and Dante Basco (host of the Avatar: Braving the Elements podcast), and 8 collectible art cards. (ME)
Robotech - Collector's Edition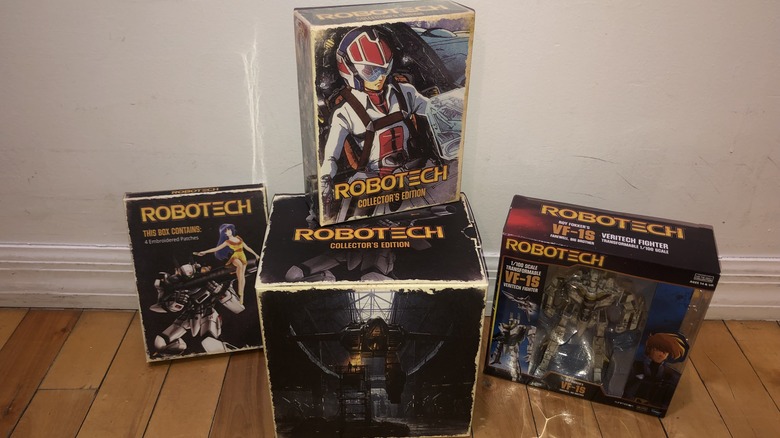 Here's a box set that contains both Blu-rays and a toy! Funimation has put together a package containing all 85 episodes of the original anime classic "Robotech," which comes with transforming Veritech, Roy Fokker's VF-1S to be specific, as well as Fokker himself in pilot uniform. There's also a set of four three-inch patches plus 7-hours of special features for fans of big-ass mechs. (ME)
Neon Genesis Evangelion Collector's Edition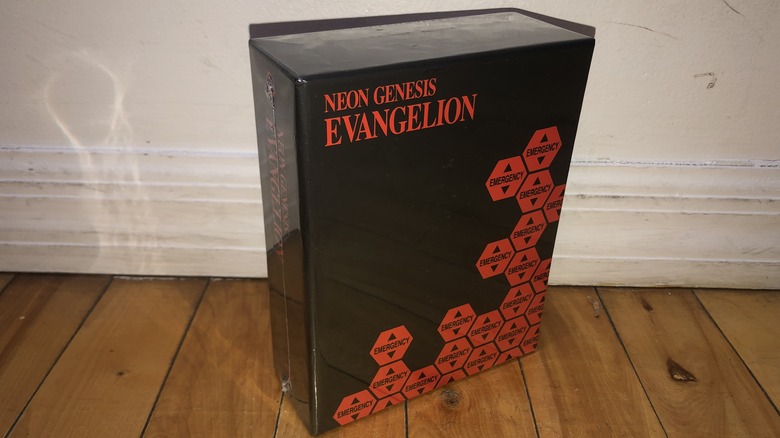 Speaking of big-ass mechs, the complete series of one of the most influential animes of all-time comes to Shout! Factory Blu-ray alongside two films: "Evangelion: Death (True) and "The End of Evangelion." The deluxe 11-disc set features a 40-page book, eight art cards, the Official Dub and Subtitled versions, and the bonus Classic Dub and Subtitled versions of all episodes. You'll also get over seven hours of bonus material including animatics, TV commercials, music videos, Japanese cast auditions, trailers, etc. (ME)
Sex And The City: The Complete Series + 2 Movie Collection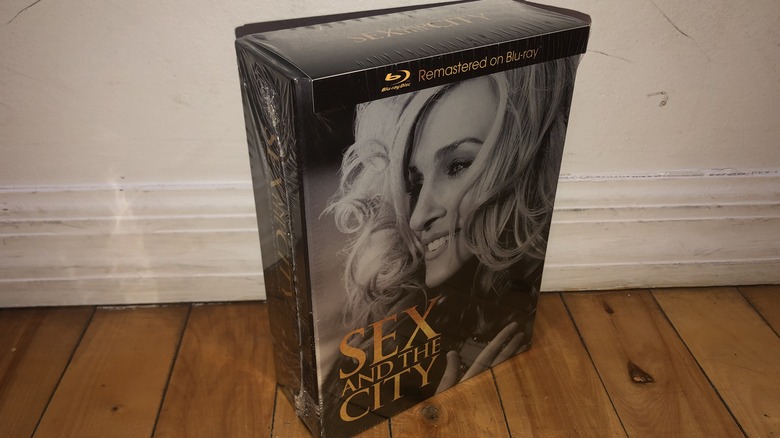 Now Sex and the City fans can get their fill of handsome rich dudes, acrobatic lovemaking, and, of course, cosmos with this special 18-disc collection that packages all 94 episodes of the groundbreaking HBO show. The set also includes the two theatrical feature films from 2008 and 2010, plus three-hours of previously released special features, all in time for the premiere of the new series "And Just Like That..." on HBO Max. (ME)
Select Acorn Blu-Rays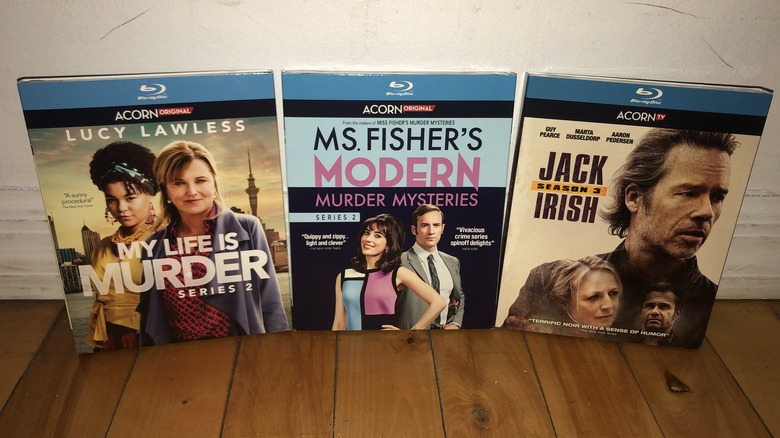 Either you or one of your relatives has to be, by the law of averages, a huge fan of British television, which is Acorn's specialty. Luckilym the streamer is also big on physical media, and you can pick up three of their most recent releases, including "My Life is Murder: Series 2" starring Lucy Lawless, Australian hit "Ms. Fisher's Modern Murder Mysteries: Series 2" starring Geraldine Hakewill, and "Jack Irish: Season 3" starring the incomparable Guy Pearce. (ME)
I Dream Of Genie: The Complete Series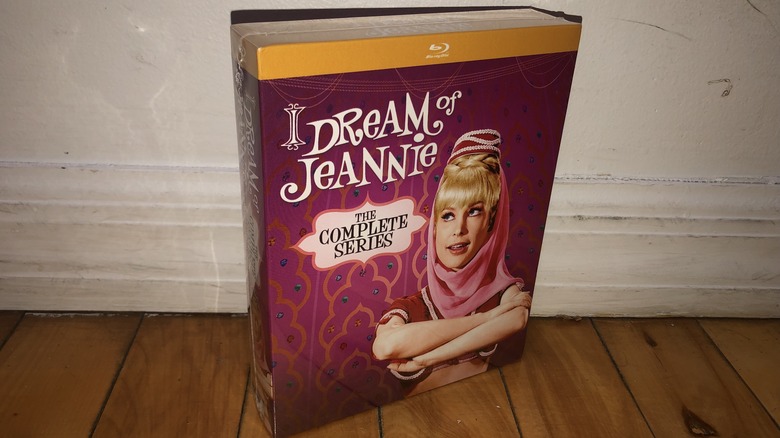 Your partner or loved one's wish is your command when you pick up the complete run of classic '60s sitcom "I Dream of Jeannie" on Mill Creek Blu-ray. All 139 episodes starring Barbara Eden are presented in high definition, the perfect gift for the fan of 1960's kitsch in your life. Camp it up with the blink of your eyes and a nod of your head. (ME)
PART 2: Toys, Collectibles And Apparel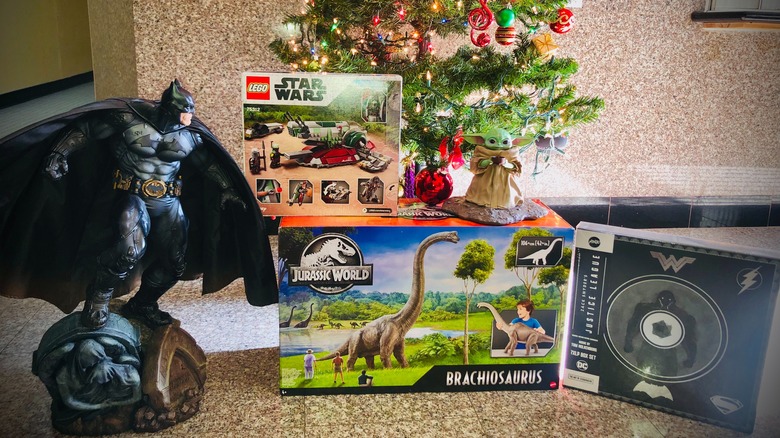 Part 2 of our Holiday Gift Guide is focused on toys, collectibles, and apparel. There's gifts for your family and friends of all shapes, sizes and price levels here, so et's get started! 
Sideshow Wolverine Premium Format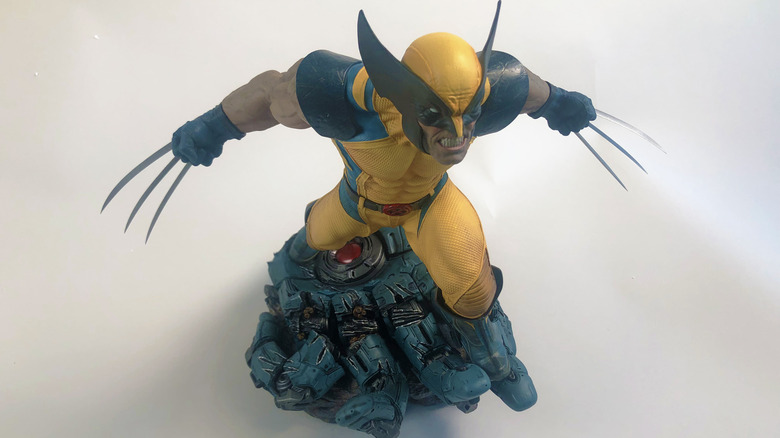 We got your perfect X-Men statue right here, bub. Get ready to SNIKT with style as the fine folks at Sideshow Collectibles bring you this brilliant 15.5-inch tall statue depicting a Jim Lee-era Logan in full yellow regalia, with some incredible textures on the suit and the usual flawless color work. He stands on a base that's a giant Sentinel hand, which is super cool. (ME)
Sideshow Cable Premium Format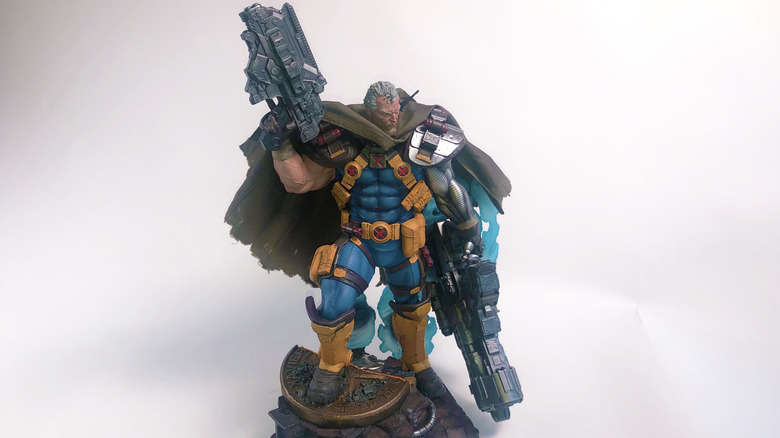 Rob Liefeld's X-Force leader from the future, Nathan Summers, gets a first-class statue with incredible proportions. Look at those guns! And we don't mean his arms. Tons of pouches and those big as hell shoulder pads give him all the '90s charm, and the base is a piece of a destroyed Xavier's school which Cable has traveled through several blue portals to get to. The 24.5-inch statue is impressive, and comes complete with a real fabric cape. (ME)
Sideshow Batman Premium Format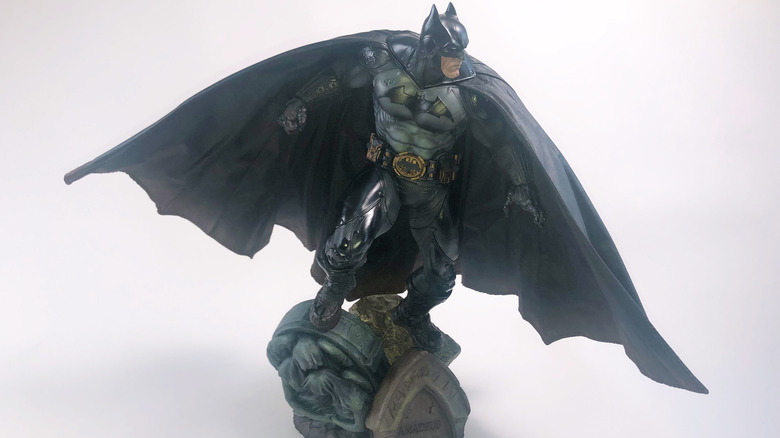 Now there's a Batman for ya. Sideshow outdid themselves by combining elements of all the coolest Batmen from comics, movie and video game history and melding them into this one stunning 23.5-inch statue. Yes, he has chaps, which have been poked fun of in some of the less mature sections of the internet, but it all comes together beautifully in one of the best Batman statues ever designed. (ME)
Sideshow Avengers Assemble Thanos (Modern Version)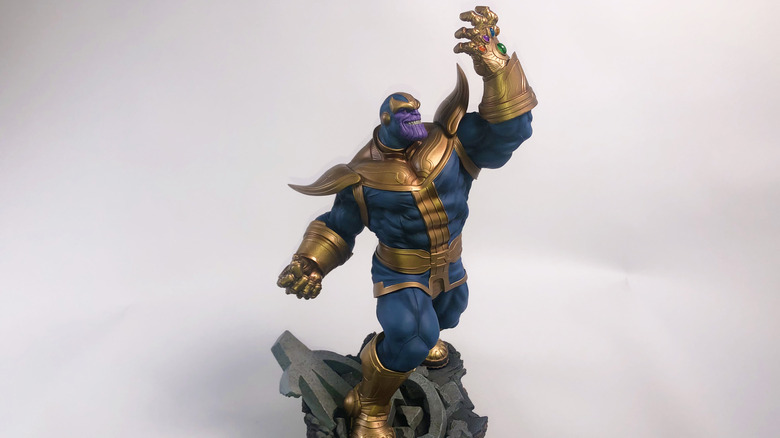 A part of Sideshow's continuing Avengers Assemble line, this 23-inch tall statue can stand toe-to-toe with their Hulk from the same line, except Hulk doesn't have a badass Infinity Gauntlet with sweet gems. This is the Modern Version which has a shinier armor, as opposed to the Classic Version, which is more comic book yellow. Low stock remaining on this item, so get it fast! (ME)
Sideshow Originals: Bounty Hunter - Galactic Gun For Hire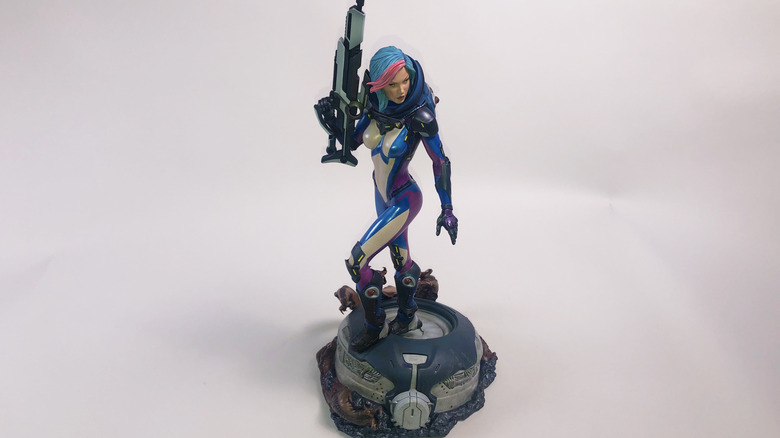 Sideshow doesn't just stop at IP. That's right, they have their own line-up of original statues including the Court of the Dead line, but this year they debuted three beauties in a lady-centric series that depicts their take on specific genre tropes. This lovely woman is in the sci-fi vein, with a sweet gun and some nasty looking aliens nipping at her toes. She also sports a sweet hairdo. This polystone statue stands 19-inches tall. (ME)
Gentle Giant The Child Statue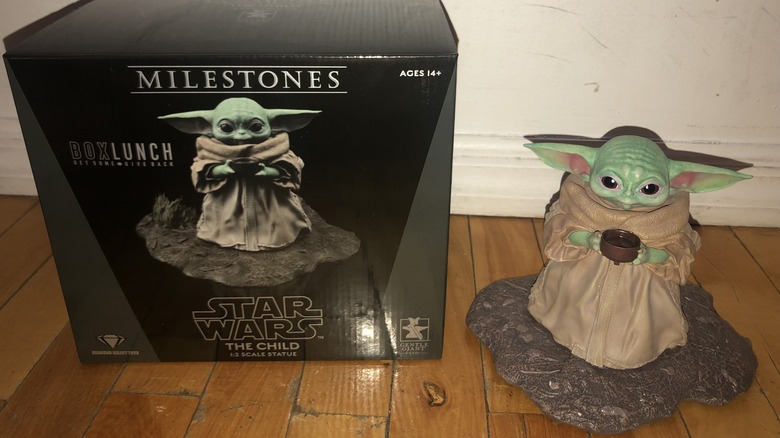 This 1:2 scale cutie comes holding a bowl of soup and on a little patch of land as a base. Taken right from the episode where Din Djarin meets Cara Dune, Grogu stands 8-inches tall and comes in a limited edition of only 5000 copies worldwide. (ME)
Gentle Giant The Mandalorian Statue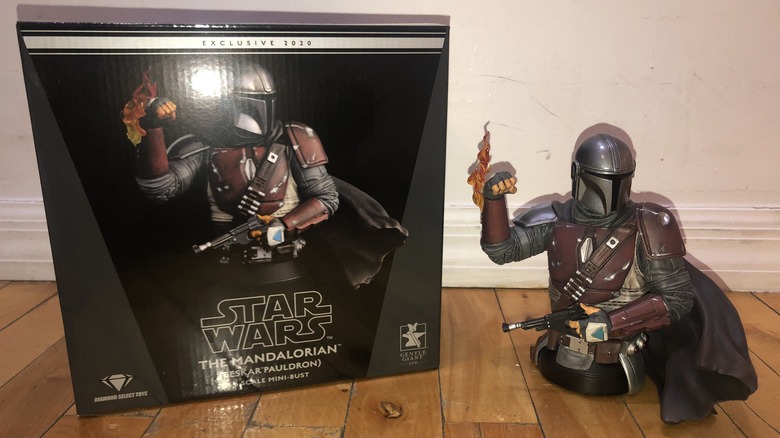 Continuing with "The Mandalorian" theme we have going here, the Disney+ show gets a super cool mini-bust measuring approximately 6-inches tall. The 1/6 scale bust has Din Djarin's original armor with blaster and flamethrower at the ready. The detailed paint job really sells this excellent smaller piece. (ME)
Harry Potter: Magical Minis Hogwarts Castle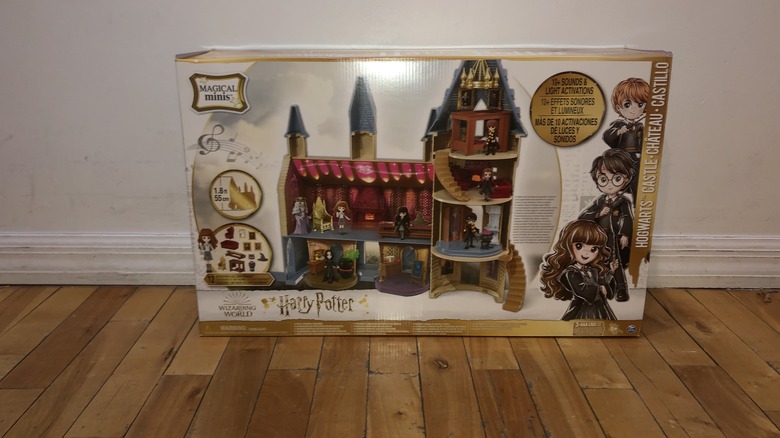 Containing an exclusive Hermione Doll, this playset for kids ages five and up is an almost two-foot-tall castle with lights, sounds, and lots of amazing details. The settings from the movies include the Great Hall, Gryffindor common room, Moaning Myrtle's Bathroom, and more. (ME)
Harry Potter Wizarding World Sorting Hat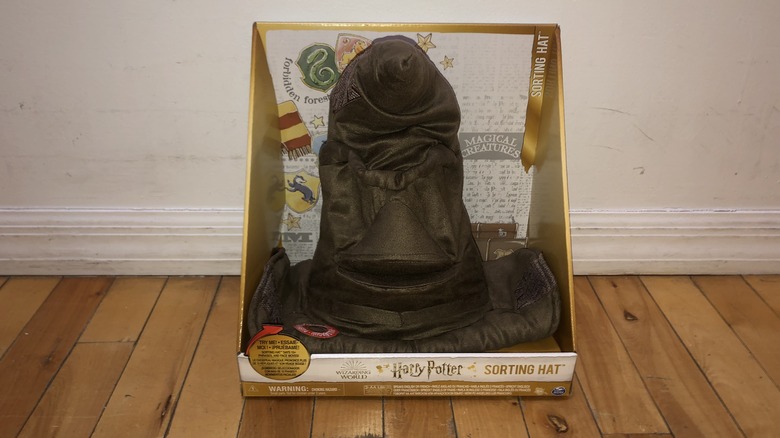 Up to 15 phrases can be summoned from this talking Sorting Hat once you place it on your head or press the brim's button to activate it. It will also randomly choose a house for you, so maybe don't have your heart set on a certain one. (ME)
Illumination's Minions: LEGO Kung Fu Battle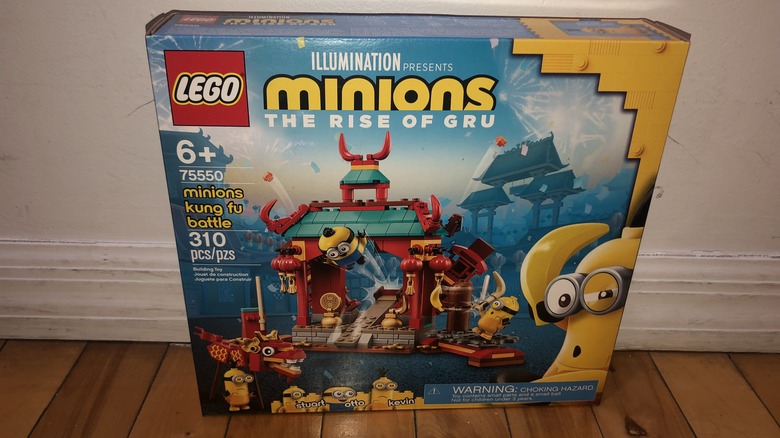 In anticipation of Universal Pictures' "Minions: The Rise of Gru" movie finally hitting screens next year, you can grab this LEGO set for all your banana-happy kids. This set includes Kevin and Stuart mini figures in kung-fu outfits, plus an Otto figure. (ME)
Jurassic World: LEGO Dinosaur Escape/T. Rex Fossil Exhibition Sets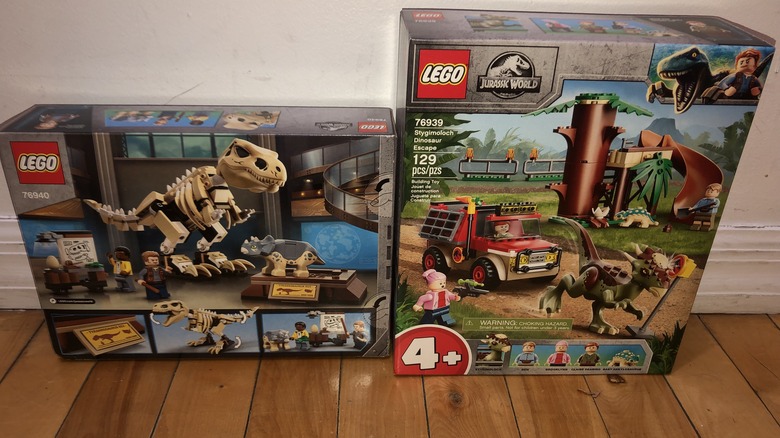 Universal is also putting out "Jurassic World: Dominion" next year, so you can start building your own dinos at home with these two LEGO sets that feature iconography from the new trilogy. (ME)
Mattel Jurassic World Brachiosaurus And Mosasaurus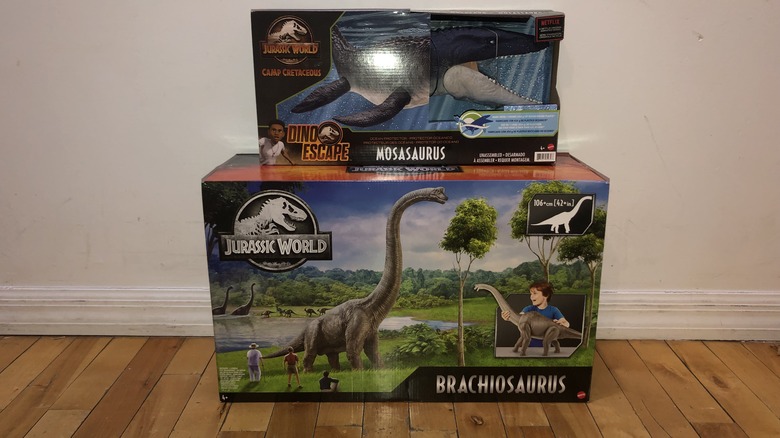 Mattel has put out two Jurassic-themed toys that will make for big fun for your little ones. There's the "Jurassic World" Brachiosaurus figure, at 28 inches high and 34 inches long. The Ocean Protector Mosasaurus is actually sculpted with movable joints made from one pound of oceanbound plastic, so that's a good conscientious reason to grab one. (ME)
Hasbro Disney Villains Dolls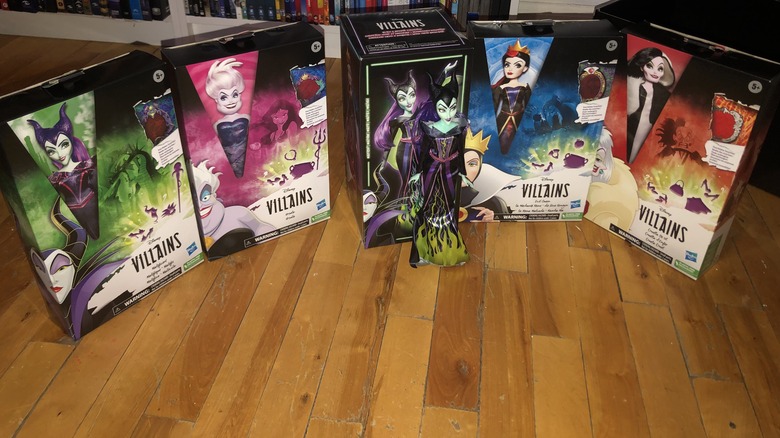 Designed for kids ages five and up, these stylish fashion dolls of some of Disney's most memorable villains give a sinister edge to the doll market. Each is approximately 11-inches tall with a stunning outfit and matching accessories. (ME)
Disney Mickey And Friends Mates (Minnie And Donald)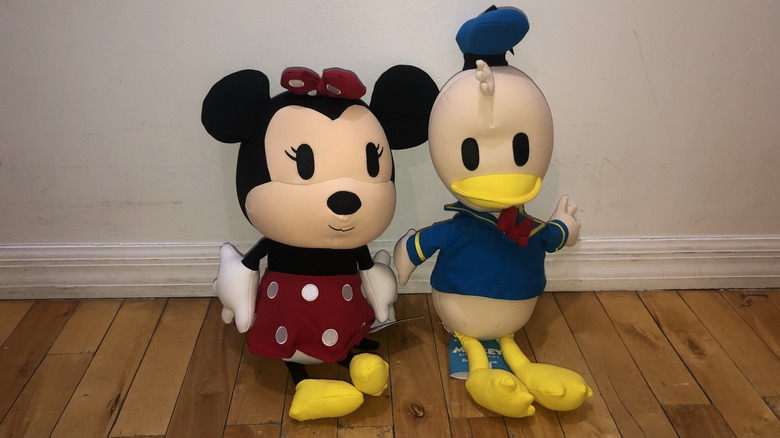 These utterly adorable, officially Disney-licensed bead-based stuffed animals from Yogibo will be your new favorite snuggled friends. Filled with frictionless beads under two layers of stretchy, durable fabric, the outer layer is made of a cotton/spandex blend which gives it pitch-perfect softness. Pick up Minnie here, but if you prefer a quacker get Donald here! (ME)
Yogibo The Mandalorian Child Hugger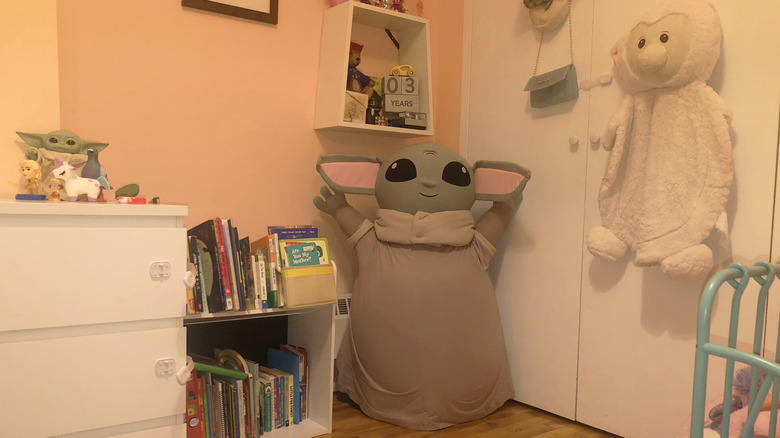 If you're in the market for something even bigger from Yogibo, you're in luck. The Grogu Hugger measures 3.5 feet tall (around 67 inches in diameter), and is the perfect bean bag chair for your child's room or living room. It's also cute as all get-out, so there's that. (ME)
Build-A-Bear Boba Fett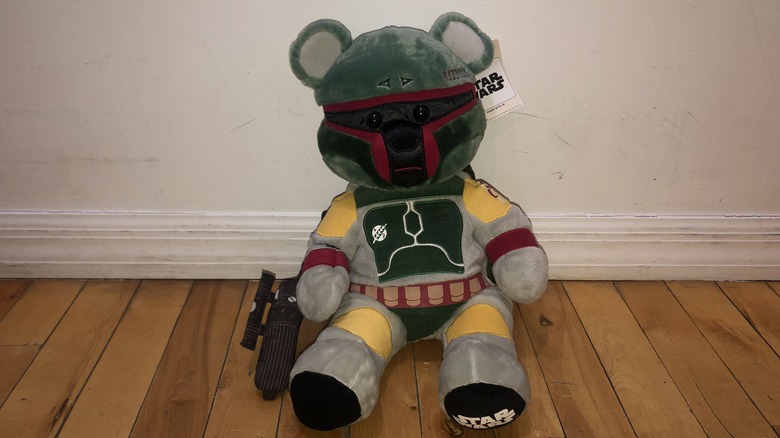 Just in time for "The Book of Boba Fett" comes this adorable plush from the Build-A-Bear Workshop. His armor built into his fur and a plush blaster toy completes the look. He's just a simple bear trying to make his way in the galaxy! (ME)
Star Wars Galactic Snackin' Grogu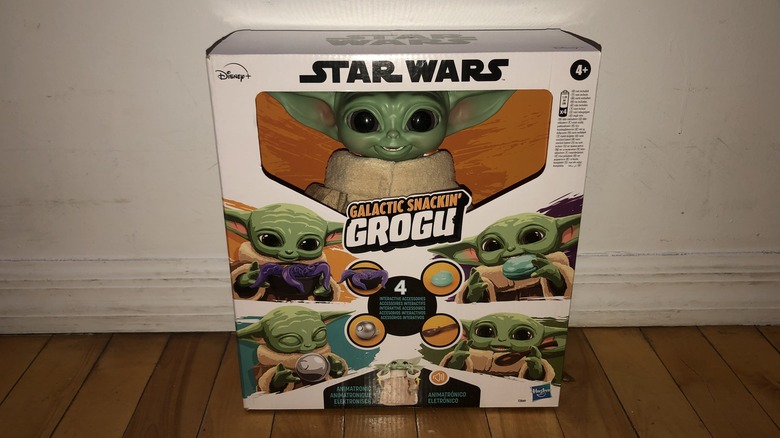 Can't get enough Baby Yoda goodness? This animatronic toy comes complete with four interactive accessories (bowl with tentacles, cookie, shifter knob, and spoon) which the little guy will react to with sound effects and movement. (ME)
LEGO Star Wars Boba Fett's Starship And Duel On Mandalore Sets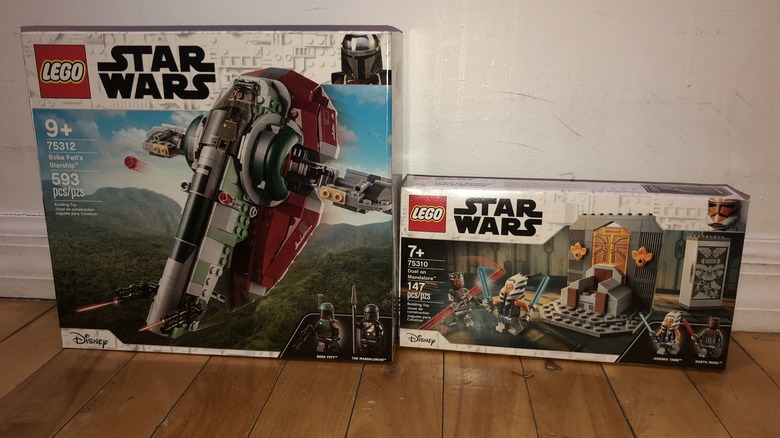 More great Mandalorian shopping options! The Fett Ship (can we call it Slave 1?) includes two minifigures:  Boba Fett with his blaster and The Mandalorian with his blaster rifle and a beskar spear (plus a Carbonite brick for good measure). The other set takes us back in time to lets you create the duel between Ahsoka and Darth Maul on Mandalore, as seen in "Star Wars: The Clone Wars." (ME)
Bitty Boomers Black Panther And Grogu Bluetooth Speakers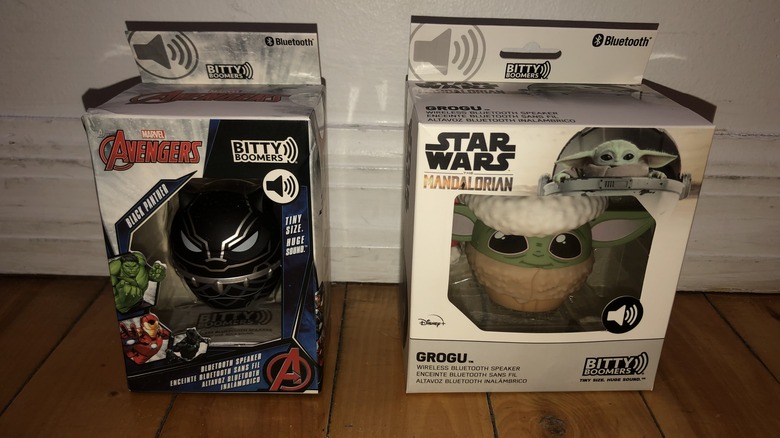 ​​Get big big sound from a small place with these Bluetooth speakers featuring the likenesses of both Grogu and T'Challa. Each one gets over four hours of music playing on a single charge, and they're cute as all heck. (ME)
Marvel Spidey & His Amazing Friends Web-Quarters Playset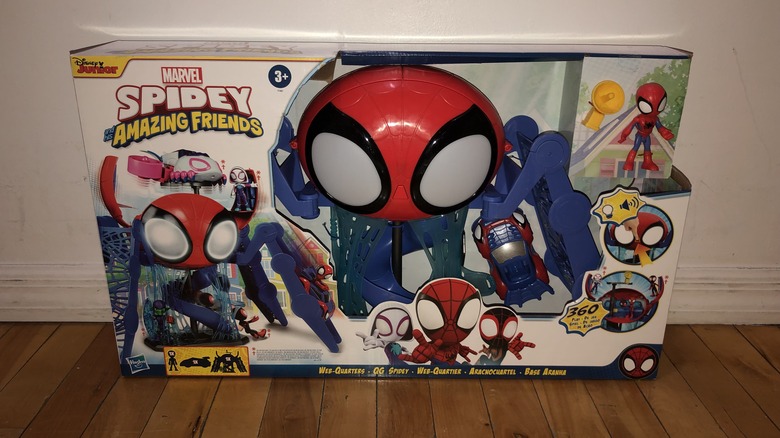 This elaborate playset allows kids to let this Spider-Man in his Web-Crawler vehicle down a chute and save the day. This contains light-up, 15-inch Web-Quarters, all inspired by the Disney Junior animated series "Spidey and His Amazing Friends." (ME)
Mandalorian And Child ArtFX Statue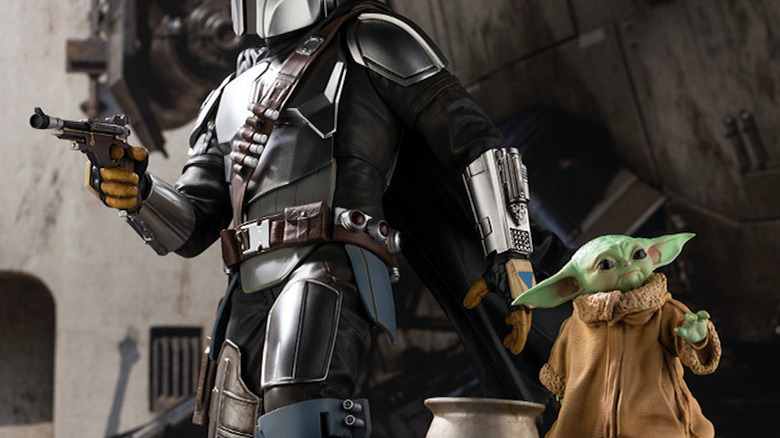 ArtFX always brings it with their attention to geeky detail and this set is no exception. Behold: Mando and The Child in 1/7 scale. Little Grogu isn't locked into place here, by the way. He can be positioned anywhere on the base, hiding behind The Mandalorian or out front ready to pitch in with his little force powers. This piece stands 10.5 inches tall, comes with Grogu and Mando, and the base and is made from PVC and ABS. This is the way. (EV)
Princess Bride 1:6 Scale Westley Figure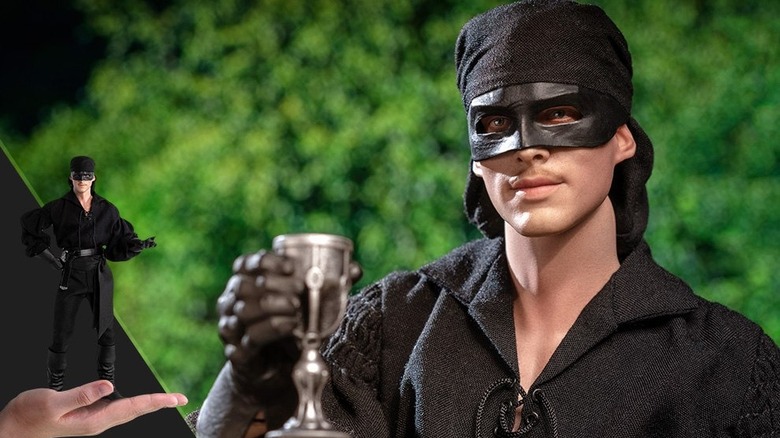 At this point, we've gotten toys and figures from just about every corner of pop culture, but the ones that always catch my eye aren't the Marvel or "Star Wars" or DC stuff, but the more random highly detailed pieces of geek furniture, like this Westley from "The Princess Bride." Westley is in his full Dread Pirate Roberts get up, has both the mask and maskless look, giving you the full power of young Carey Elwes, and like most of these high quality sixth scale pieces is highly articulated and comes with a bunch of accessories, like 9 different pairs of hands you can swap in and out depending on your preference. (EV)
Premium Format Heath Ledger Joker Statue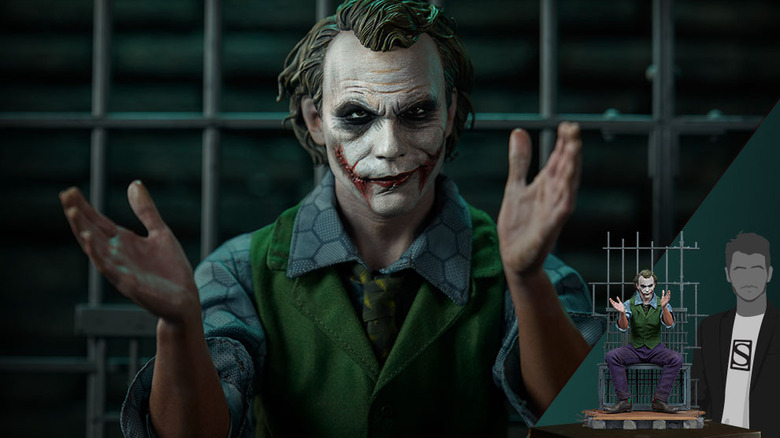 You gotta have deep pockets to afford this sucker, but man is it gorgeous. This huge Premium Format statue from Sideshow features an incredibly detailed recreation of Heath Ledger's Joker from "The Dark Knight" as he's giving Gordon a rousing round of applause for his promotion. This sucker stands 20" tall, weighs 20lbs, and comes with a few set of arms depending on how you want him to be positioned. The clothes are custom tailored with real fabric. Very fancy and limited to 1000 pieces. (EV)
Adult Elf Sweatshirt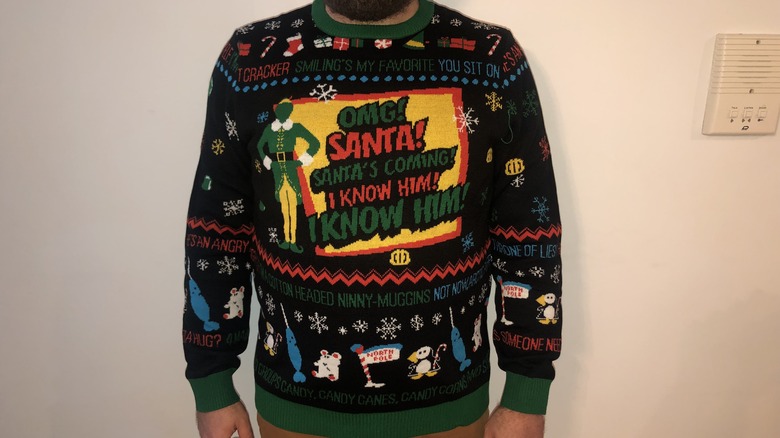 Available exclusively from the Warner Brothers Shop, this exclusive "Elf" Holiday Sweater features Buddy the Elf with quotes from the Christmas classic Elf, all in different sizes. (ME)
Elf Long John Pajamas By Hanna Anderson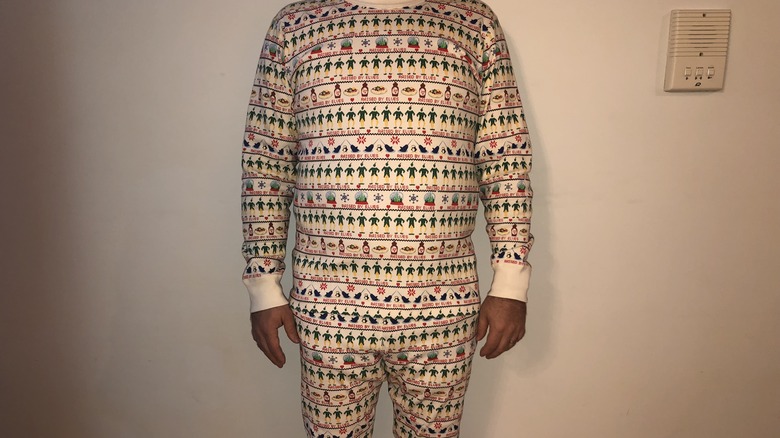 While you're at it, slip on some of these "Elf" branded long john PJs from Hanna Anderson, with a fun "Raised By Elves" pattern and even some spaghetti with maple syrup on there for good measure. (ME)
American Tourister Star Wars Hardside Luggage Darth Vader Carry-On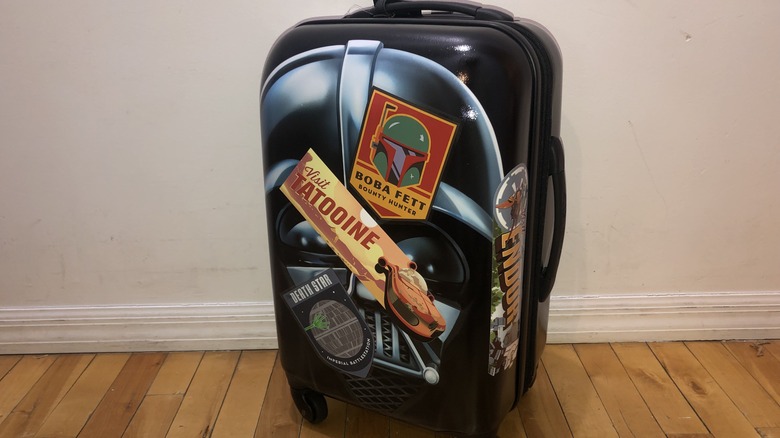 A sleek design with single spinner wheels, a mono tube pull handle, and a top grab handle for easy lifting makes this the perfect travel companion for your little Padawan in training. Detailed with colorful graphics of the Sith Lord himself, it'll get you where you need to go in this galaxy and beyond. (ME)
Disney Mickey And Friends Traybo 2.0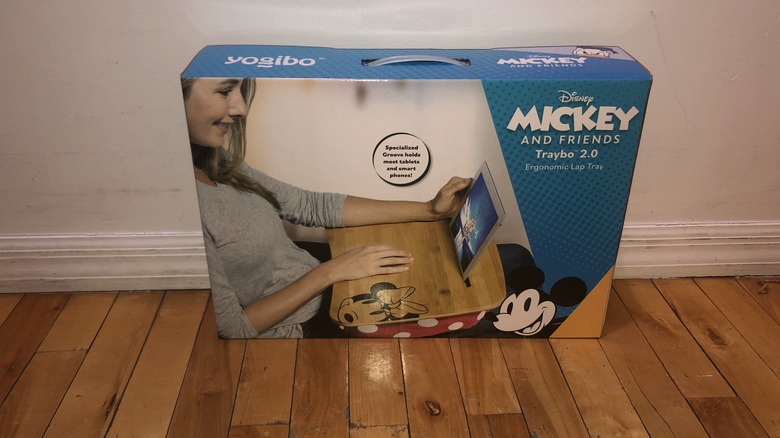 To help kids keep their tablets or laptops in place while reading, this Yogibo Disney lap board has a designated groove for your tablet or phone and is compatible with iPads. (ME)
Ted Lasso Mug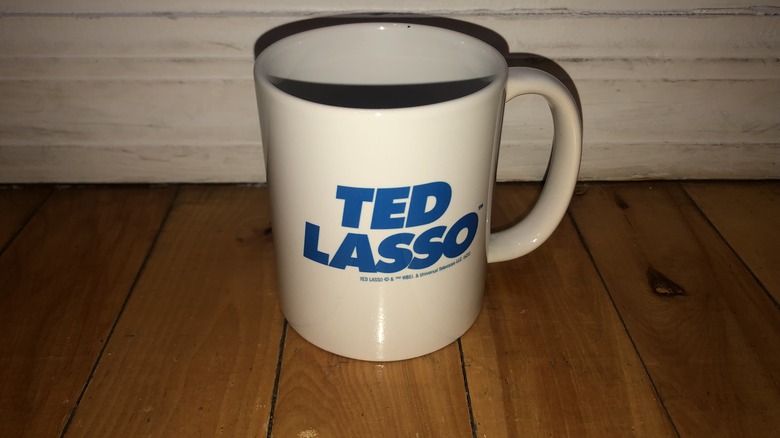 Take a sip of victory with this logo mug from America's favorite Jason Sudeikis show. Featuring the Ted Lasso Logo on both sides, this ceramic mug can handle 11 oz to 15 oz of liquid, is dishwasher and microwave safe, and has a large, easy-grip handle. (ME)
Super Poster (Mondo)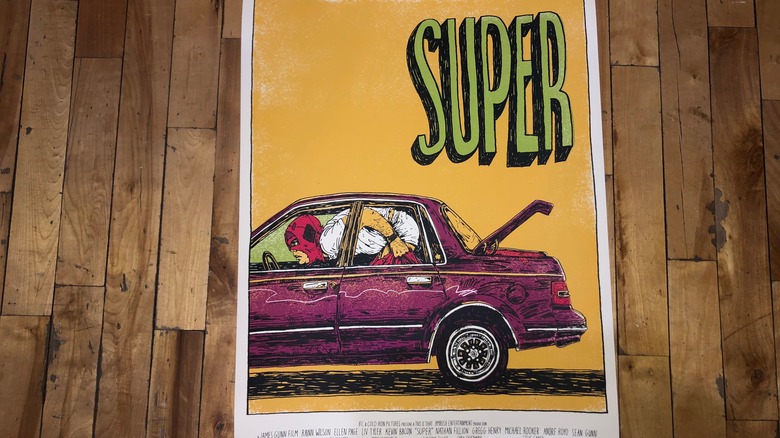 In a year that brought us director James Gunn's gonzo big budget splatterpiece "The Suicide Squad," why not return to the filmmaker's origins with a humble, slow burn psychotic comedy thriller called "Super," where Rainn Wilson played a delusional wannabe superhero vigilante. This 18" x 24" print by Leslie Herman captures the absurdity of the film beautifully. (ME)
Zack Snyder's Justice League Soundtrack - 7 LP Set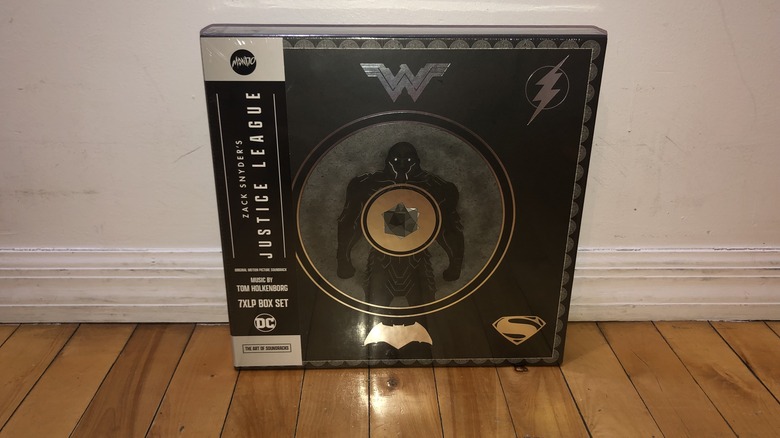 This collaboration between Mondo and WaterTower Music brings home Tom Holkenborg's (aka Junkie XL) epic complete soundtrack to the phenomenon that was Zack Snyder's four-hour version of the superhero team-up flick that debuted on HBOMax earlier this year. This collectible box set is the premiere physical release of this soundtrack. (ME)
MODOK Tiki Mug - Alamo Brown Variant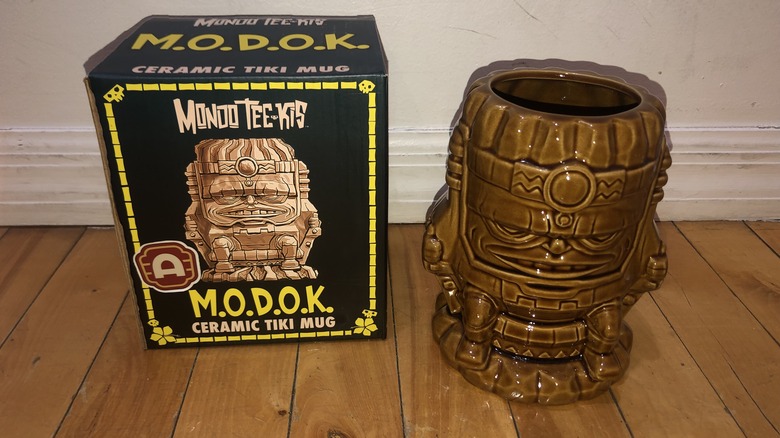 Patton Oswalt brought Jack Kirby's infamous Mechanized Organism Designed Only for Killing to life this year in his animated series, and now Alamo is immortalizing him in tiki form. Designed by Mike Bonanno and sculpted by Tufan Sezer, the glass holds 36oz for you to kill your thirst with! (ME)
Unmatched: Jurassic Park - InGen Vs. Raptors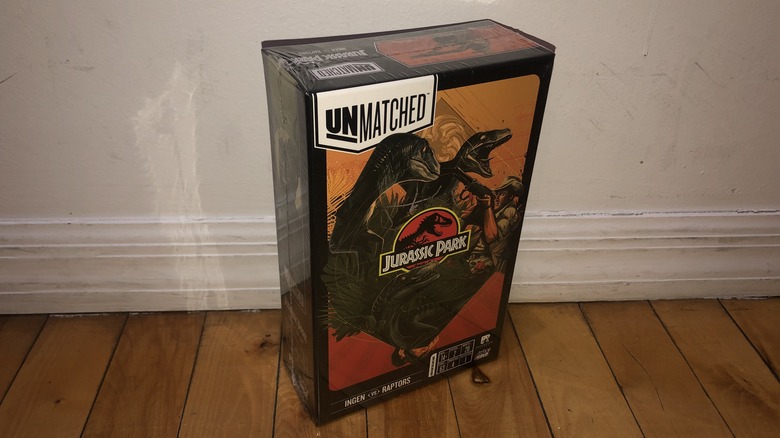 The most predatory creatures in Jurassic Park are unleashed to cause chaos in this tabletop game from Mondo and Restoration Games, where InGen's Game Warden Robert Muldoon and his Security Team lay traps to slow their opponent down and attack. (ME)
Alien: Fate Of The Nostromo Board Game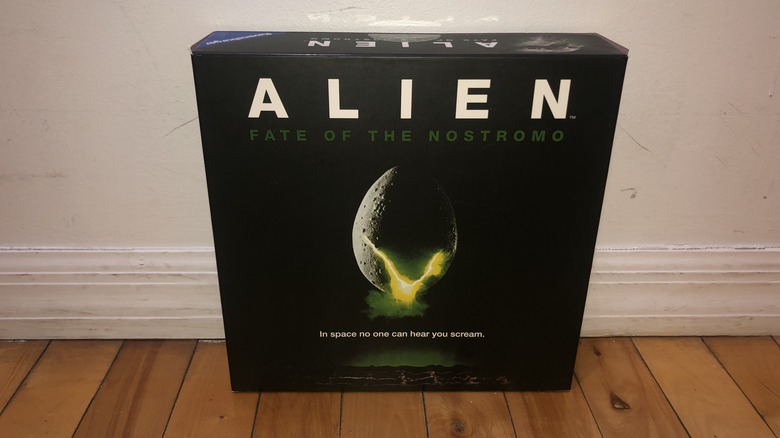 In space no one can hear you scream with delight as you play this game where crew members Ripley, Brett, Dallas, Lambert, or Parker work together to move through the ship, gather supplies, and craft items to complete objectives in order to evade the Alien. The box includes: 1 Nostromo game board, 5 player reference cards, 5 Crew placards, 5 Crew figures, 1 Alien figure, 1 Morale marker, 21 Encounter cards, 10 Objective cards, 5 Final Mission cards, 20 Scrap tokens, 12 Item tokens, 6 Coolant Canister tokens, 13 Concealed tokens, 1 Self - Destruct track, 4 Countdown tokens, 1 Ash standee, and a rulebook. (ME)
Stitch Sketchbook Ornament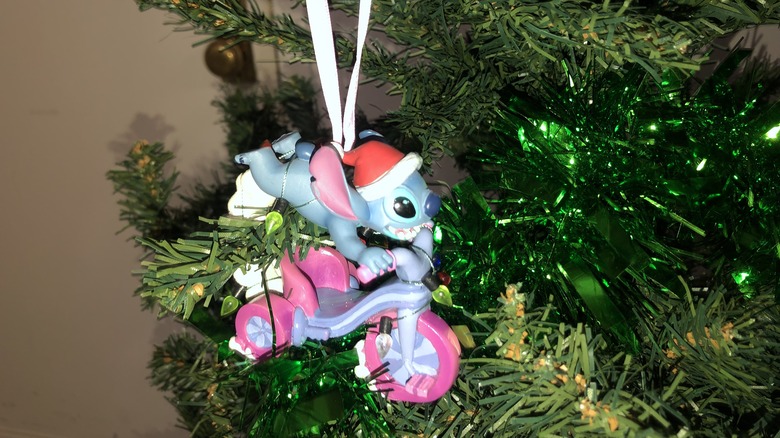 Part of the Disney Sketchbook Ornament Collection, this lovely sculpted piece depicting the mischievous alien from the 2002 film has glitter accents, and satin ribbon for hanging. The translucent simulated "bulbs" are decorative only, but they look great on your tree. (ME)
Peaky Blinders 2022 Calendar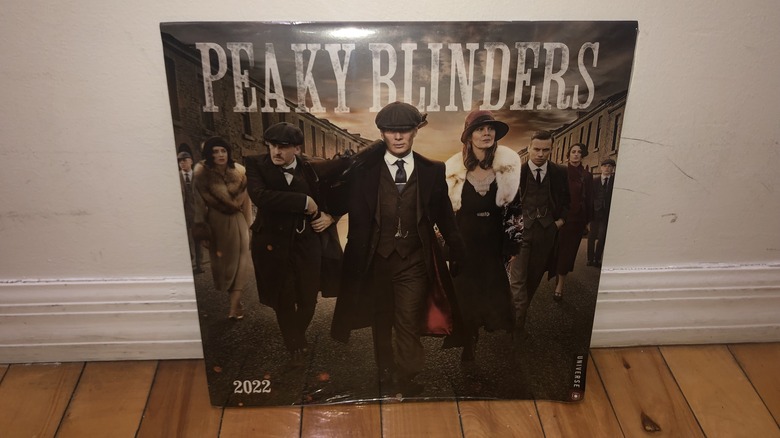 Ring in the new year with the popular Netflix series that chronicles the ambitions of Tommy and his family and their struggle to go from criminals to legitimate businessmen. For fans of the gritty British crime dramam this calendar features 12 images and quotes from the past five seasons. (ME)
Virtual Reality Master Chef Junior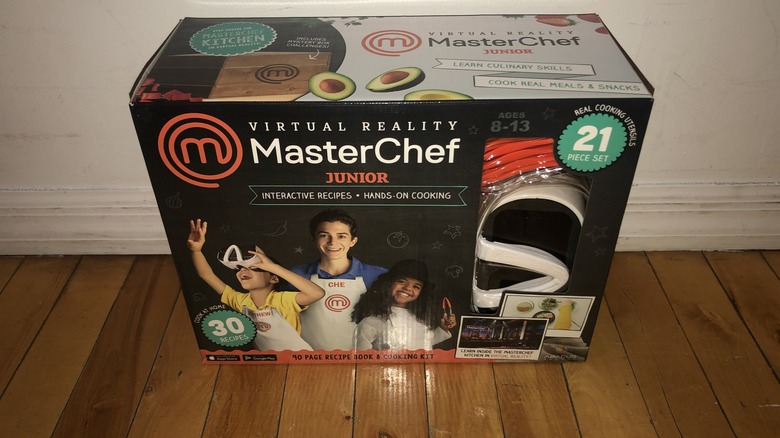 A great STEM learning option featuring 30 recipes for kids ages eight to 13 to prepare with some virtual reality assistance via a pair of VR goggles compatible with any phone. The 21-piece kit includes a spatula, whisk, rolling pin, poach pods, measuring cup, spoons, and an apron/chefs hat. (ME)
Mondo Wizard Of Oz Limited LP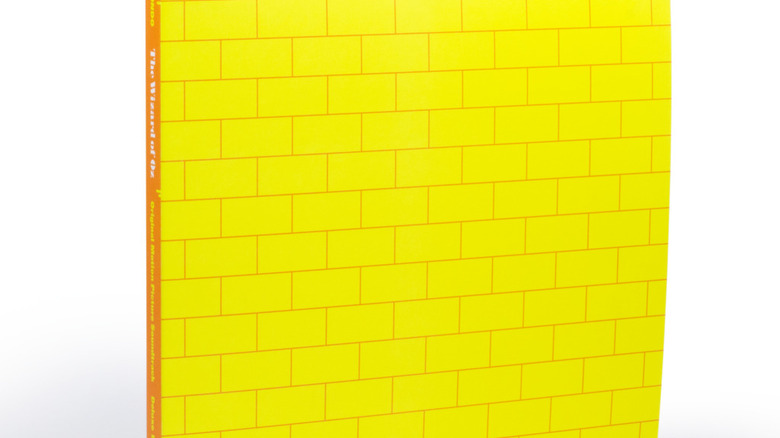 Mondo has dominated the pop culture print market for years, but let's not let that overshadow its massive contribution to the resurrection of vinyl. Oftentimes their offerings are limited and that's just the case here with this incredible-sounding 3xLP set of all the music from "The Wizard of Oz." We're talking about the full originally released soundtrack as well as outtakes, extended versions, and alternate takes of some of the most famous movie music of all time. And it's all bundled in a pop-up style gatefold with art by Alan Hynes. Colored vinyl, limited edition of 3,000. To add this to your collection, you don't need courage, a brain or a heart, just 80 bucks. (EV)
Terminator 2 Bookends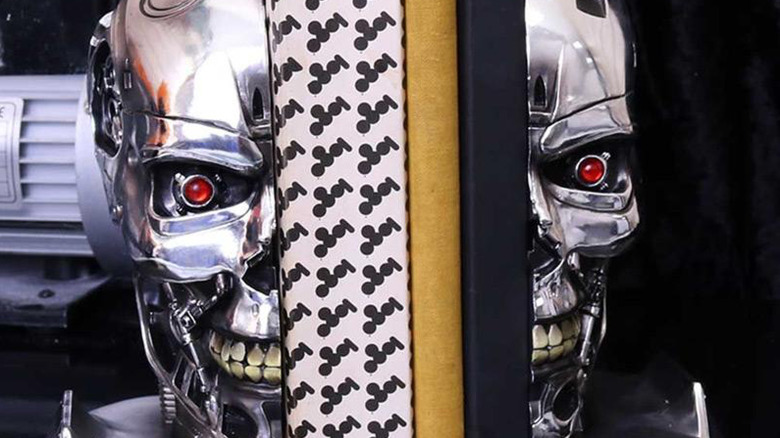 Who doesn't want a T-800 skull propping their books up? Well, probably John Connor, to be fair. This "Terminator" endoskeleton bookend set is sharp in its chrome, intense-stare glory. The human teeth detail in this design has always disturbed me and it's equally disturbing here. Still, it's a striking piece that stands just over 7" tall. Definitely a standout for any bookshelf, or, if you want a physical media hack, you can use it to bookend your Blu-Ray discs. That's why you come here, to find out these deep, nerdy insights. (EV)
Back To The Future Wall Lamp/Desk Light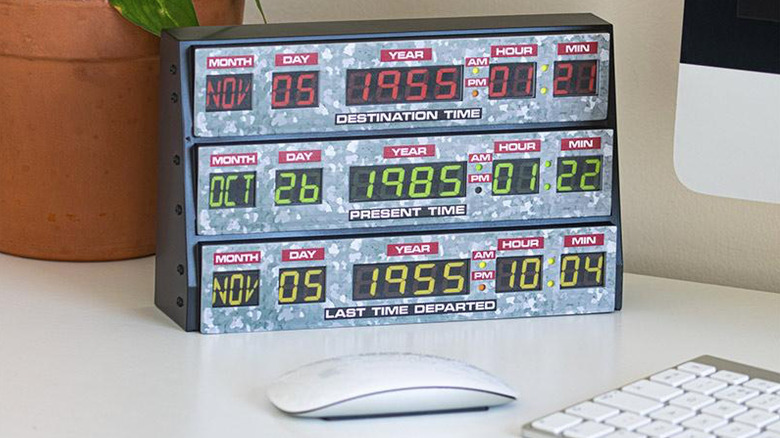 This isn't a clock, although it'd be really sweet to have a "Back to the Future" clock designed this way. It is, however, an affordable geeky 3D lamp. It's not projecting 3D holograms or anything, it's just a dimensional lamp, but they call it 3D so we're just going to roll with it. Based on the DeLorean dashboard feature that sets the time period for each jump, this sucker can be mounted on a wall or rest comfortably on a desk or nightstand. Jumpin' gigawatts and all that jazz. (EV)
Jaws Ugly Christmas Sweater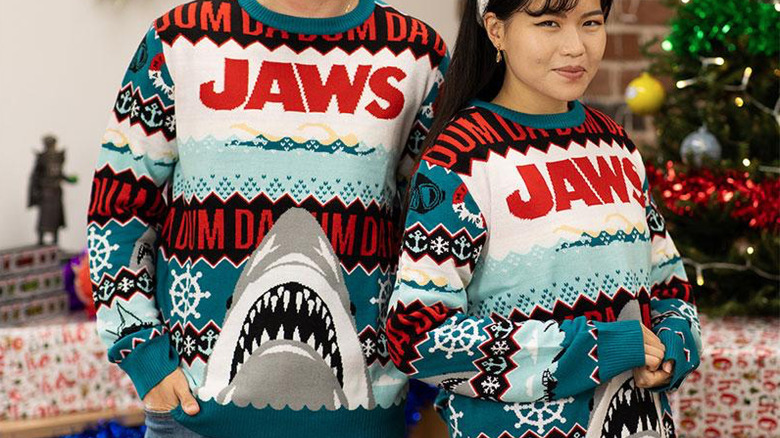 It's not the Christmas season without an ugly sweater, and I've got a couple for you here, starting with this "Jaws" sweater. "Jaws" is my favorite movie of all time and while my brain knows it's as popular as ever, it's still absolutely bonkers to me that random merch like this keeps popping out for it some 46 years after release. Now, this isn't one of those sweatshirts with a stitched design on it -- this is a 100% stitched Christmas Sweater. Top quality yarn is used for maximum warmth and comfort. You get the front, the back, the whole damn thing. (EV)
Pennywise/IT Ugly Christmas Sweater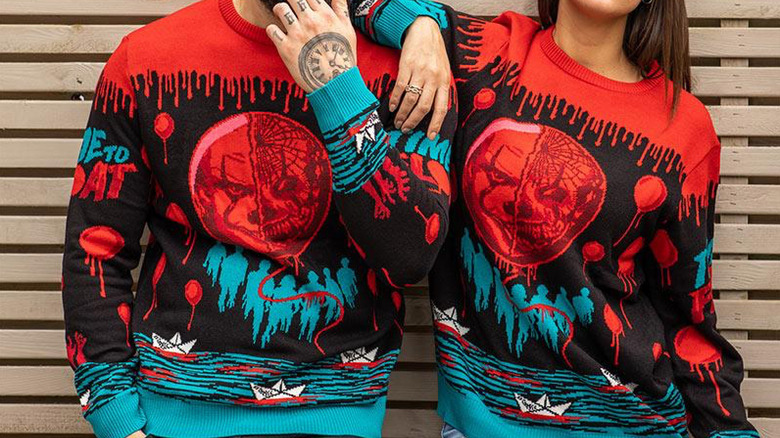 If you want a creepier Christmas sweater, here's one with a child-killing clown on it! Nothing says Merry Christmas like bloody balloons and an interdimensional monster that can take the form of your worst nightmares. Just like the above "Jaws" Christmas sweater, this is 100% knitted, not printed and built for comfort. Considering that my residence of Austin nearly froze to death earlier this year and predictions are we're going to get another big freeze/power outage again this winter, it might be smart of me to load up on these warm boys. I may need Pennywise and Bruce to keep me toasty this season... (EV)
Loki Pin And Tie Pin Set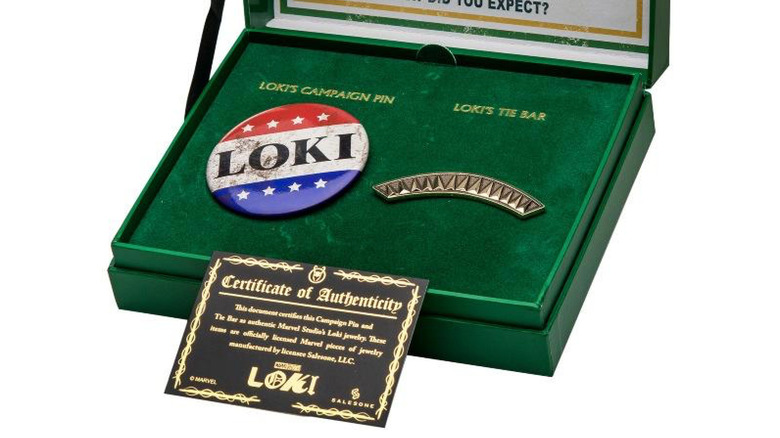 Now this is pretty neat -- a fancy gift box that comes with a Loki campaign button and a replica of President Loki's tie bar. Yes, you too can hold your tie in place like Odin's most mischievous son. Who knows? You might attract a variant version of yourself that you can fall in love with. At the end of the day it's just a button and a pin, but the packaging is top notch and we all have a huge fan of the Disney+ "Loki" series in our lives. Giving a loved one a box celebrating Tom Hiddleston is never the wrong choice, so why not go for this Marvel licensed limited edition replica? (EV)
Ghostbusters Cuckoo Clock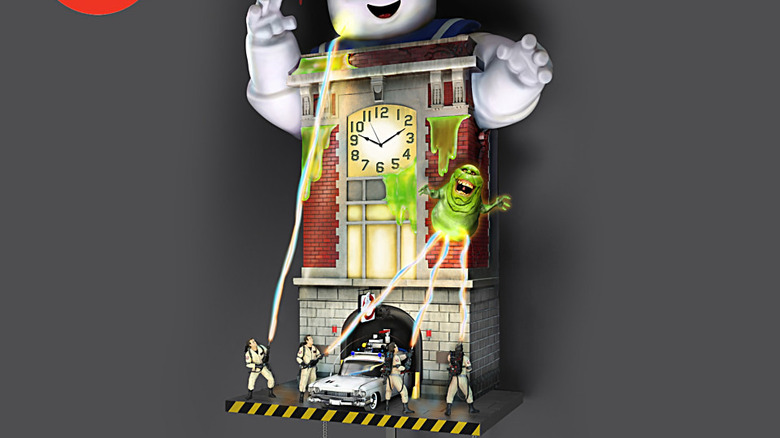 The Bradford Exchange is offering this incredibly geeky cuckoo clock and I am here for it. Yes, this "Ghostbusters" Cuckoo Clock is hand-painted, stands over a foot tall, and the pendulums are replaced with ghost traps. How rad is this? It's an accurate clock that lights up, plays authentic sounds from the films, and has the likeness of our favorite OG Ghostbusters doing their thing. Egon, Ray, Winston and Venkman face off against Mr. Stay Puft and Slimer while careful to not cross the streams and will accurately keep the time. How's that for service? This cuckoo clock is not cheap, but not nearly as expensive as you might think. (EV)
PART 3: Books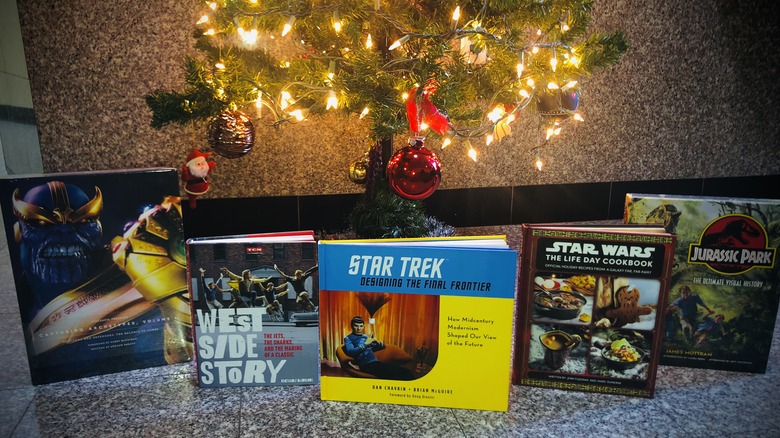 Part 3 of our Holiday Gift Guide focuses on all the books you can fit on your crumbling and warping IKEA shelf. There's something here for the ravenous bookworm in your life, and maybe for you as well!
Mondo Books: Warped & Faded: Weird Wednesday And The Birth Of The American Genre Film Archive, These Fists Break Bricks: How Kung Fu Movies Swept America And Changed The World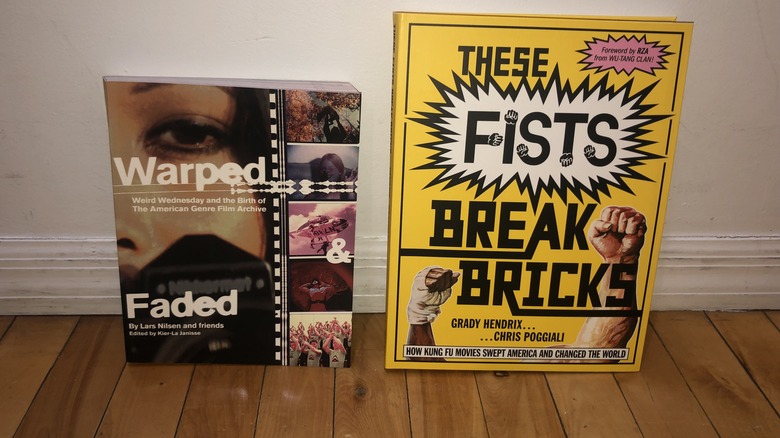 The folks at Mondo have two great offerings this holiday season starting with "Warped and Faded," which collects capsule reviews of all the offerings from the first decade of the Alamo Drafthouse's acclaimed Weird Wednesday series, which is known for showing real prints of some of the strangest genre cinema ever created. Also out now is "These Fists Break Bricks," a fascinating overview of martial arts movies from movie historian Chris Poggiali and famed author Grady Hendrix ("My Best Friend's Exorcism"). (ME)
Turner Classic Movies Books: West Side Story And Dark City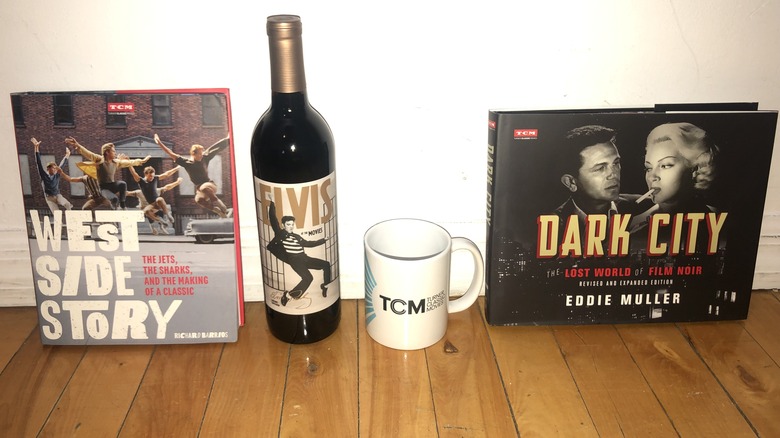 Our favorite destination for classic cinema, both on cable and on its amazing app, has got some stocking stuffers for all you cineastes out there. First up is an exploration of Leonard Bernstein and Stephen Sondheim's hit Broadway play that became director Robert Wise's big screen triumph, and is now a Steven Spielberg remake. Then it's the network's resident film noir expert Eddie Muller giving us a revised edition of his book "Dark City," about that darkest of genres. TCM's shop also offers socks, mugs and other fun gifts like this cool TCM Mug, as well as memberships to the TCM wine club for the perfect pairings of cinema and sauce. (ME)
Jurassic Park: The Ultimate Visual History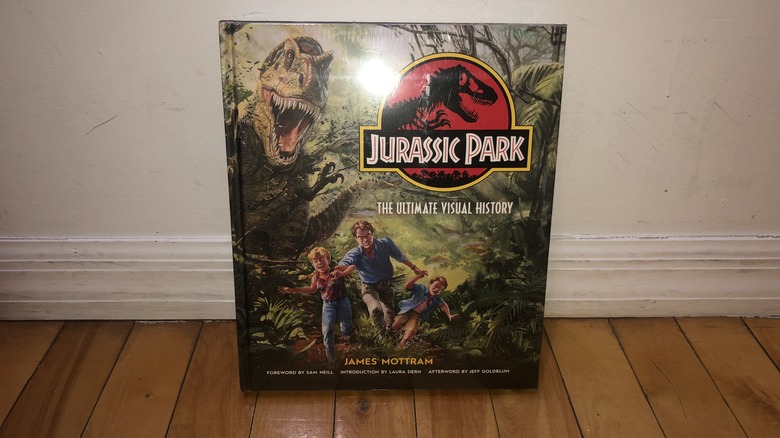 God creates dinosaurs. God destroys dinosaurs. God creates man. Man makes Jurassic Park. Jurassic Park makes Steven Spielberg a God. The greatest movie about dinosaurs ever made (and its two sequels of debatable quality) get the spotlight on them in this comprehensive book covering the full history of the trilogy, including "The Lost World: Jurassic Park" and Joe Johnston's "Jurassic Park III." It also features sections covering video games, toys, comics, and other aspects of the franchise's continued popularity. (ME)
DC Comics: The Official Batman Advent Calendar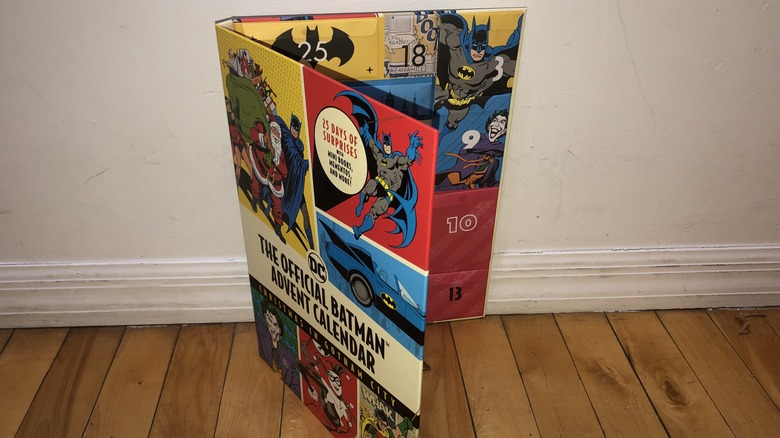 Count down the days (or those remaining) until Christmas with this unique offering from Insight Editions featuring 25 pockets filled with nifty keepsakes like recipe cards, pins, patches, and other fun gifts inspired by Gotham City's favorite flying rodent! Also includes batarang ornaments, trivia booklets and much more. (ME)
Wolverine: Creating Marvel's Legendary Mutant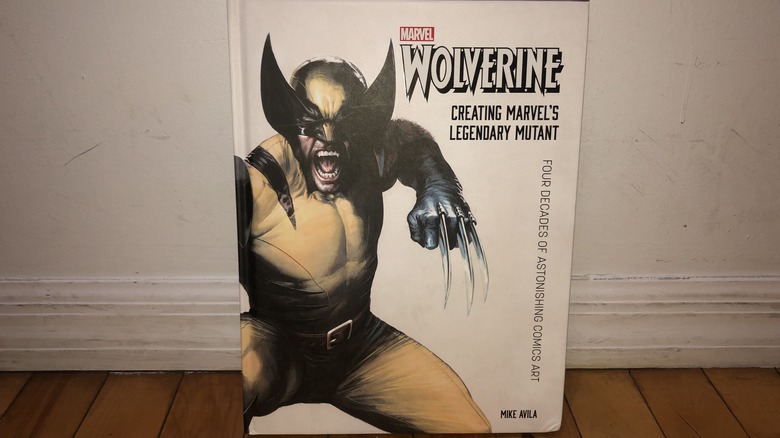 Author and all around cool guy Mike Avila wrote this comprehensive tome covering 40 years of Marvel's meanest mutant. The hairy Canadian named Logan finally gets his due, from his first appearance in "The Incredible Hulk" #180 in 1974 to the comics of today, you can peruse all the stunning art and watch one of the most unique characters ever devised evolve over the decades. (ME)
Sideshow Presents Capturing Archetypes, Vol. 4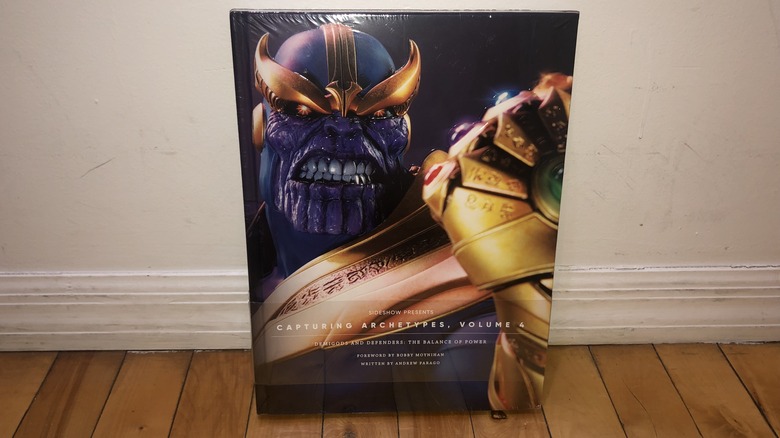 The folks at Sideshow Collectibles have been putting out exquisite luxury statues for a long time, and now they are presenting yet another volume collecting some of their best recent work, including the very popular Baby Grogu/The Child statue that hit shelves this year. As someone who has had some of these statues grace their shelves, this is the perfect complement to a collection, or perhaps an impetus to create a wish list for 2022. (ME)
Star Trek: Designing The Final Frontier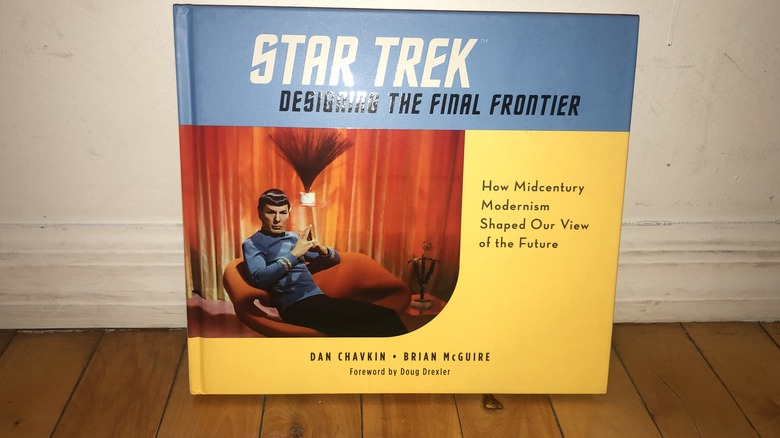 Running from 1966 to 1969, "Star Trek: The Original Series" not only had a profound effect on pop culture, but also reflected the design sense of that era. Now midcentury modern design experts Dan Chavkin and Brian McGuire have created a new book exploring how the aesthetics of the time influenced the look of Gene Roddenberry's future and led to iconic designs like the starship Enterprise. (ME)
Star Wars: The Life Day Cookbook And Star Wars: Ronin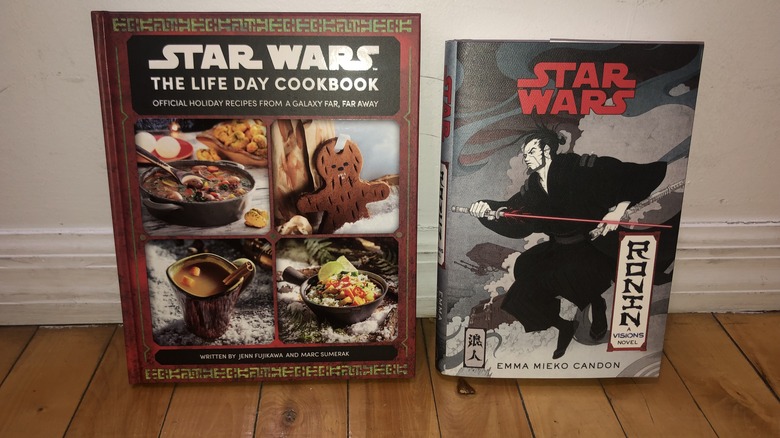 It wouldn't be a holiday gift guide without "Star Wars," and Lucasfilm has two really choice offerings this year. First up you can cook up a storm for all the Wookies in your life with "The Life Day Cookbook," a perfect companion to last year's Galaxy's Edge cookbook. Then author Emma Mieko Candon takes you on a "Visions" quest into an alt version of the "Star Wars" universe that blends Jedi and Sith into feudal Japanese culture with "Star Wars: Ronin." (ME)
Tech Noir: The Art Of James Cameron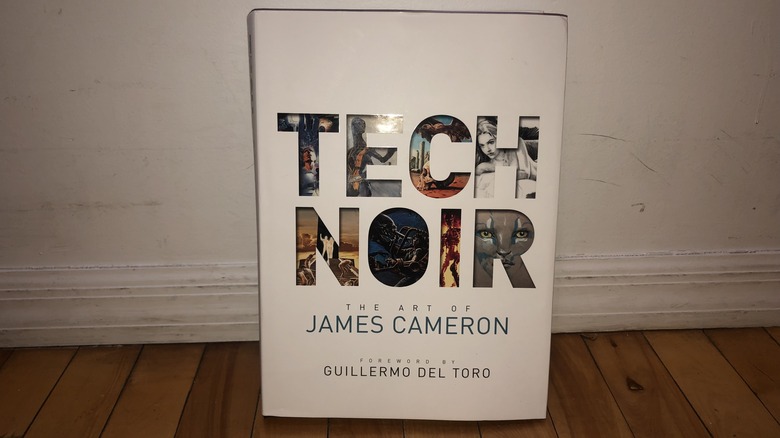 Fans of James Cameron may have seen all of the man's films, but they could be totally unaware that the director is also a pretty accomplished artist in his own right. This 300-plus page tome collects illustrations and paintings from Cameron's childhood to his time as a production designer for Roger Corman all the way through "Avatar." One of the biggest surprises is the many trashy B-movies he painted posters in the early '80s before his "Terminator" success. (ME)
You've Got Red On You: How Shaun Of The Dead Was Brought To Life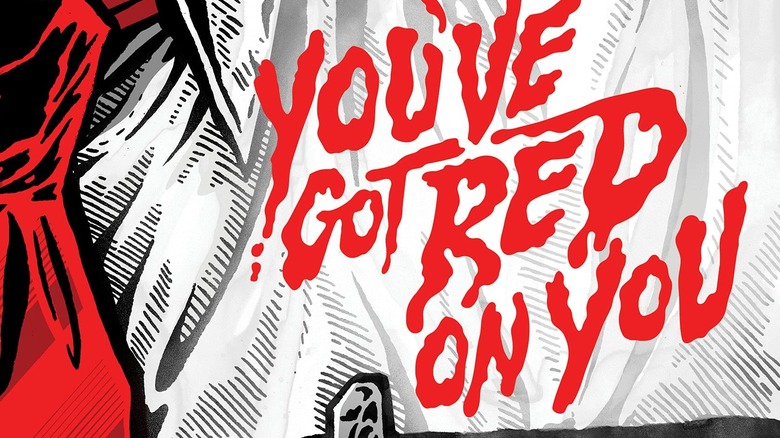 Entertainment reporter Clark Collis put together the definitive making of Edgar Wright's "Shaun of the Dead" with this book, which not only dives into the production, but also its unlikely path to becoming a worldwide cult favorite. It's hard to remember now, but a weird horror comedy coming out of the U.K. was not a top priority for movie studios and the film didn't exactly break box office records. But it did establish Wright as a force to be reckoned with and has proven to be an insanely popular movie over the years, and Collis' book pulls back the curtain on how all of that happened with interviews with all the key players involved. (EV)
Once Upon A Time In Hollywood: A Novel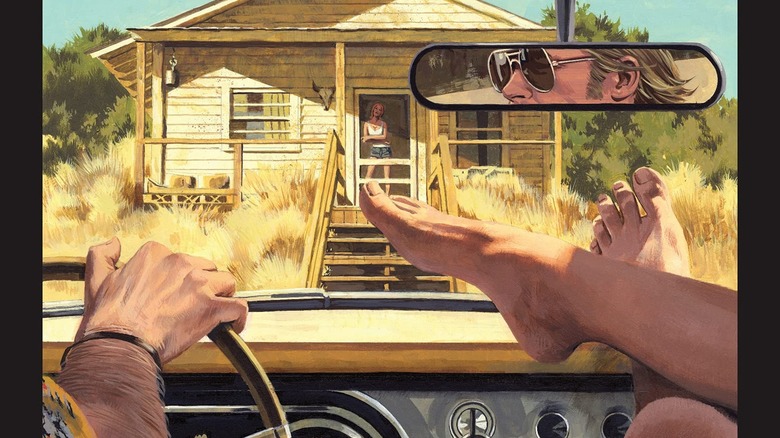 It wasn't all that long ago that novelizations were the norm. I vividly remember tearing through the "Terminator 2" novelization and soaking up every little detail that was different (we actually saw the process of John Connor sending Kyle Reese back in time and reprogramming the T-800 to send back right after). It's not as prevalent these days, but Quentin Tarantino has personally knocked out his own novelization for "Once Upon A Time In Hollywood." It's now out in hardback and any film fan would want to add this to their shelf. (EV)
The Creative Gene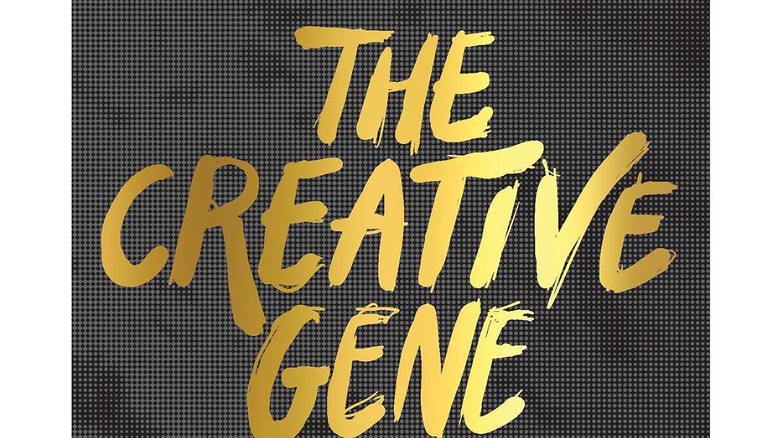 One of the few remaining delights on Twitter is following Hideo Kojima, the creator of "Metal Gear Solid," but not for reasons you might think. Kojima is a huge pop culture fan and is constantly cheerleading his favorite films, TV shows, and books, so giving him a follow means a steady stream of great recommendations. Or you can just pick up this book, which has Kojima looking back at his most favorite things ever and how they impacted his work. This is a great crossover gift, good for video game and movie geeks alike. (EV)
David Fincher: Mind Games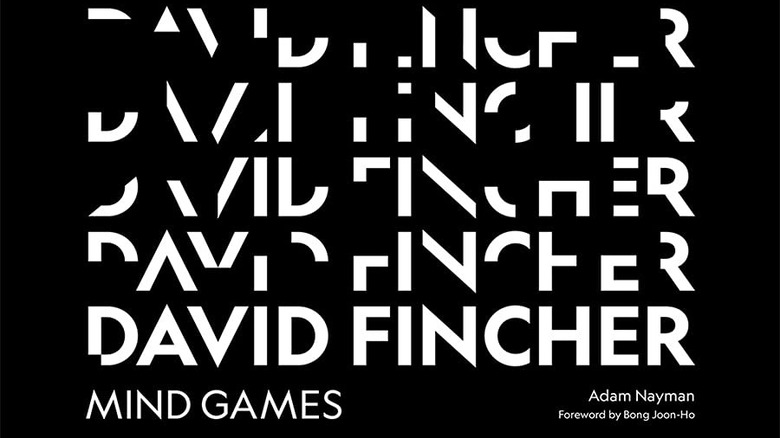 Here's a book that examines the work of David Fincher, but it's not just a wordy collection of stuffy essays. Yes, the insight is there, but it's also filled with a ton of artist interpretations of Fincher's characters, settings, and locations. Breaking up the written insight with gorgeous pop culture art takes a lot of the "homework" feel out of a book like this. You also get a lot of exclusive behind-the-scenes images, as well as interviews with a bunch of frequent David Fincher collaborators. (EV)
Girly Drinks: A World History Of Women And Alcohol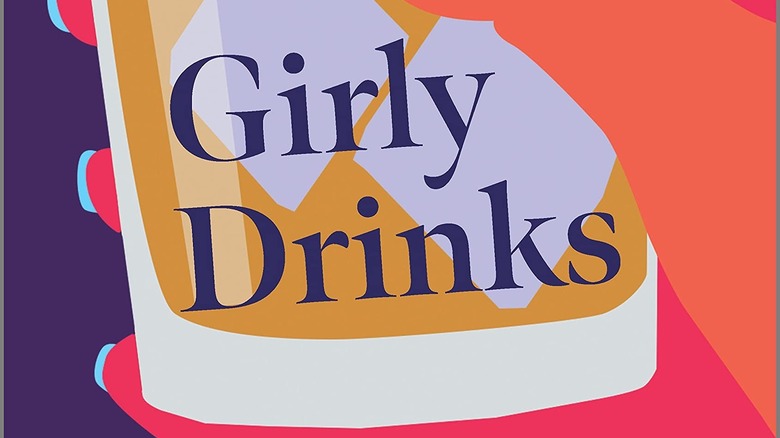 Mallory O'Meara's newest book is all about booze and ladies. And we're not talking about stereotypical "girly drinks" here, but a feminist deep dive into the history of distilling, consuming, and inventing alcoholic drinks. While common legend has the olden days dominated by bearded viking dudes pounding ale back by the hornful, you may be surprised just how integral women have been to mankind's favorite vice. O'Meara's last book, "The Lady from the Black Lagoon" was a ripper and her latest is just as righteous. (EV)
Billy Summers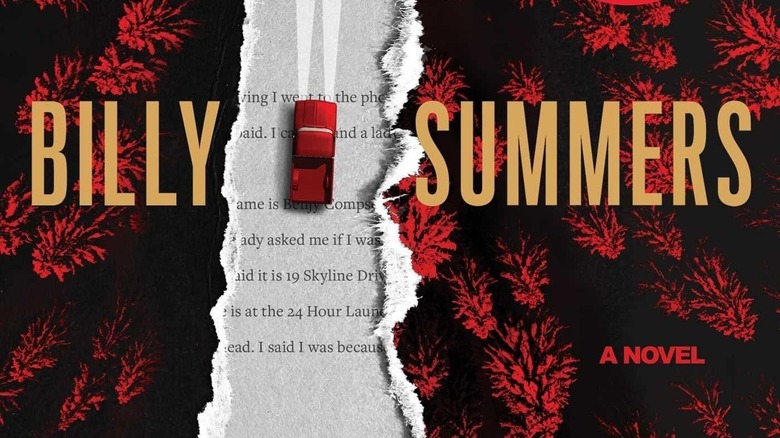 Stephen King has comfortably slid into crime fiction in recent years and "Billy Summers" is King at the top of his game. The story follows the title character, a hitman who is hired for a job that is too good to be true. The pay is big, the target deserves to be bumped off, and the odds of a clean getaway are good. Of course, that means things don't go smoothly and it's up to Billy to fix his situation. This one's a real page-turner with a great set up and a banger ending. (EV)
Leave The Gun, Take The Cannoli: The Epic Story Of The Making Of The Godfather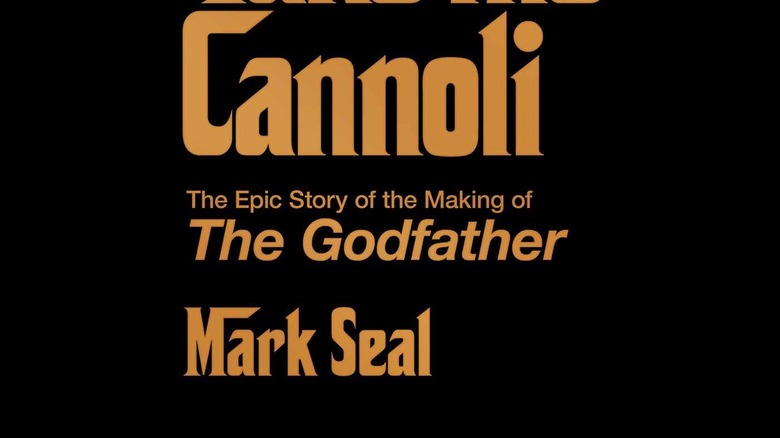 Author Mark Seal sifts through decades worth of stories about the making of one of the best films of all time, "The Godfather," and comes in with new interviews with those involved, including director Francis Ford Coppola, Al Pacino, Talia Shire, and James Caan, to make the most definitive document about what all went into making and releasing a masterpiece. It's not your traditional "making of" book, because most of the time filmmakers only have to contend with studio execs. Coppola was juggling the demands of his picture, keeping the studio execs happy, and also working with the Italian mafia to make sure he didn't wake up with any horse heads in his bed. (EV)
The Beatles: Get Back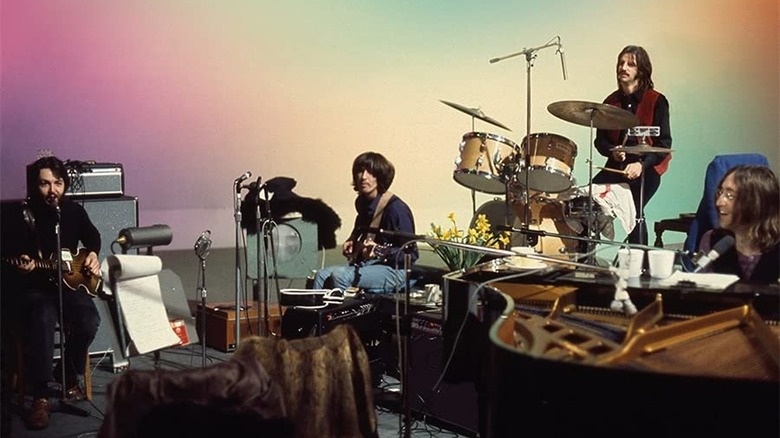 What we have here is a coffee table book that complements Peter Jackson's Beatles documentary "Get Back" and it's filled to the brim with high quality images of all of the Fab Four from the contentious creation of "Let It Be." There's John, Paul, George, and Ringo in high quality color and black and white images, many of which have never before been published, all in one beautiful, heavy tome that would make a gorgeous centerpiece to any coffee table. A perfect gift for any rock and roll fan. (EV)
Paul McCartney: The Lyrics 1956 To The Present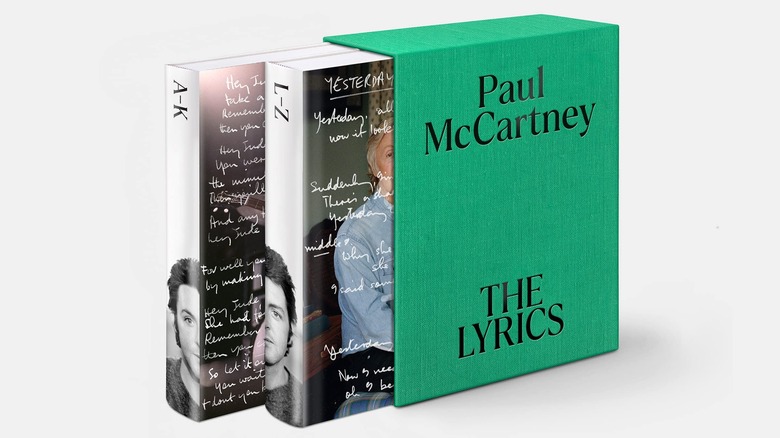 With Beatlemania getting a bit of a resurrection thanks to "Get Back," now's the time for this fascinating two-volume set that compiles 154 of Paul McCartney's songs and allows the legendary musician to comment on each one's origins and the meanings behind the lyrics. By now, every man, woman, and child should be hungry for more of a look at the creative process behind the best rock and roll band ever, and this book is it. You get the full lyrics and Sir Paul's commentary -- what more could you possibly want? (EV)
Read this next: The Best Movies Of 2021 So Far
The post The 2021 /Film Holiday Gift Guide: Movies, Books, Toys, Collectibles & More! appeared first on /Film.