We shared our favorite hair removers from tools to creams! We have everything you need for at-home hair removal!
There is nothing quite like the magic that spring brings with it. Sun-filled days and carefree spring outfits are on this girl's agenda. For me, spring is a hop, skip and a jump away from summer, so I'm ready to get my laidback vibe going now!
And when I say spring outfits I mean fun gauze pants and a flowy tank or cutoffs worn over my swimsuit. Haha! I do live in Florida for a reason, haha!
And you know what sporting those kinds of spring looks means right? We need to start thinking about the best hair removers to set off our skin-baring style! You will find no judgment coming from me if hair removal isn't your thing, but I do prefer it myself and I know one or two of you probably feel the same way.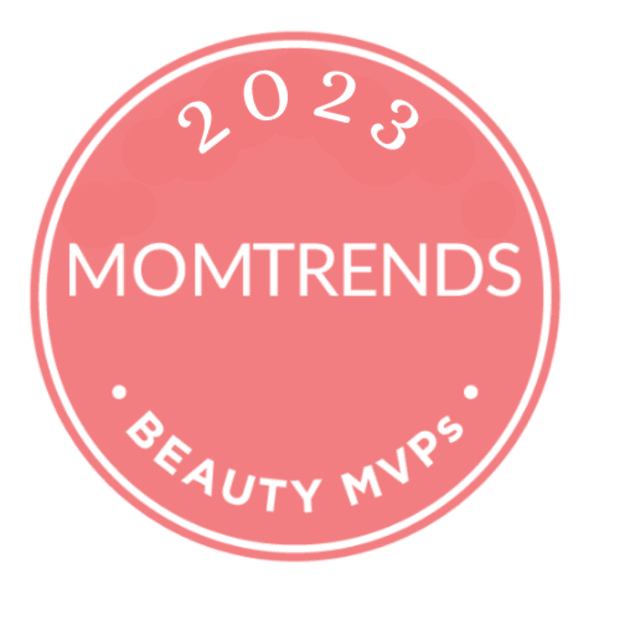 Related: Our favorite self tanners
Hair Removers From Head to Toe
So, I bet you can guess what today's Momtrends MVP's topic is. That's right. We're going to talk about hair removers. The best hair removers in 2023 to be exact. From your eyebrows to your bikini line, I have lined up a bunch of effective hair removers that will take care of all those areas you want to be nice and groomed.
My journey with hair removal began when I was in sixth grade and my mom walked in on me attempting to shave my legs by myself. I did a pitiful job obviously, bwah. Fast forward a few years and I started bleaching my upper lip.
Then in high school, I waxed my eyebrows, nineties style. You know what I'm talking about. I ruined my thick natural brows forevermore. I know. EEEK! If only what I knew then what I know. Bwah! Hindsight sure is funny. Luckily, these days we all have plenty of hair removal options that won't leave us with an overly blonde upper lip or unnaturally thin eyebrows.
These Gen Z kids might want us to return to unflattering clothing trends, I'm talking to you cargo pants, but I am here for their preference for highlighting their natural beauty! I simply clean up my eyebrows now instead of over waxing them, but I digress...
The Top Hair Removal Tools
Speaking of the natural look, I tend to lighten up my makeup when the weather warms up and the same goes for my clothes. So, I want my face and skin to be in the best condition they can be. I am all about easy-breezy style.
Bare skin is my preference and my face looks so much better with little more than a facial oil when it's fuzz-free. Along that same vein, my self-tanner goes on so much smoother when my legs are exfoliated. Hence why hair removal tools are such a big part of my spring routine! 
Even if you don't live in a tropical climate like moi, now is the time to get your skin summer-ready! So, let's talk about my at-home hair removal favorites, shall we? In my search to find the best hair removers, I found some new go-to's that I am super excited to share with you!
But before I forget...In case you missed one of our other must-view beauty editions of Momtrends MVP's, why not take a moment to read up on the best self-tanners? I bet you'll want to grab one after you make use of these hair removal tools. Just sayin'!
Best Facial Razor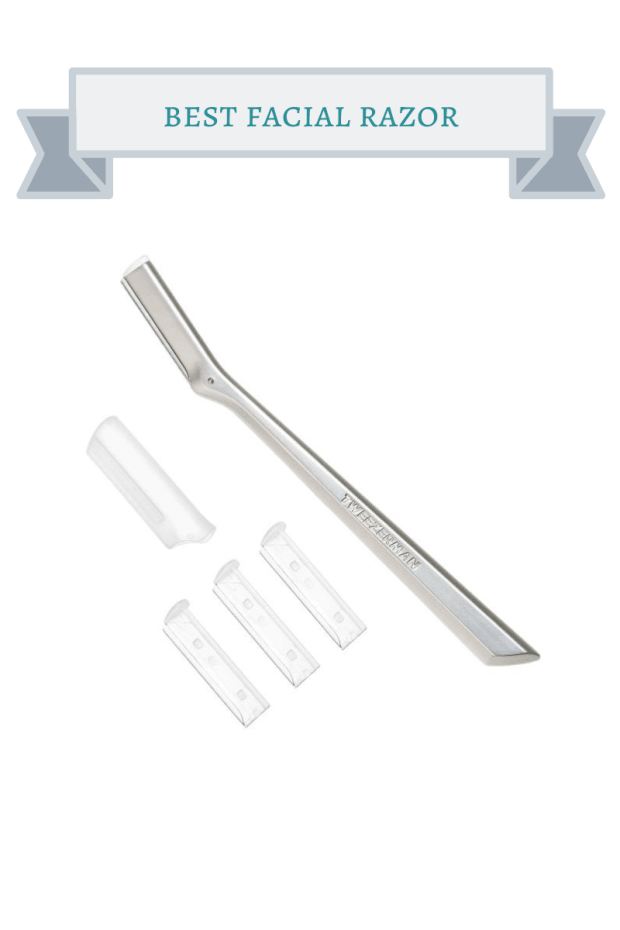 If you haven't yet tried the facial razor trend, now is the time. Is it even a trend anymore? I think it's become fairly mainstream at this point! 
Using a facial razor at home can be highly effective to help you achieve smoother skin according to my pro makeup artist friends, but I would recommend consulting a skincare expert before you proceed on your own.
I love this Tweezerman Facial Razor in particular because it does two thing. You can get rid of peach fuzz and exfoliate your skin at the same time. It's sort of a razor and dermaplaner in one budget-friendly package. You keep the razor and just buy reasonably priced replacement blades!
Get the Tweezerman Facial Razor on Amazon here. (note: this is an Amazon Affiliate link)
Best Dermaplaner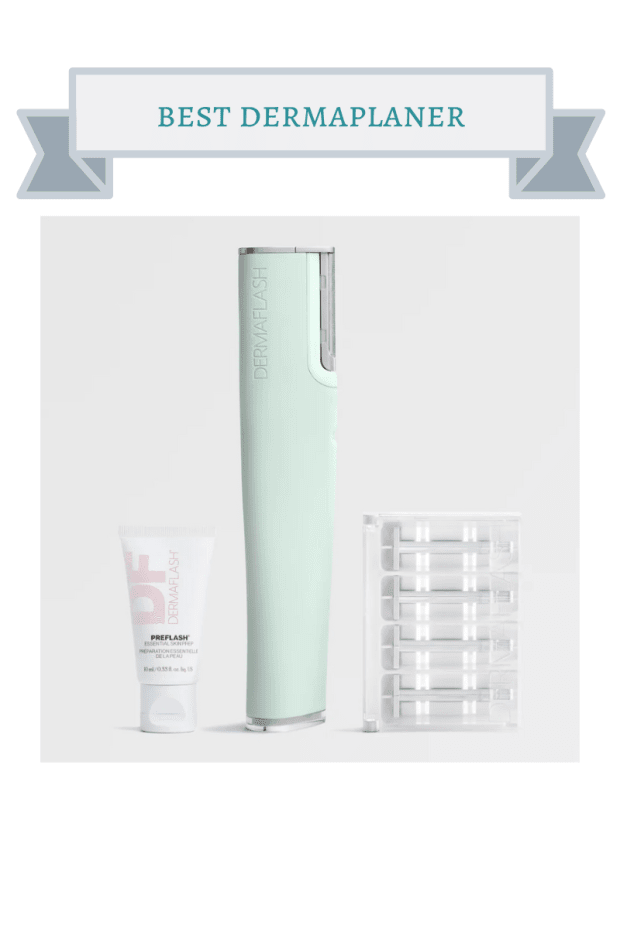 If you're ready to graduate from a lower cost device to a serious dermaplaner, may I suggest the Dermaflash? It's professional-grade, but you can get your treatment right at home! 
Not only does the Dermaflash go after the fuzz, but it's an anti-aging tool too! Say goodbye to dead, dull skin cells and hello to bright, vibrant skin! Plus, your products will absorb better. 
To me, that is such a big bonus! I want those anti-aging skincare products working their best!
Get the Dermaflash Luxe+ on Amazon here. (note: this is an Amazon Affiliate link)
Best Upper Lip Hair Remover: Facial Wax Strips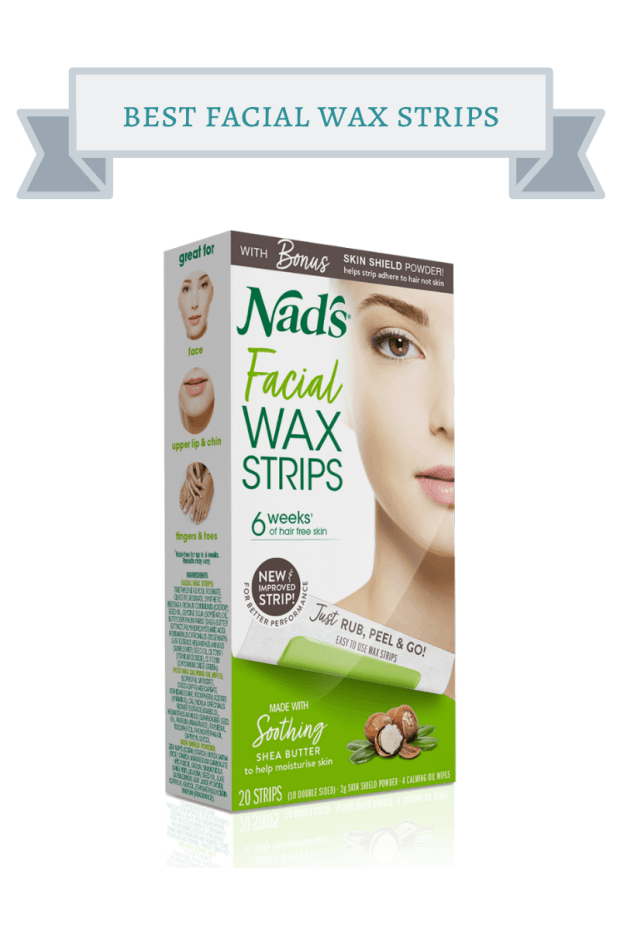 For me, the most quick and effective way to remove hair from your upper lip is to wax it. If you think you don't have the stomach to wax yourself, think again. 
Waxing strips like the ones from Nad's make facial hair removal so easy! Just remember to give yourself a little time before you go out. Redness will happen, but the soothing shea butter cream that comes with the strips helps! 
On a side note, I am a fan of these strips for my teen's unibrow. I blessed him with good hair genes, but with that also comes fierce brows. Haha! I only do a little bit between the brows.
Get Nad's Hair Removal Facial Wax Strips on Amazon here. (note: this is an Amazon Affiliate link)
Best Chin Hair Remover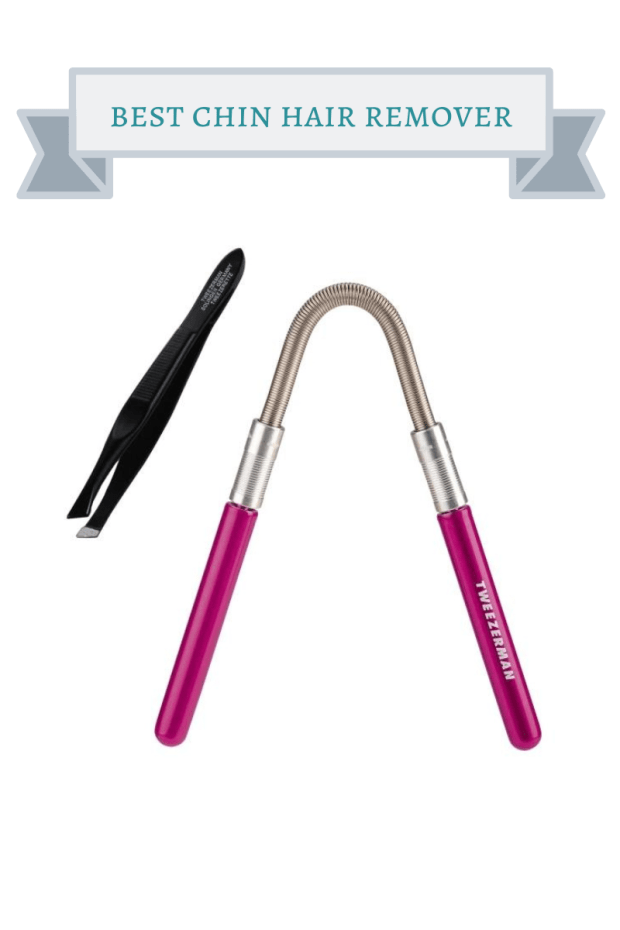 But I don't have hair on my chin you say. Take a look in the mirror...and really look. You just may have some random strays you didn't know about. Look under your chin too.
I found a new one just the other day. This chin hair remover is so effective because it removes the entire hair right from the root. And the unique design makes it easy to get it into that awkward chin-removing position too.
It's also important to note that if waxing just isn't your thing this at-home facial hair removal tool can be used on your upper lip as well!
Get the Tweezerman Smooth Finish Facial Hair Remover on Amazon here. (note: this is an Amazon Affiliate link)
Best All-Purpose Facial Hair Remover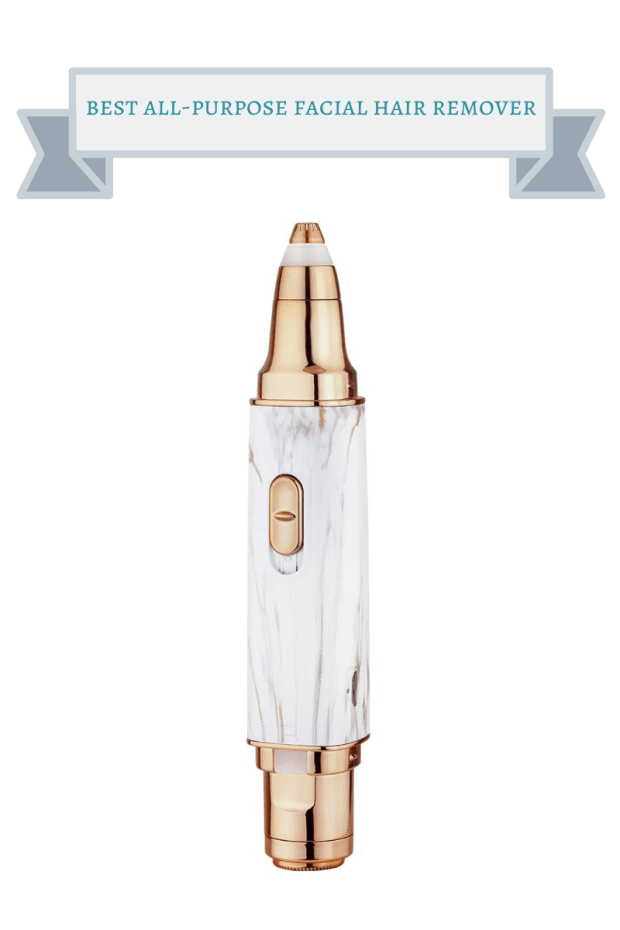 I no longer bleach my upper lip because my facial hair is more noticeable when I do that versus getting rid of the hair altogether with a handy dandy gadget! This one is also great to go after fine hairs between your eyebrows. 
I waxed for so many years that I don't really grow much hair there anymore, but I do have some baby fine hairs that I like to take care of. 
If you are so inclined you can use it to trim your eyebrows too. I prefer it for in between the brows clean-up, but it's nice to have that option for a wayward hair every now and again!
Get the Michael Todd Beauty Sonictrim Duo on Amazon here. (note: this is an Amazon Affiliate link)
Best At-Home Laser Hair Remover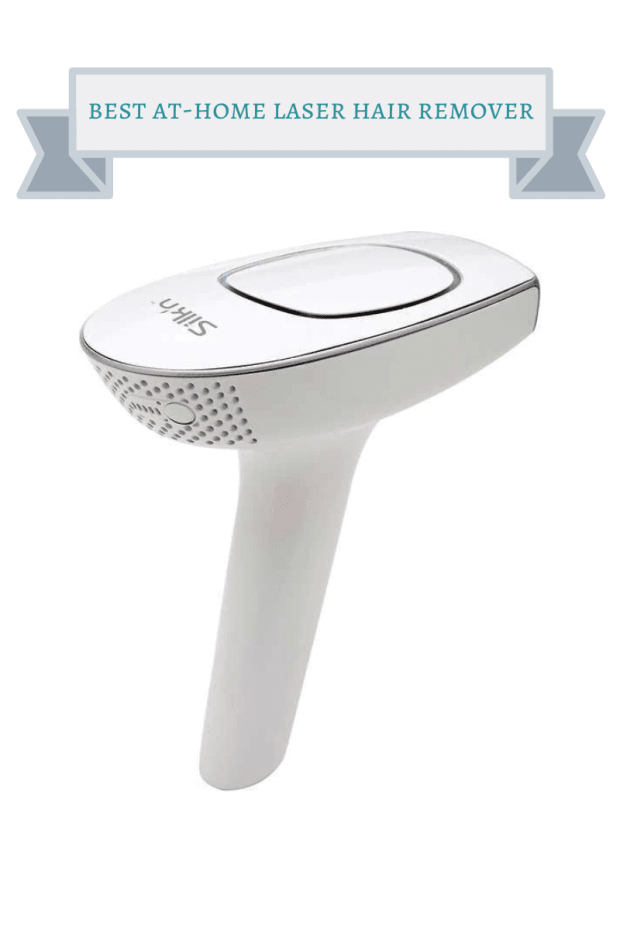 I know I have been talking about facial hair removal a lot, but this super easy-to-use hair removal tool, which has been approved by the FDA, tackles your body hair too! 
Now it isn't a budget buy, but you think about the long-term cost associated with hair removal, you'll end up on the right side of things pretty quickly. 
The fact that permanent hair removal can be achieved at home with a hand-held device blows my mind. These are amazing times we live in!
Get the Silk'N Flash & Go Pro Hair Removal Device on Amazon here. (note: this is an Amazon Affiliate link)
Best Hair Removal Cream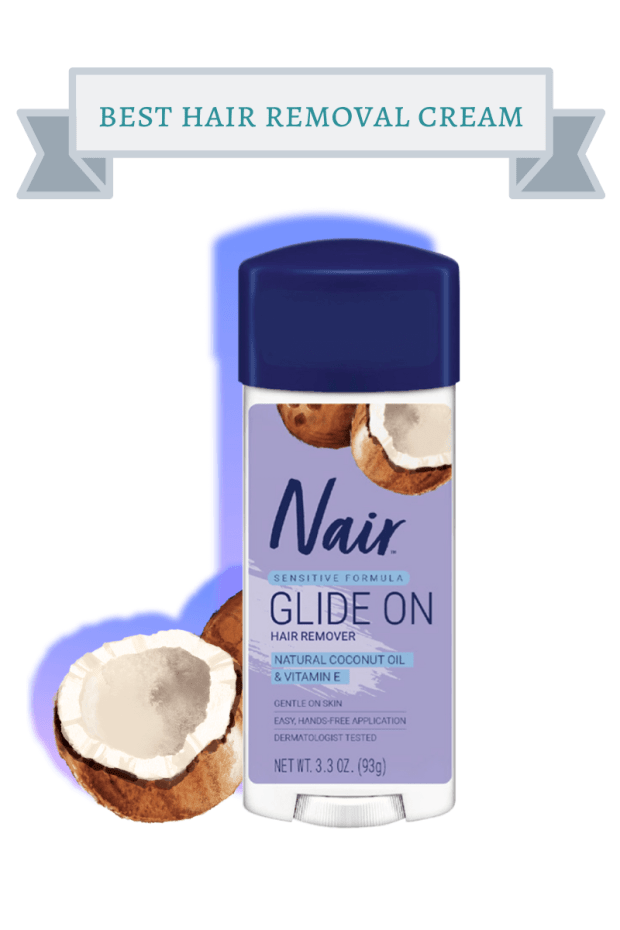 Another great option for your legs, and definitely on my drugstore faves list, is this cream. You remember Nair right? If you're of a certain age, you really remember it. Haha! Well, even if you haven't picked up a bottle in decades, I urge you to give this product a chance.
If you're tired of shaving and not quite ready for laser hair removal, give hair removal cream a try. The formulas have gotten a whole lot better since we were teenagers. This one doesn't leave the unpleasant scent behind that you probably can't forget and it's not painful either!
My tween uses it and loves it. The hands-free applicator is the bee's knees. She just makes sure to shower and soon as she wipes it off to avoid irritation!
Get the Nair Sensitive Formula Glide-On on Amazon here. (note: this is an Amazon Affiliate link)
Best Bikini Line Hair Remover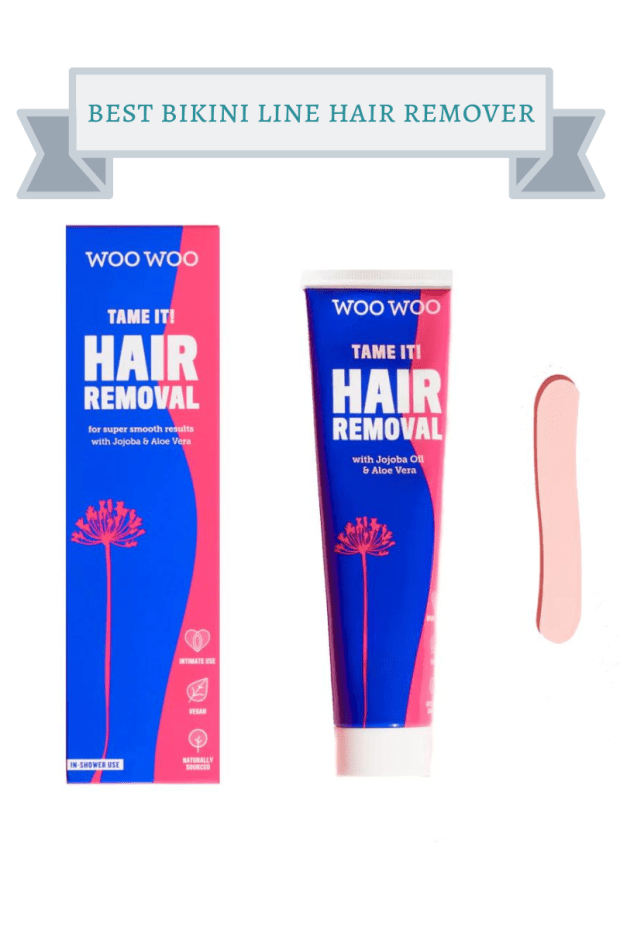 For skin as delicate as your bikini area, you don't want to use any hair removal cream. You want an extra gentle formula like that in WooWoo Tame It!
This hair removal cream is formulated for your intimate areas, paraben free, gently scented, vegan, cruelty free, and dermatology tested. 
Don't settle for ingrown hairs and razor bumps! You deserve better! And did I mention it's pain-free too?
Get the WooWoo Tame It! Vegan In-Shower Hair Removal Cream on Amazon here. (note: this is an Amazon Affiliate link)
So, are you ready to get your skin ready for  spring and summer with these hot hair removal tools and products or what?! After the past few years, my tools have their work cut out for them. No shame ladies! We've had a lot on our plates! 
Happy hair removing my friends...
And don't forget to stay tuned for our next Beauty Momtrends MVPs list…
Momtrends MVP's is a non-sponsored series. Brands must meet our strict standards to be included. When naming winners we take several factors into account, including expense, convenience, and style.
We make our picks annually based on editors' research. In some instances, we may request and receive samples so that we can more thoroughly assess products. Our opinions are our own, and our goal is to help our community of moms make more informed decisions on everything from baby gear to beauty products to vacation destinations and more. We scour the abundant options and painstakingly hand-pick our favorites, so you don't have to. Our hope is that our most valuable players become your most valued purchases.
WANT MORE BEAUTY MVP'S FROM MOMTRENDS?
PIN IT!
Use Pinterest to save your favorite beauty finds. Be sure to follow our Beauty board here!