Sustainable Outdoor Clothing Brands
Spending time in nature is such a special way to remind ourselves of the beauty of this planet, and our responsibility to care for it and those living on it. That being said, many of the clothes that make spending time in the great outdoors more comfortable can often be harmful to the planet, as well as the people who made them, and animals. Luckily, there are some excellent sustainable outdoor clothing brands.
What makes outdoor clothing unsustainable?
Synthetic Fibers
The clothes that are made to keep us comfortable outside are often made of both virgin synthetic material and animal-derived materials. If we start with synthetics, here's what we know: virgin synthetic fibers used to make leggings, rain jackets, coats and thermals, as well as winter warmers like fleeces, are made from plastic. 
In fact, about 60% of clothes made today are made from petroleum. Even before we talk about what this means when it comes to washing our clothes, this is a problem. These synthetic, petroleum-based materials fund the incredibly environmentally harmful mining industry. In 2015 alone, more than 330 million barrels of oil were used to make cheap nylon, polyester, acrylic and other synthetic fibers. So when we talk about the need to move away from fossil fuels for the sake of the climate, that means in the fashion industry, too.
Synthetics are an issue too, because they shed non-biodegradable, plastic microfibers into the waterways, and ultimately the ocean, when we wash them. 
Animal-derived materials
When it comes to animal-derived materials like wool, leather and down used in thermals, jackets, coats and accessories, environmental issues are also largely tied up in climate impact and greenhouse gas emissions. The Food and Agricultural Organization of the United Nations says that the farming of animals is one of today's most serious environmental problems, requiring urgent action. Animal-derived materials are the most harmful to our climate, according to the best available data.
This is not only due to the fact that farmed animals and their waste release methane into the atmosphere, but because animal agriculture is land-intensive, requiring more land to be cleared to produce less material than could be made with plant-based, recycled, bio-based or in the future, lab-grown materials. When we clear land, we release carbon, and we also stop carbon from being sequestered (soaked in and stored) by the vegetation that could have been growing there.
Mass Production
The last thing to consider around sustainability in the realm of outdoor clothing is mass production. Brands that are producing endless amounts of clothing – no matter what they are made of – aren't sustainable, as 33% of clothing made every year is sent unsold, directly to landfill. Here, clothes break down, releasing more greenhouse gas emissions into the atmosphere.
What makes outdoor clothing unethical?
When we think about outdoor clothing that is sustainable, we also need to consider the ethics of how they are made – because we can't sustain the unjust treatment of garment workers, or the exploitation of animals in fashion. 
Some outdoor brands continue to use even the most controversial animal-derived materials, like fur, to line their coats and jackets, while materials like down and wool are far more common. These materials are all made in industries which harm and ultimately kill animals – even wool, despite common misperception. 
Many outdoor clothing brands also use unjust and exploitative labor. Around the world, just 2% of garment workers are paid a living wage that covers their basic needs like food, clean water, shelter and medical care. Garment workers are also often made to work in unsafe conditions, and in a workforce made up largely of women of colour, unfortunately incidences of harassment and assault are common, too. It's important we consider not only what our outdoor clothes are made of, but who made them.
Luckily, there are plenty of excellent outdoor clothing brands that consider and respect the planet, and everyone living on it! Below are some of the clothing brands that we love most for when we need some great clothes to suit the great outdoors.
Outdoor clothing brands we love:
Patagonia is one of those brands almost everyone knows of, and for good reason. The brand, which offers a wide range of outdoor clothing and gear, has long been a trailblazer for the sustainable and ethical fashion movement.
Having written a living wage standard into their code of conduct for the sake of garment workers, and using recycled and organic materials, including many which are clearly labelled to be animal-free, Patagonia has great options. Some of their quilted jackets are filled with PrimaLoft, the most sustainable, recycled jacket filling available, while many of their Fair Trade fleeces are made of recycled materials, too.
Shop Patagonia
---
Pro surfer Kelly Slater is behind this Fair Labor Association accredited brand which makes garments that 90% of the time, are made of recycled, organic and 'regenerative' materials.
The brand, which has lots of animal-free and sustainable options, has fleeces, rain jackets, activewear like leggings, joggers and shorts, and a bunch of other great garments.
Shop Outerknown
---
This brand caters to people of all genders, and children, too! The brand uses a whole range of sustainable materials like those made from recycled plastic bottles, fishing nets and tires, as well as recycled cotton, nylon and more. Talk about champion recyclers! 
This brand labels which of their garments are vegan, has certifications to show their social responsibility and safe work environment for garment workers, and is all round cool. We particularly love their range of 100% recycled puffer jackets, and comfortable basics.
Shop Ecoalf
---
This brand offers a range of quilted jackets, raincoats, and basics. The brand, which offers feminine and masculine styles, prides themselves on producing 'premium ethical attire'. 
Designing for longevity with recycled, organic and other more sustainable, animal-free materials. Made ethically across small factories in China and Germany, this brand is dedicated to continually becoming more transparent and fair.
Shop Embassy of Bricks & Logs
---
Using recycled and innovative materials, this brand has created advanced outdoor clothing that has seen the top of Mount Everest. A certified B-Corp, this ethical, animal-free and sustainable brand is ticking all the boxes.
The brand offers clothes for men, women and children, like rain jackets, puffer jackets, 'athleisure' and more.
Shop Save the Duck
---
Finisterre is a pioneering, sustainable outdoor brand, built to inspire a love of the sea and anchored in exceptional product.' This brand is B-Corp certified, and extremely transparent about their ethical manufacturing processes. 
Using lots of great materials worth looking for in their collection like Tencel, organic and recycled cotton, hemp, and recycled synthetics, the brand makes base layers, basics, rain jackets, puffers, beanies and more.
Shop Finisterre
---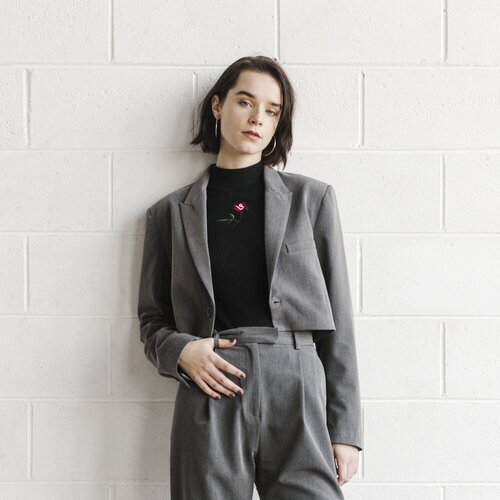 About the Author
Emma Håkansson is the founder and director of Collective Fashion Justice which seeks to create a total ethics fashion system that prioritizes the life and wellbeing of non-human & human animals, as well as the planet, before profit & production. She has written countless articles on ethics, sustainability, and fashion, and has two books due out over the next two years.
---
MAKE SURE TO PIN THE PHOTO BELOW TO SAVE THIS POST FOR LATER!
---
WANT MORE SUSTAINABLE BRANDS? VISIT OUR BRAND DIRECTORY!
Our Brand Directory is home to hundreds of sustainable brands, from makeup to cleaning supplies, from underwear to shoes. We have broken everything down by category for easy shopping, along with discount codes unique to Sustainably Chic viewers.
Shop the Sustainable Brand Directory
---
RELATED READING YOU MAY ALSO ENJOY: