Are you the type of person who is always forgetting things? Or are you someone who knows exactly what to pack but doesn't know how best to organize it all? If either of these scenarios sounds familiar, then this ultimate travel checklist is for you. Here are some tips that will help ease your packing process and allow you to travel with less stress.
1) Suitable Outfits
So when you grab your Travel Backpack, make sure you pack clothes that are comfortable and appropriate for the weather. It may be hot during the day but cool at night, so pack a sweater or jacket too. You'll want to dress in layers as well because it can get chilly if you're near waterfalls or other bodies of water, even when it's sunny outside. Also, make sure your shoes are comfortable because you might be walking on uneven surfaces or through the dirt.
---
Whether you're someone who knows exactly what to pack but struggles to organize it all or you're the type of person who's always forgetting things, this ultimate travel checklist is for you! #TravelChecklist #TravelPlanning #TravelIdeas
Click To Tweet

---
2)
Toiletries
Toiletries are essential when it comes to your health. It would help if you never flew without packing these items in your carry-on or make sure you have enough of them for the duration of your trip. While most hotels will provide shampoo, soap and conditioner, chances are they won't be great quality products that suit every type of hair and skin type.
3) Adequate Cash
It would help if you always had a little extra cash for emergencies. It can be your downfall if you don't research fees from ATMs abroad – or even in the U.S., these days. Most ATM withdrawals abroad will incur a hefty fee, so try to avoid traveling with too much cash and take out the money as infrequently as possible when visiting other countries. It is an excellent time to mention that you should always notify your bank and credit card companies when and where you will be traveling. Otherwise, they may flag an unusual purchase for fraud prevention purposes.
4) Self-Defense Equipment
When you are traveling, it is always a good idea to ensure your safety. It means that you should pack some self-defense equipment in case anything goes wrong. The first thing on your checklist for travel gear is pepper spray. You can use it to stop someone from attacking you, and it allows you the chance to escape. However, depending on where you are traveling, other types of self-defense equipment might work better than pepper spray. For example, in some parts of Asia, carrying a small knife is enough protection for travelers.
When packing your travel gear, make sure that you have a good flashlight on your safety gear checklist. It is the best way to help others see you if it becomes dark out and you need help or if someone attempts to attack you. In addition, having some light source can also be a self-defense weapon in case an attacker tries anything during the nighttime hours. 
Finally, it is important to include personal alarms on your checklist for traveling. These tiny devices emit a loud noise when you activate them, which helps scare off an attacker. If you are traveling alone at night, a personal alarm can be a great way to tell people that you need help.
5) The Right Documents
It's always a good idea to have a passport, visas, and required documents ready before taking off. It is also the responsibility of each country to check you in with these items, so they must be up to date. If you do not have all your necessary documentation, this will delay your travel plans and result in a lot of wasted time.
6) Filming Devices
When traveling you should include in your list of packing items a high-quality camera. Also, make sure that you have all the necessary cables and batteries to charge it in any place you stay. Furthermore, when traveling abroad, remember to include an adapter plug if needed. 
Otherwise, buying one when you get there would be very expensive. You'll also need a camera case to keep your device safe. So, make sure you include one of these in the list too. And what about extra batteries? Shop around and buy several if needed.
You don't want to run out of power at a crucial moment, like filming or photographing animals in their natural habitat. And, of course, you can't forget the S.D. cards.  Buy at least two to make sure you have enough storage for all your videos and pictures.
7) Maps and Guidebooks
Make sure you have a good map of the place that you're going to. Make sure it's in English and not just written in another language with no translation. Ensure that you label the name of every street on said map. It will help when walking around new cities or countries if they use different street names to what you're used to at home.
Also, bring along a good guidebook – the Lonely Planet series is great for travelling around new places. The best thing about these is that they have maps in them too, so you'll never get lost again. They also tell you everything there is to know about pretty much every place to go and things to do; they're great for planning a holiday or trip.
8) Medicine
If you are travelling to a tropical place prone to mosquito bites, take anti-malarial medicine. If you suffer from allergies or asthma, take your medication with you in the original packaging and carry a copy of your prescription or doctor's note, so that border officials understand why they need to let it through when checking your bags. The last thing anyone wants is for a misplaced or forgotten medication to cause serious problems.
If you are taking prescription drugs, don't forget a letter from your doctor explaining why you need each medication and how you should take it. It's also wise to keep an eye on expiration dates – if your medicine expires while travelling, you may have trouble convincing customs officials that the drug is safe to take.
So grab your Checklist & Let's Get Going!!
As you can see, this is just a small list of all the things you'll need to pack, but it's not exhaustive. Many more things will come in handy during your travels, and they're easy to forget about when packing. You know how to plan a trip and get everything you need for your adventure. Then, start exploring this beautiful world.
Don't forget to Pin The Ultimate Travel Checklist to your Bucket List Board!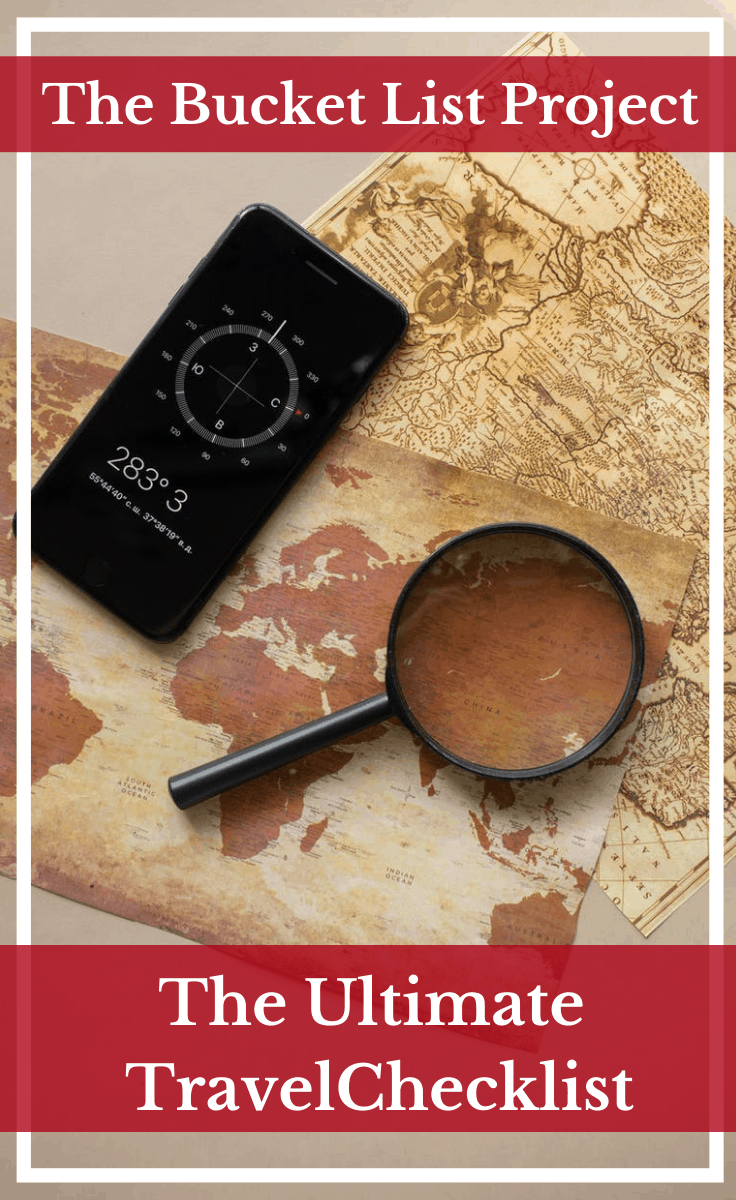 The post The Ultimate Travel Checklist appeared first on The Bucket List Project.