Martin Padgett's first book, A Night at the Sweet Gum Head, tells the story of Atlanta's queer liberation movement through the alternating biographies of two gay men, runaway–turned–drag queen John Greenwell and activist Bill Smith. In the excerpt below, an underage Greenwell sneaks into a bar and discovers drag.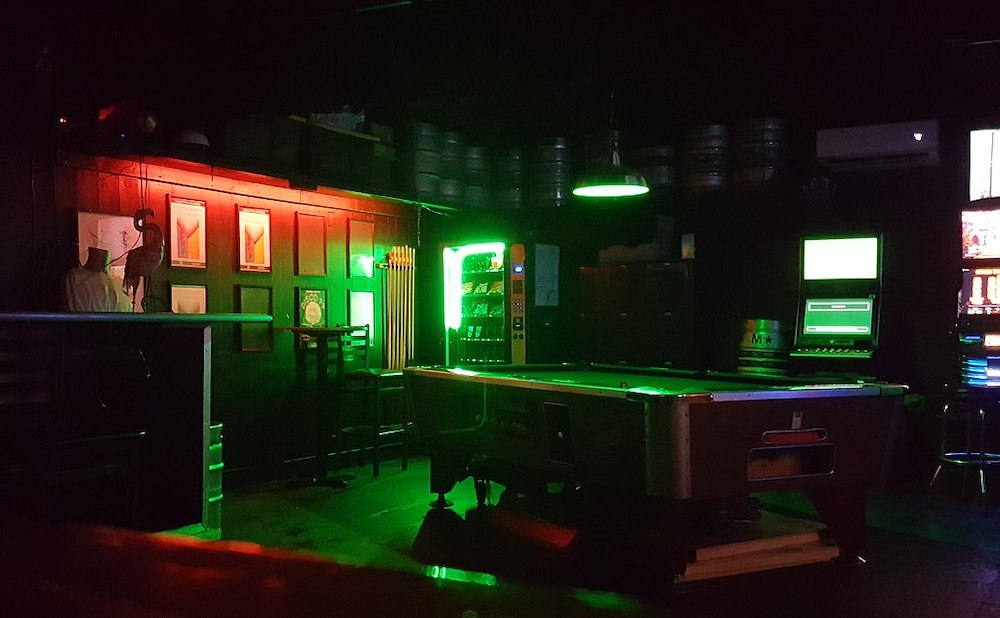 Huntsville, Alabama
January 1971
John Greenwell could stay in Huntsville and be the town queer, or he could run away and be free, so he ran.
He threw a couple of days' worth of clothes in a cheap gray briefcase he'd had since high school, counted eleven dollars in his wallet, each bill worn down like him, and flew out of the house that he had never called home.
He had been born in Kentucky, the son of a mother he loved and an abusive, alcoholic father he grew to hate. The family moved whenever the military shipped them to another place: Tennessee, Texas, California, Germany, Alabama. By the time he finished high school in Huntsville, John Greenwell had already lived many lives.
He had been a good student, a Boy Scout, a member of the French club, an actor in a school film about poverty. A graduate. A heterosexual. When he braved the cold and walked to the bus station on the edge of Huntsville and put his dollar on the counter and found a seat on a bus headed east, he put that John Greenwell to death.
He dreamed of becoming a hippie, of growing out his short brown hair, of life with people like him. He wanted to see the world through psychedelic eyes. He wanted to touch the bodies of gods.
The bus rumbled to life. Its air brake hissed as it pulled away. Huntsville dimmed behind it as John's eyelids flickered. He fell asleep to the urban lullaby he'd learned in eighth grade, Petula Clark's escape fantasy, "Downtown."
The bus crossed an imaginary line in the dark and Alabama faded into Georgia. John woke for a moment, decided he would never go back, then drifted off into the comfort of his dreams.
*
Wet bus doors slapped open and woke John up in Atlanta as midnight grew near. He walked from the smartly styled art deco bus station toward a hotel down the street, paid four dollars for the night, tossed his briefcase onto the dirty mattress of his small, cold room, and charged downstairs, not knowing what he would find.
John had only cruised a few city blocks toward the Strip when a one-​armed man called out from his car. He didn't say much. He didn't need to. John ran back to his small, cold room, grabbed the cheap gray briefcase too small to hold any fear, raced back down the stairs, and jumped in for the ride. The newly minted couple drove south, to a house in a bad neighborhood where the stranger slept with a gun under his pillow.
*
The stranger waved goodbye to John in front of Rich's department store the next morning. The ornate temple to commerce towered over an entire city block, so imposing Atlantans used it to locate themselves physically as well as socially. Margaret Mitchell had bought her dress for the Gone with the Wind premiere in 1939 there. Martin Luther King Jr. had integrated the store's lunch counter. Coretta Scott King wore a conservative cloth coat from Rich's when the reverend accepted his Nobel Peace Prize.
Rich's had an auditorium, a china store, its own post office. Shoppers could wander past the Store for Fashion with its hat bar and wig salon, or the Parfumerie, where cloying spritzes of Chanel No. 5 clung to the air. They could smell the heady scent of yeasty breads and Lady Baltimore cakes and pecan pies that wafted from the bakery, watch children cheer as they rode the curly tailed Pink Pig monorail overhead through the toy ­department, or taste the tangy dressing of the Magnolia Room cafeteria's chicken salad. Shoppers from around the South made special trips to Atlanta to buy from Rich's. It was Oz compared to the Sears catalog store where John's mother had bought the scruffy overalls that had followed him there.
John pushed his way through ornate brass-​and-​glass doors, found a friendly face at a counter, and asked if Robert worked there. A counter clerk pointed him to the shoe department, where Robert looked up in mild shock. He never expected his young acquaintance to make the trip to the city.
They had met only briefly, in a clandestine place months before, but Robert had made a promise, and he kept his word. He brought his stray home to his lover and they made John a bed on the couch.
John exhaled, then slept deeply. He had been in Atlanta just one day. He had a place to sleep, and a few dollars in his wallet. It was nearly all he had, now that life had started all over again, after it had barely begun.
*
Atlanta
Summer 1971
John rang up customers and stocked shelves at the SupeRx drugstore while he waited for night to come.
He had pined for the great unknown of big-​city life, just like the heroes and heroines he read about in books and saw on television. The Wizard of Oz went Technicolor when Dorothy hallucinated her way out of Kansas; John's life flipped into brilliant relief when he left black-​and-​white Alabama for urban Atlanta. The allure was absent in the SupeRx's fluorescent lighting or its dingy carpet or its mind-​numbing work, stocking shelves and counting receipts and checking out customers. It all came to life at night.
The drugstore lacked a certain glamour, but it was better than his first unsteady months in Atlanta when he had waited tables, took on odd jobs, and slept with men who let him stay overnight. SupeRx paid $1.60 an hour, enough to get him a room in a house nearby. It gave him something to do until he could head out after dark, to places like the Cove, where freedom coursed along ­invisible conduits.
Since he was six months under the age of twenty-​one, John still was too young to get into any bar, gay or straight. His salary gave him the ten dollars he needed for a fake ID. When the Cove's bouncers took his fake ID and pulled him out by his ear, John had to join the clique of underage revelers who waited in the lobby of bars, in the hope of finding a source for a new license, or at least a lift back home.
He had better luck at Chuck's Rathskeller. A friendly bouncer drove him home one night, then gave him a place to sleep. One night turned into three. Soon the bouncer became his roommate and friend, one who would look the other way when John slipped in the bar through a back door.
Chuck's had taken over an old juke joint and dance hall on the corner of Tenth and Monroe, near a high school on the corner of Piedmont Park. During the day the park teemed with the gay life John had dreamed about, shirtless men walking together hand in hand, women spread out sunning on picnic blankets. At night, the crowd reemerged at Chuck's, where a DJ spun dance records for hundreds of club-goers. Atlanta drew gays and lesbians from all over the South, and on any given weekend the club put them all on display like the packaged goods once sold inside its walls.
Chuck's held drag shows late at night, taking over the mantle from shuttered clubs like the old Joy Lounge and the infamous Club Centaur. John had heard about drag before he came to Atlanta but had never seen it. He watched, rapt in curiosity at drag shows, whenever he could. He saw an acquaintance, Alan Orton, perform as Barbra Streisand, his profile a mirror image of the Broadway queen. He witnessed a man named Alan Allison blossom into womanhood as Allison. He thought he saw Pearl Bailey perform "Hello, Dolly!" but realized it must have been a convincing illusion.
He clapped along as the crowd gave the drag queens applause and money. They were quasi-​celebrities, queens of a demimonde that existed only at night, hidden under the mantle of dark.
John had long held fantasies of fame. But drag? It just wasn't what men did in Alabama. He found it odd and disturbing, but it drew him in nonetheless.
*
What is drag, anyway?
Drag intersects with impersonation but goes beyond it. Impersonation is nonthreatening mimicry: Jonathan Winters as Maude Frickert, Flip Wilson as Geraldine. They're men in dresses, no more. Their brilliant comedy derives not from the assumption of gender but from the assumption that the only punch line is in the contrast between their feminine look and their masculine selves.
But a gay man in a dress, or a lesbian in short hair and men's clothes, is an altogether different being. Their images course with the electric knowledge that the performers have voluntarily given up citizenship in their presumed gender. Drag decimates presumptions of sexual identity—​male, female, and all the points on the spectrum between those labels.
Drag gives many people the tools to decipher the complex meaning of their sexuality, a way to choose the place where they can exist peacefully inside themselves. Some see drag as an ultimate expression of self. Some see it as a threat.
When it matters most, drag asks universal questions. If you could wipe the slate and create a new identity, what would it be? What would you keep, and what would you set aside? Would you still be yourself?
Drag teaches an important lesson: Sometimes, to find out who we really are, we have to become someone else.
*
When the Cadillac pulled up to his antique-​strewn apartment, John knew a star had arrived. John's roommates had offered to put up some visiting performers from Louisville, including the leggy woman who strode up the driveway. She wore huge Jackie Onassis glasses, red hot pants, and a white tank top that exaggerated her height, her dark skin, her strong resemblance to Leslie Uggams.
"Hello, I'm Crystal Blue," she said softly, in a high-​pitched drawl, and extended a hand to John. She mesmerized him. Her voice perfumed the air with ambiguous allure.
She took his hand and inspected his clean-​shaven face, smooth skin, high cheekbones, and lean, ​hundred-and-​fifty-​pound figure. He would make a beautiful woman.
"You do drag, don't you?" Crystal asked him.
He wanted to meet men. He hadn't moved to Atlanta to do drag.
"You will, honey. You will."
Over the next few days, John grew to admire Crystal. Drawing from a suitcase, she had the magic to transform herself into a new person, one without a past. John realized he could do the same, become someone else, perhaps a beautiful woman with raven hair and long eyelashes. He tended to give in to his impulses, so when Crystal offered to teach him her art, he said yes.
Crystal groomed John. With the entourage she'd brought along, she helped him pull on and pin her wig, a black helmet updo sprayed heavily with Aqua Net. It fit. John didn't have a clue how to glue on the big, thick eyelashes Crystal wore. She helped. He knew nothing about makeup. Crystal knew how to soften his male features. With her hired hands she reinvented him in a matter of minutes, and when she was done, the mirror reflected someone he did not recognize.
Wearing one of Crystal's costumes, he toted her makeup and gowns and slipped into Chuck's Rathskeller with her. He sat backstage while Crystal prepared, then watched as she transfixed the crowd with a song from the Broadway musical Purlie, the story of preacher Purlie Victorious Judson, who battles Jim Crow laws in his Georgia hometown and finds allies within a family held nearly in slavery, eventually freeing them from bondage.
Melba Moore's "I Got Love" wafted from a turntable in the dim cavern of a club as Crystal wrapped her arms around herself. She walked with a confident strut and worked the crowd. "I know I'm a lucky girl, for the first time in my life I'm someone in this world!" In turn, the crowd pulled out dollar bills, first a few, then many. By the time Crystal took her third callback, the money had grown into a pile. She lifted it, and let it rain down on her.
John watched in awe at Crystal's command of the crowd. For the first time, he thought he might want to do the same.
Martin Padgett has an M.F.A. from the University of Georgia's Grady College of Journalism and received a 2019 Lambda Literary Fellowship. He has written for Oxford American, Gravy, Details, and Business Week. He lives in Atlanta, Georgia.
Excerpt adapted from A Night at the Sweet Gum Head: Drag, Drugs, Disco, and Atlanta's Gay Revolution, by Martin Padgett. Copyright © 2021 by Martin Padgett. Used with permission of the publisher, W. W. Norton & Company, Inc. All rights reserved.